'Shankar Mishra couldn't control drink, but unzipping on Air India...': Lawyer
Jan 11, 2023 04:45 PM IST
The incident took place in the business class of the Air India flight from New York to Delhi on November 26 last year.
The unzipping was not for the sexual desire of Shankar Mishra, an accused of urinating on an elderly woman co-passenger on an Air India flight, his lawyer Manu Sharma told Delhi's Patiala House Court on Wednesday, news agency ANI reported.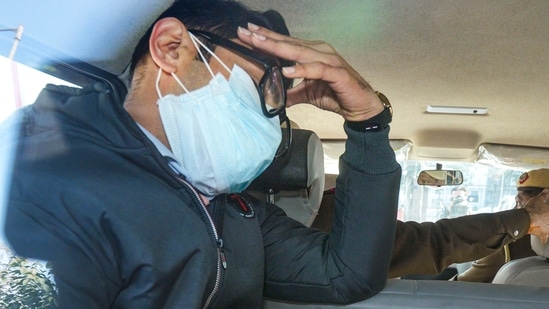 The court reserved its order on the bail application of Mishra. Metropolitan magistrate Komal Garg reserved the order on the plea, which said the act was not driven by sexual desire and that it was not aimed at outraging the complainant's modesty.
Another magisterial court had sent Mishra to 14-day judicial remand on Saturday, denying police his custody. The incident took place in the business class of the Air India flight from New York to Delhi on November 26 last year.
"I couldn't control my drink but the unzipping was not for sexual desire. The complainant's case does not put him as a lustful man. The trial will take time but the man has been sacked from his job after these allegations. He is not at flight risk," ANI quoted the lawyer as saying.
Sharma pressed for bail on the ground that the guidelines for arrest as per the Supreme Court's ruling in the Arnesh Kumar case were not followed.
Also Read | Air India incident: Airline should've acted swiftly, says Tata chairman
Sharma said Mishra has "clearly and willingly" participated in any inquiries related to the alleged event, with the intention to establish his innocence and will continue to act in this bonafide manner and assist the police in the investigation.
Bar and Bench reported that the lawyer also highlighted that Mishra had not made attempts to evade the inquiry process initiated by Air India in the matter while questioning the need for the issuance of a non-bailable warrant (NBW) in the case.
"I was to appear on January 6. Is it that they will make up their mind on January 6 that I am evading? On January 4, when the FIR was registered, Air India had already initiated an internal inquiry. I appeared before them. I did not run away. If I was an evader, I would have run away … They went and obtained a NBW against me on January 6. The question is can in the very first instance, a NBW be issued? There are case laws which say that, in the first instance, only a bailable warrant can be issued. Simultaneously I was placed under arrest in Bengaluru," Bar and Bench quoted Sharma as saying his submission.
Sharma also argued that when an investigation was on, magistrates should not generally get into the arena of aiding the investigation.
The Delhi Police challenged the magisterial court's order of January 7 denying the custody of Mishra. The police also challenged the bail plea saying if he enlarged on bail, Mishra can influence the complainant, ANI reported.