Shimla residents ask tourists to stay away as water crisis worsens
Updated on May 30, 2018 08:42 PM IST
Many netizens also voiced fears of the heli-taxi service between Chandigarh and Shimla, set to be launched on June 4, further increasing the tourist burden on the hill town. Shimla received just 18 million litres of water per day against the demand for 45 on Tuesday.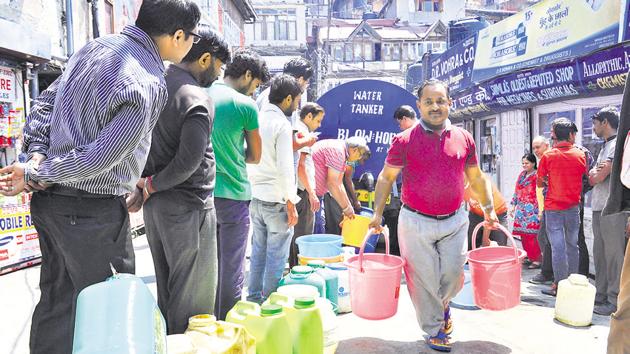 Hindustan Times, Shimla |
HT Correspondents
Tourists have been asked to stay away from Shimla until the hill station tides over its debilitating water crisis.
The appeal, sent out by residents and environmentalists through the social media, comes amid road-rokos and clashes between police and residents in the otherwise peaceful town as its water resources are stretched to the limit. The Himachal high court has also tried to address the situation through a temporary ban on construction activities and washing of cars, besides a directive against according preferential treatment to VIPs such as ministers, bureaucrats and judges.
However, the situation is only getting worse with time. The town got just 18 million litres of water per day (MLD) against the demand for 45 on Tuesday, 2 MLD less than what was received the previous day.
Incidentally, this also happens to be the town's peak tourist season, when an estimated 20,000 visitors arrive on a daily basis. The consequent rush has put additional pressure on its depleted water resources, even forcing the state government to indefinitely postpone the Shimla Summer Festival. The event was expected to start on June 1.
One such post exhorting tourists to stay away from the celebrated Queen of the Hills this season was that of freelance travel photographer, Abhinav Chandel. Last checked, it had been shared as many as 1,500 times since it was posted on the evening of May 28.
"A plea to everyone who loves mountains – it's about time all of you stopped visiting for a while," Chandel wrote, adding that things will take a further turn for the worse when tourists throng the town in June.
"But if this (extreme water scarcity) can happen in a town like Shimla, it can happen anywhere in the Himalayas. Also, I don't mean to imply that tourism should be stopped altogether. Just that the town needs 10-15 days to deal with this. I am sure things will become better once the monsoon comes," he said.
The same post on his Instagram account accrued over 3,400 likes.
Those commenting on Chandel's post also voiced their apprehension of the heli-taxi service between Chandigarh and Shimla, set to be launched on June 4, further increasing the tourist burden on the hill town.
Another Facebook post by Dikshant Chauhan, a young apple-grower from Kotkhai, advised tourists to let Shimla "breathe for a while" by keeping away this season. "It's overcrowded and exploited. There are long traffic queues, and water sources are exhausted," he said, indicating that the ground situation in the town is quite different from what visitors may expect.
Nagender Gupta, a resident of Tottu, suggested that the administration temporarily close all government institutions and offices in Shimla and ask residents to stay in their native villages until the crisis has passed.
Others alleged that the issue was not entirely caused by natural phenomena, including the dry winter witnessed by the town. "Leakages due to water supply through the Gumma Nautikhad Supply Scheme lead to the loss of 4 MLD out of 20 MLD every day. The municipal corporation must ensure that such leakages don't end up creating hardships for the people," Vikramaditya Singh, the Congress legislator from Shimla rural, posted on his Facebook handle.
Tourists who have been eyeing a pleasant time in Shimla this year also expressed anguish over the water crisis. "We had already booked a hotel for our stay in June, but I am not so sure now. I am especially concerned because we were planning to travel with my eight-month-old daughter," said 29-year-old Abhinav Gupta.
Gaurav Chauhan (21) belongs to Shimla, but he decided to stay on in Chandigarh after learning about the crisis in his hometown. "I will return after the situation gets better," he said.
Meanwhile, environmentalists have warned that the spectre of water scarcity looms large over not just Shimla but the entire state. Himdhara, a state-based environment research and action collective, on Wednesday said that a massive crisis is unfolding in the Himalayan rivers due to the upcoming hydropower projects there.
Himdhara activist Manshi Ahser told IANS that Shimla in particular needs an urgent action plan to prevent an environmental catastrophe. She cited upcoming hydropower projects, rapid urbanisation, spike in tourism, industrialisation, mining and the effects of climatic changes on the Satluj, Ravi, Beas, Chenab and Yamuna river basins as some of the reasons for this phenomenon.
(With agency inputs)
Personalise your news feed. Follow trending topics