Six Maoists killed in fresh Maharashtra gunfight, toll reaches 37
Hindustan Times, Nagpur |
Pradip Kumar Maitra
Apr 24, 2018 09:53 PM IST
The latest encounter between the Maoists and the crack commandos of the C-60 force took place on Monday evening in Jimlagatta region of the district, which is 60 km from the scene of Sunday's ambush.
Maharashtra police said they had gunned down 37 armed Maoists in 48 hours in two gunbattles in south Gadchiroli of the state.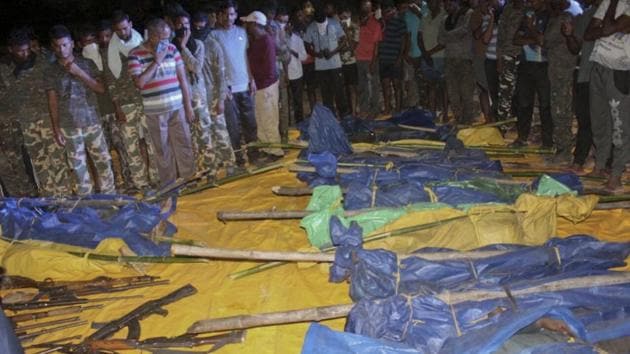 At least six Maoists were killed in a gunfight in Nainer jungle near Jimalgatta village on Monday evening and 15 more bodies were recovered from the site of Sunday's shootout in which 16 rebels had died.
Police said that among the bodies recovered initially from the Rela-Kasnasur forest, two were senior members of the Communist Party of India (Maoist), identified as Srinu alias Srikant, who was in charge of the south Gadchiroli division of the extremist organisation, and Sainath, alias Dolesh Madhi Atram. Srinu and Sainath carried a reward of Rs 20 lakh and Rs 12 lakh on their heads.
Among the 37 dead militants who were killed in the two encounters, 19 were women, including 18-year-old Suman Kulyeti, a platoon member, who carried a Rs 4 lakh reward on her head.
Security forces have recovered 15 decomposing bodies of the Maoists, including two women, floating in Indravati river on Tuesday morning, said Abhinav Deshmukh, superintendent of police (SP) of Gadchiroli. "The combing operation in the area is still on. Some weapons were also recovered."
The latest encounter between the Maoists and commandos of the elite C-60 force took place on Monday evening at a site that is 60 km from the scene of Sunday's gunbattle. "Six Maoists were killed in the encounter and four of them were women," Deshmukh said.
C-60 commandos, along with district police and Central Reserve Police Force (CRPF) troopers, have been engaged in an intense search in south Gadchiroli since Saturday evening, resulting in the fresh encounter on Monday, he added.
One of the slain Maoists, Nandu Atram, was the Aheri dalam (squad) commander and carried a reward of Rs 16 lakh on his head.
The search operation was stopped on Sunday evening until Monday afternoon because of heavy rain in the area and lack of sufficient personnel. "A combing operation was again launched since Monday evening to search bodies in Indravarti river and 15 more bodies were recovered," said deputh inspector general (Gadchiroli range) Ankush Shinde.
Maharashtra's additional director general of police (special operations), D Kanakaratnam, who visited the spot on Tuesday afternoon said only 21 of the slain Maoists had been identified so far. The identified extremists carried a collective reward of Rs 1.09, he said.
"We had information about the movement of Perimili dalam (squad) of the CPI (Maoist) near Tadgaon. So, we launched an operation on Saturday evening. On Sunday, around 9.30am, an encounter ensued that continued for hours. This is the first time that two divisional committee members of the CPI (Maoist) were killed in a single operation," said Shinde.