Strategic ties, traditional warmth: Key takeaways from India-Japan annual summit
Sep 15, 2017 10:50 AM IST
Though Indian Railways continues to suffer from a host of creaky infrastructure issues, the bullet train project will give an image boost to PM Modi.
Bonhomie, traditional warmth, highly-personalised diplomacy and a business leaders' meet complemented the 12th edition of the India-Japan annual summit in Prime Minister Narendra Modi's home state Gujarat on Thursday.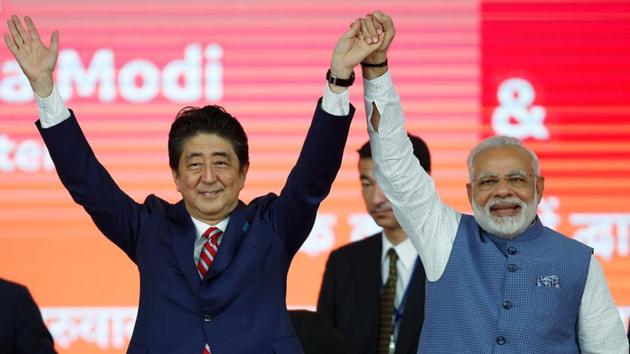 Here are five key takeaways from the summit:
Stay tuned with breaking news on HT Channel on Facebook.
Join Now
Bullet train project takes off
The massive high speed project at the cost of Rs1.1 lakh crore that will reduce the travel time between Ahmedabad and Mumbai to three hours is significant on many counts.
It is a giant leap in terms of technology for India which has Asia's largest rail network. The project has a deadline of 2022. It entails high technology transfer, creation of many jobs and is aligned with PM's flagship project 'Make in India'.
Though Indian Railways continues to suffer from a host of creaky infrastructure issues, this project will also give an image boost to Modi. For Japan too, it is a winner of a deal as it faces tough competition from China and South Korea in finding markets for its high-speed train technology. Chinese technology is much cheaper too.
Indo-Pacific strategic intent deepened
This in essence is the real takeaway of the summit.
It encompasses connectivity projects, accessing markets, linking Asia to Africa, development of India's Northeast states and a renewed focus on resource-rich countries in the African region.
There will be greater synergy between India's Act East Policy and Japan's Indo-Pacific plans besides two countries aligning their Africa strategic in a mutually beneficial manner.
However, all this was also done keeping China in mind. The cooperation could counter Chinese President Xi Jingping's vanity project one road, one belt. But the plan needs much more push in terms of money, diplomatic outreach and planning before it takes off.
China will be more wary of India-China ties
With US keeping it's Asia policy ambiguous and Beijing taking an even more aggressive stand on issues of sovereignty, India has to get closer to Japan. China is India's biggest neighbour and a partner on various forums such as BRICS and SCO which means India would have to strike a more fine balance in it's ties with both China and Japan.
Defence technology transfer with Japan not easy
This needs more persuasion like it was in the case of the nuclear deal. A case in point is the US-2 amphibian aircraft. The talks are on for the deal for long, but still stuck. A more calibrated approach is needed to pull off defence partnership due to various factors including pricing.
Ties with Japan built in recent times
The credit for this is goes to the UPA and Modi has built on it assiduously. "When I first visited Japan as chief minister of Gujarat, I had said that want to see a mini Japan in Gujarat. Today, that dream has come true," Modi told business leaders from the two countries on Thursday. For Japan, India can be a beneficial partner as it looks for more manufacturing bases to access markets around the world.