Studying the ABVP's curriculum: A look at how it escalates violence on campuses
In recent years, there have been a series of violent clashes at colleges with right-wing student groups such as the Akhil Bharatiya Vidyarthi Parishad (ABVP). The common refrain has been the ABVP claiming will not allow "anti-national forces" on campuses and will take the law into its own hands.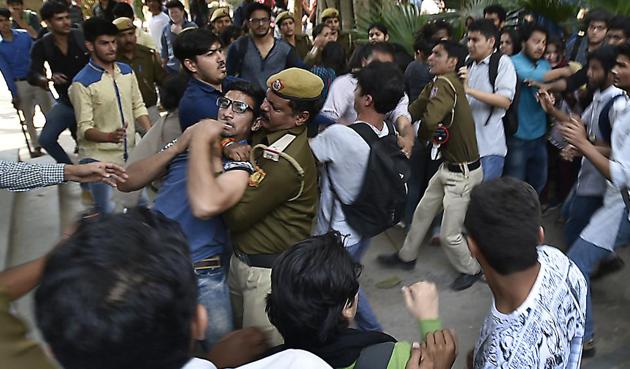 Updated on Feb 23, 2017 09:54 PM IST
Hindustan Times, New Delhi |
HT Correspondents
Some of the top educational institutions in the country like Delhi's Ramjas college have seen violent clashes in recent years with right wing student organisations creating ruckus to oppose those they perceive as "anti-nationals".
Cases have been registered against students and university authorities have taken action against faculty who invited the so-called 'anti-national' speakers.
The common refrain in all these incidents is that the Akhil Bharatiya Vidyarthi Parishad will not allow "anti-national forces" on campuses and will take the law into its own hands. Here's a look at the violent ways of the ABVP on campuses:
Jai Narain Vyas University (JNVU), Jodhpur (Rajasthan)
Earlier this month, a case was registered against JNU professor Nivedita Menon for reportedly saying that India's claim over Kashmir was false, that soldiers join army for livelihood not patriotism. This evoked a violent protest from the ABVP.
The university suspended professor Rajshree Ranawat for inviting Menon for the February 3 function. Vice-chancellor RP Singh also hinted that her services could be terminated after the inquiry committee submits its report.
Central University of Haryana, Mahendragarh (Haryana)
On September 20, 2016, ABVP activists held violent protests after university students performed eminent writer Mahasweta Devi's play 'Draupadi', which had a scene portraying armymen committing rape.
A video clip of the rape scene was reportedly circulated by ABVP members among ex-servicemen and villagers.
The ABVP demanded sedition case against those "who portrayed the soldiers in bad light" and termination of services of the faculty members.
The university issued a warning to two faculty members including assistant professor Snehsata Manav, who read the epilogue highlighting rapes and extra-judicial killings of oppressed people. "I am being victimised in the name of the pride of armed forces," Snehsata told HT.
Jadavpur University, Kolkata (West Bengal)
The prestigious Jadavpur University witnessed clashes between ABVP supporters and Left wing affiliated students twice in 2016.
In February 2016, ABVP supporters barged into the university campus and tore up posters put up by Leftist students supporting 'Azad Kashmir' and three months later they did not allow them to stage a documentary on Muzaffarnagar riots.
Justifying their action, Subir Haldar, ABVP state vice-president, said: "We will deal strongly with anti-national forces and the students are with us. If there is aggression from the Leftists we will counter it in a fitting manner".
University of Hyderabad (Telangana)
In August 2015, ABVP activists clashed with students affiliated to Ambedkar Students Union in the University of Hyderabad campus following the latter taking out a rally against hanging of Mumbai bomb blast accused Yakub Menon.
The incident led to the suspension of five Dalit research scholars and became a national issue when Rohith Vemula committed suicide in his hostel room in January last year.
ABVP activists continued with their aggression in the name of 'anti-national forces' and attacked research scholar Amol Singh (25) from Patiala in Punjab for attending a meeting to express solidarity with Kashmiri youth injured by pellets.
No ABVP member has been arrested for any of these assaults.
Central University of Jharkhand, Ranchi (Jharkhand)
The university in March 2016 suspended an associate professor Dr Sreya Bhattacharji for inviting a former JNU professor, who the ABVP had branded as anti-national.
The local unit of Akhil Bharatiya Vidyarthi Parishad (ABVP) had threatened to create ruckus if MN Panini arrived at the campus to speak at a function to commemorate the 140th birth anniversary of Sardar Vallabh Bhai Patel.
Panini, however, did not turn up after the vice-chancellor requested him to cancel the visit. But, the university suspended Bhattacharji who had invited him. Her suspension was later revoked.
(With inputs from Salik Ahmed in Jaipur, Srinivasa Rao in Hyderabad, Sanjoy Dey in Ranchi, Hardik Anand in Rohtak, and Avijit Ghoshal in Kolkata)
Close Story