Taj Mahal stands on razed Shiva temple: BJP leader Vinay Katiyar feeds fresh fuel to row
BJP leader Vinay Katiyar said Mughal emperor Shahjahan razed the shrine, Tejo Mahalaya, built by Hindu kings to make space for his monument.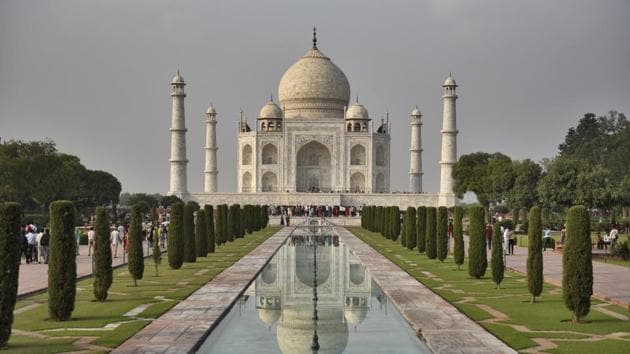 Updated on Oct 19, 2017 09:34 AM IST
Controversy-prone BJP leader Vinay Katiyar fed fresh fodder to an ongoing Taj Mahal row, saying on Wednesday that the moon-white marble mausoleum stands at a site where a Hindu temple dedicated to god Shiva once stood.
Mughal emperor Shahjahan razed the shrine, Tejo Mahalaya, built by Hindu kings to make space for his monument, said the largely marginalised leader in Ayodhya ahead of chief minister Yogi Adityanath's visit to the temple town.
Theories about the monument's supposed Hindu heritage were floated after historian PN Oak in his 1989 book Taj Mahal: The True Story claimed it was built in 1155, decades before the Muslim invasion of India. He said its name is a corrupt form of the Sanskrit term, Tejo Mahalay.
The Union culture ministry told Lok Sabha in November 2015 that there was no evidence of any temple at the Taj.
Katiyar's remarks follow firebrand BJP lawmaker Sangeet Som's outburst that the iconic monument is a "blot" on Indian heritage as it was built by "traitors" who targeted Hindus.
The BJP called the Sardhana legislator's remarks on the 17th century structure his "individual views".
Chief minister Adityanath, who is scheduled to visit the Taj on October 26, refused to be drawn into the controversy and cleared his government's priority
"It is immaterial who and how the Taj Mahal was built ... It was made by the sweat and blood of Bharat Mata's sons," he said and reaffirmed the government's commitment to protect the country's top tourist attraction visited by millions of people from across the globe.
But critics of the state's BJP government weren't convinced with the chief minister's assurance.
Samajwadi Party leader Azam Khan alleged that priest-politician Adityanath's conciliatory tone was a result of "global pressure".
Had the Taj not been among the Seven Wonders of the World, the monument would have been demolished in the same way as the Babri mosque in Ayodhya, he said. "Nothing is safe."
State tourism minister Rita Bahuguna Joshi asserted that the Taj continues to be the government's priority. "Our government has sanctioned Rs 155 crore for development of facilities in and around the Taj," she said.
However, Katiyar maintained that he hadn't said anything wrong.
"Can you tell me a mausoleum where water drops fall from above as is the case in the Taj. It is clear that it was a Shiva temple that Shahjahan demolished," said the leader, who is an accused in the demolition of the Babri mosque.
Close Story
Personalise your news feed. Follow trending topics