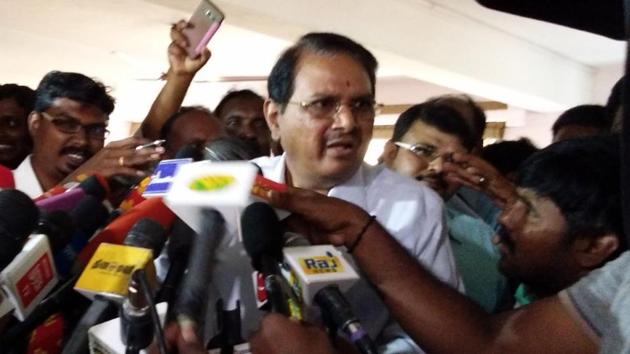 Tax raids hint at shift in Tamil Nadu's power dynamics. Where will it lead to?
Speculation is rife among bureaucrats and political circles in Tamil Nadu as to whom the income tax raid trail will lead to, now that former chief secretary Rama Mohana Rao is in the dock.
Chennai | By Sandhya Ravishankar
UPDATED ON DEC 28, 2016 10:56 PM IST
"My life is in danger," came the dramatic declaration of former Tamil Nadu chief secretary Rama Mohana Rao at around 11am on Tuesday, December 27 at his residence in Anna Nagar, Chennai, at a hurriedly convened press conference. A furious Rao told the media that he is being targeted. By whom, asked this reporter. "I don't know. I may be a big hurdle to many, many forces. They may be thinking he (Rao) is a hardcore man. He will abide by what Madam Jayalalithaa has told. I don't know," said the senior bureaucrat.
Rao was discharged from Sri Ramachandra Medical College and Hospital on the night of December 26, two days after being admitted in the Intensive Care Unit for an unknown ailment. This hospital visit came after the income tax department raided him and his son Vivek Papisetty's properties last week.
On December 21, Chennai was astounded as reports began doing the rounds of an income tax raid at the homes of the Tamil Nadu chief secretary P Rama Mohana Rao and his son P Vivek. A shocked bureaucracy went silent, especially as I-T department sleuths, along with armed CRPF personnel for protection, entered the hallowed halls of Fort St George, the seat of power in Chennai. Raids continued in the chief secretary's room and tight lipped officials walked out with files and documents. In all, 13 places were raided by the I-T department, including the home of Vivek's father-in-law in Chittoor, Andhra Pradesh. After 24 hours, summons were issued to Rao and his son to appear for questioning.
On the same day that Rao was raided, the CBI arrested a sand mining kingpin Sekhar Reddy as well as two of his associates. The raids on Rao are said to be closely linked to Reddy's arrest as the two prima facie appear to have indulged in hawala dealings and created benami assets, according to insiders in the I-T department. Another associate of Reddy, Kolkata-based businessman Paras Mal Lodha, was arrested at the Mumbai airport a day later.
At Tuesday's press conference, however, Rao denied any business links with the sand mining baron. "I have no links with Sekhar Reddy. No business links. I have nothing to do with Sekhar Reddy, I have no business with him. He may be a businessman, he may be known to me. That does not mean anything," he said.
MK Stalin, leader of the opposition of the state Assembly and treasurer of the Dravida Munnetra Kazhagam (DMK) party, lashed out at the Tamil Nadu government on the issue. "For the first time in history, I-T raids have happened in the residence of a chief secretary of the state," tweeted Stalin. "This has made Tamil Nadu bow its head in shame."
Other political parties, including the Left parties, the Pattali Makkal Katchi (PMK) and Vijaykanth's Desiyar Murpokku Dravida Kazhagam (DMDK), also expressed shame at the developments. "In the recent past, those heading the bureaucracy have been suspended or raided, and this is indicative of the rampant corruption in the state," said G Ramakrishnan, state secretary of the CPM in a statement. "It shows how deep the rot of corruption has seeped into the system." He also demanded the removal of Rao from the chief secretary's post.
Rao was replaced by senior IAS officer Girija Vaidyanathan and put on a waitlist the day after the raids. "He had it coming," said one senior bureaucrat on condition of anonymity. "This dance had gone on for far too long."
Speculation is rife among bureaucrats and political circles as to whom the trail will lead to, now that former CS Rao is in the dock. Tamil media has speculated, and party insiders agree, that Sekhar Reddy is believed to have funded the last Assembly elections for the AIADMK as well as the 2014 parliamentary polls. His virtual monopoly over sand mining contracts in the state points the finger of suspicion at the late Jayalalithaa and Sasikala, who he is said to have been close to, along with a number of ministers.
The former chief secretary managed to throw in a veiled hint to the current AIADMK leadership at his press conference. "I am not a coward," said Rao. "I am trained by Madam (Jayalalithaa). Not (just for) one day – she has been training me since I was collector of Chengalpattu-MGR district since 1994. If this is the condition and status of a chief secretary who has 32 years of service, then what happens to the AIADMK workers? What happens to the state government servants? How can the CRPF enter anybody's house? Why did they come to my house? For what purpose they come to my house? What is it that they wanted from me or from my office? If Madam, who is now in Marina – had she been alive, would this have happened? What happens to the security of Tamil people? (For) 75 days I was protecting Madam (when she was hospitalised). After her death you know how I managed the funeral. You know how I managed the cyclone. All this is evidence," he stated, almost as a warning to the political powers in Tamil Nadu.
"It almost sounded like he was telling the political bosses – if I go down, I will take you down with me," said one senior journalist who was at the press conference.
Political analysts point to the deep politicisation of the administration and police force in the state under Dravidian parties. "Criticism of any politician or policy has become an issue," said C Lakshmanan, political analyst and associate professor at the Madras Institute of Development Studies. "So the bureaucracy has learnt the trick – instead of fighting, they side with their bosses. Those who are not willing to comply are harassed and sent out."
Rival DMK insists that the ruling All India Anna Dravida Munnetra Kazhagam (AIADMK) government must speak up now and come clean. "This is what we have been saying all along," said TKS Elangovan, party spokesperson and Rajya Sabha MP. "In fact, ministers and officers have been hand-in-glove in all corrupt activities in this state. Whenever an officer does not listen to the minister, he or she will be shunted out. That has been the situation in this state under the AIADMK."
Another one bites the dust
Rao is the second consecutive CS of the state to face the music this year. His predecessor K Gnanadesikan was placed under suspension by late CM J Jayalalithaa in August, only two months after he was suddenly replaced by Rao.
The Union ministry of environment and forests (MoEF) had written to its regional director in Chennai in April 2015, referring to a news report on illegal beach sand mining in The Economic Times, dated February 1, 2015. The MoEF had asked the regional director to inspect and submit a report on whether the allegations in the article were true. Subsequently, an 11-member committee was formed — comprising officials belonging to the state mining department, environment department and geologists — and inspections were conducted in April 2015. The subsequent report exonerated the miners concerned.
While no official word was forthcoming on the reasons for Gnandesikan's suspension, sources within the secretariat said the cause could well have been this problematic joint committee report submitted to the MoEF in mid-2015.
"Gnanadesikan had given the go-ahead to form this committee and he did it without the knowledge or assent of the chief minister," said a source within the secretariat. "This 2015 MoEF Joint Committee report went against an earlier 2013 report by Gagandeep Singh Bedi (senior IAS officer) on illegal beach sand mining, which was ordered by Jayalalithaa, and she was very unhappy when she found out about this new report," he said.
Gnanadesikan was suspended in August shortly after this report surfaced in the Madras high court — the document was produced by the miners as proof that they had not indulged in illegal mining, as part of a suo motu PIL being heard by the First Bench of the court. Seven other officials who were part of the committee were suspended along with the former chief secretary.
Centre flexing muscle post-Jaya?
The tax raids on Rao have also brought to the fore the question of the BJP's role in state politics in the wake of the demise of the powerful Jayalalithaa. A personality cult figure, Jaya was well known as a strong leader who would not hesitate to lock horns with the Centre – be it the NDA or the UPA. With her death on November 15, a vacuum is evident in the party leadership.
Party insiders point to a rift within the AIADMK — one faction supporting Jayalalithaa's former aide VK Sasikala, and another faction rooting for chief minister O Panneerselvam. Sources also say that OPS (as O Panneerselvam is known) is not averse to leaning closer to the BJP in order to strengthen his own hand and prevent the party's takeover by Sasikala.
"I understand that there is some bad blood going on between OPS and Sasikala," said DMK MP TKS Elangovan. "This is a situation wherein the BJP may try to cash in. I gave a petition to the Prime Minister directly earlier this year regarding investments of Rs 10,000 crore made abroad by one Anbunathan (who is currently being probed by the I-T department). I gave a complaint about Rs 530 crore being carried in three vehicles. No action was taken. I had to seek the intervention of the court to get the CBI to investigate. But a few days after Jayalalithaa's death, raids suddenly begin. So the situation has changed post-Jayalalithaa. What is the idea of the BJP in doing all this? It creates doubt that the BJP is trying to put pressure on the AIADMK post-Jayalalithaa."
The BJP, however, denies any role or political motive behind the raids on Rao. "There has been definite information to the I-T department following the raids on (sand mining baron) Sekhar Reddy — a list was prepared and due to this definite information, the action was taken against Rama Mohana Rao," said H Raja, national general secretary of the BJP.
When asked about OPS being helped by the BJP to counter Sasikala, Raja said, "O Panneerselvam has been elected unanimously as CM so the Centre-state relationship will remain good as in the case of the other states. Had she (Sasikala) been so powerful, she could have become chief minister. But the party has elected O Panneerselvam. Whoever is elected as general secretary, it is up to the party to decide."
The AIADMK insists that it is united, as the date for its general council meeting creeps up – on December 29, a new general secretary will be elected and Sasikala is being urged by senior leaders, MLAs and MPs to take over the post.
"He (OPS) is our late Amma – a pious man, a man with pure thoughts and action known to everyone in the party," said a senior AIADMK leader on condition of anonymity. "That is why Amma has made him CM twice. Her portfolios were handed over to him when she was hospitalised. There are some colleagues of his who are upset with him because he is strict but silent. They will not be able to go very far with their criticism. He is silent but a man of action — somewhat like (former Prime Minister) Narasimha Rao. The party is united."
He added that the BJP's machinations, if any, would fail in the state. "The BJP may like to split AIADMK into two groups to further their gains in Tamil Nadu, but they will not succeed in any way," he said.
A deeper malaise
Politics apart, experts say that the problem of a deeper affliction within the Tamil Nadu bureaucracy needs to be urgently addressed. It is a problem that began over a decade ago, coinciding with the turn of state policy towards a 'welfare state'.
With the introduction of free colour televisions in 2006, politicians competed with one another to announce freebies in successive elections. Jayalalithaa, in 2011, made perhaps the most prolific promises of them all — free mixers and grinders, goats and cattle, free gold for newly married women along with a host of subsidized Amma-branded products, like Amma canteens and Amma salt.
"This is a mendicant state, not a welfare state," said retired bureaucrat MG Devasahayam with some scorn. "The state is making people beg for alms, not empowering them. At least 20-25% of the people allow their votes to be purchased. So when there are civic issues, no councillor or authority will respond because the local elected authority feels he has purchased their votes and therefore need not bother. Government feels that since they have given freebies to the people, they have no right to ask for anything more. Marx once said that religion was the opium of the masses. But in Tamil Nadu, freebies are the new opium of the masses.
"Cinema was the opium, then freebies were added, and finally state monopoly over liquor retail — this has completed the depoliticisation process of the people."
Other experts also point to a deterioration in governance, accountability and transparency in the system for at least the past 15 years. "We need a clean-up of the system," said political analyst C Lakshmanan. "A clean-up is possible if all vested political motives are undermined. The recent raid (on Rao) has been read as the BJP taking control over the Tamil Nadu government and the AIADMK. If that is the case, then the BJP should not allow some other BJP-affiliated bureaucrat to do similar things as Rama Mohana Rao. Whichever political party wishes to clean things up should not be partial – they should not promote only those who are only sympathetic to their political ideology. Impartiality is crucial to this cleaning up process."
Experts like Devasahayam feel that the fear of accountability needs to be put into the minds of young bureaucrats, so that they follow the law. "The administrative structure of the state has been completely destroyed. Up to the late 1980s, a Board of revenue – 3 senior most officers after the chief secretary – would monitor and inspect collectors. [But now,] Collectors have become loose cannons – there is a lot of power vested in young people with no maturity. MGR (former AIADMK chief minister) had done away with the Board of Revenue but nothing was done to replace this. Corruption begins in the districts, [and] Collectors have too much immunity," added Devasahayam.
Tamil Nadu's bureaucracy is at least happier now with the appointment of an officer known to be clean, straightforward and honest. Girija Vaidyanathan replaced Rao as chief secretary on December 22. All eyes are now on the General Council Meet of the AIADMK on December 29. Will Sasikala take charge? Or will OPS swing a winner? That is the big question being debated.
Disclaimer: The ET story referred to above was written by this reporter.
(Published in arrangement with Grist Media)
Close