Tension in Panjab University as ABVP members vow to foil seminar on 'fascism'
Updated on Mar 03, 2017 11:17 PM IST
ABVP members are assembling at the Panjab University to foil a seminar on "fascism" scheduled to be addressed by activist Seema Azad. Police deployed at the three gates of tense campus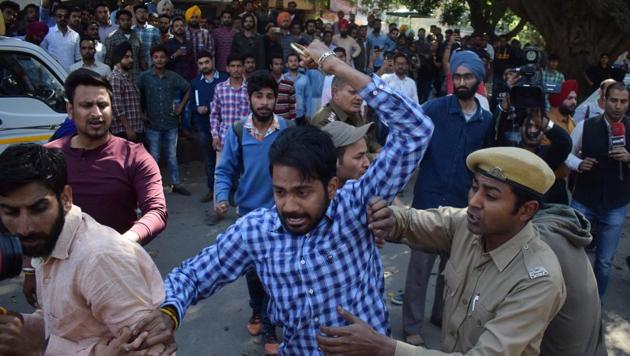 Punjab University (PU) bristled with tension on Friday as ABVP members assembled at the campus to foil a seminar on "fascism" scheduled to be addressed by activist Seema Azad.
The district administration deployed police personnel at the three gates of the varsity apprehending trouble with the right-wing ABVP warning the organisers, the Students for Society (SFS), against inviting Azad to the seminar.
PU has denied permission to the SFS for holding the seminar – titled 'Rising head of Fascism' – but the society leaders said they will go ahead despite the risk.
The developments at PU came days after ABVP members allegedly attacked activists of left-leaning students groups at Ramjas College over inviting JNU student Umar Khalid to a seminar, re-igniting a debate on free speech and nationalism.
Sources said the ABVP members who have assembled at the PU campus are not associated with the university.
On Thursday, ABVP leaders had warned of using "swords or lathis" if SFS invited Seema Azad to the campus.
ABVP and SFS members had clashed in the university campus on February 27 over the violence at Ramjas College.
PU's Dean of students welfare Emanuel Nahar had said that the institution was not a political platform, where students can hold any such programmes or seminars.
"What if the speakers say something anti-national? We will be in a difficult situation," the dean had said.
Personalise your news feed. Follow trending topics