Terrorists and Kashmiri separatists want a dead body a day: Ram Madhav
Updated on Sep 28, 2017 10:30 PM IST
In an interview with HT, BJP general secretary Ram Madhav has elaborated on Centre's strategy to tackle with the issues of terrorism and militancy in Kashmir.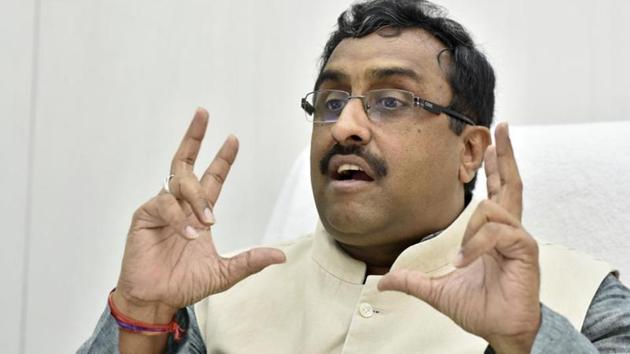 Ram Madhav, BJP general secretary and Jammu and Kashmir in-charge, says the government is showing zero tolerance against terrorism in Kashmir.
In an interview with HT, he elaborates on the Centre's four-pronged strategy to flush out terrorists while extending a healing hand to Kashmiris at the same time. Excerpts:
Q: You have said normalcy will return to Kashmir within six months. What gives you this confidence?
A: First of all, I have not given any such date, though I did speak about the prevailing situation and our plans for the future. I said the security forces are quite confident that they will be able to bring back normalcy in the next few months. We have been adopting a four-pronged strategy for half a year now, and I recently told the national executive (which concluded on Monday) that we have been largely successful in our efforts.
Q: What is this four-pronged strategy?
A: The first part deals with tackling terrorism and militancy with zero tolerance. Go after the terrorists in a hard way…
Q: Do you think this resolve was missing in the earlier regime?
A: I don't want to comment on that. But, this time, the idea is to make no distinction between local and Pakistani terrorists. A terrorist is a terrorist, period. Using this strategy, security forces have been able to neutralise a large number of terrorists in the last six months.
Part two is about protestors on the streets – the stone pelters. We realized that a large number of people who participate in such activities are influenced by propaganda on the social media and elsewhere. We need to tackle them with a tough hand, ensure at the same time that there are no civilian casualties. What both terrorists and separatists desire is a dead body a day. So, while tackling over-ground agitations, we need to ensure that there are no civilian casualties.
For that, we need to compliment our security personnel for the sensitivity with which they have faced massive provocation; had stones pelted at them; abuses and insults thrown their way; but largely tried to avoid retaliating in a manner that would lead to civilian casualties. As a result, we no longer hear news about stone pelting. This (strategy) has acted as a healing (touch) with civilians. Even if they protest, it is through largely peaceful means.
The third aspect is about the over-ground support network for terrorists, which includes some sections of the Hurriyat leadership, besides businessmen and hawala traders. We have proceeded against them through legal means, and many have been arrested today. That way, we have tried to choke the over-ground finance network of terrorists. The fourth and the most important aspect is the government's focus on developmental activity. After all, we secured the mandate to provide good governance to the people of Jammu and Kashmir.
The BJP-PDP government has been working hard to ensure that the fruits of development reach the people. The chief minister, deputy chief minister, ministers and officials are constantly monitoring development works. The Union government has also sanctioned a Rs 80,000-crore package for the purpose. This four-way approach has helped us gain good control over the state.
I wouldn't say everything has returned to normal, but we have been able to largely control the influx of terrorists from Pakistan. Our Army and the BSF are doing a good job. The state police also needs to be congratulated for bringing the situation under control.
Q: A section of the public believes that the NIA crackdown on Hurriyat leaders will backfire because they are considered stakeholders in Kashmir.
A: This is not a crackdown against Hurrriyat but those who collect money from illicit sources and use it to spread terror and violence in the Valley. If any Hurriyat member is involved in that, he will be brought to justice. This is a campaign against the over-ground supporters of terrorism in the Valley. The very fact that they have been able to arrest important people with solid evidence is proof that many such figures are involved in activities that go against the law of the land.
Q: What is your opinion on the Hurriyat?
A: There is no one Hurriyat, there are shades of it. It is up to them to decide what role they want to play. The Union home minister has repeatedly said – we have said it in the coalition government's common minimum programme too – that all stakeholders are free to come to the state government to discuss the issue. The Centre is open to negotiations, but nobody can impose conditions on it for holding talks.
Q: But you did impose a condition – that protesters should stop violence – before coming forward to talk.
A: Nobody in the Valley should resort to violence or support it. However, all that is hypothetical now. We will talk when they decide to come.
Q: The BJP-PDP coalition had a shaky beginning. How are things now?
A: No coalition is easy. When the situation demanded it, we decided to come together as mature parties and work for the benefit of the people on a common agenda. But that doesn't mean that we don't have our differences on issues.
Q: You mean differences on issues such as the abrogation of Article 370 and declaring Maharaja Hari Singh's birthday as a holiday?
A: We must remember that Maharaja Hari Singh ruled over Jammu, Kashmir, Ladakh and even parts of Pakistan-occupied Kashmir. He should be respected. The issue of declaring his birthday as a state holiday will be taken up by the local BJP unit.
Q: And what about repealing Articles 370 and 35(A)?
A: The cases pertaining to these articles (which bar non-state subject holders from working, settling or owning property in the state) are in the Supreme Court. They have to be legally tackled. There is no need to make it an emotional or political issue.
Q: How does a party that follows Shayama Prasad Mukherjee, who called for 'Ek nishan, ek vidhan, ek samvidhan', reconcile with a coalition partner that warns of dire consequences if Article 370 is diluted?
A: These are issues that need to be dealt with at Parliament level. Even in the common minimum programme, we have admitted to having differences on Article 360. But the government at the state level is guided by a different developmental agenda.
The people of Jammu and Ladkah regions complain of neglect. Ladakh also wants union territory status.
There is work being done in the Jammu and Ladakh regions, but a lot more needs to be done. We welcome the demands for more development. We do not agree that any region has been neglected. People want more, and we will make sure that their demands are attended to. Ladakh's demands will have to be taken up by the state assembly.
Q: What is the status of the government's plan to facilitate the return of Pandits and Sikhs who migrated?
A: The state government is committed to it. We want to do it as soon as possible. There are a couple of issues that need to be addressed about the manner of resettlement. We need to build consensus within the community, and between the community and the government, on how the resettlement will be done. The most important thing for us is that the return should be with dignity and security. A substantial degree of groundwork has been undertaken on the government's part, but I cannot elaborate on it for certain reasons.
Q: While making concerted efforts to flush out terrorists from Kashmir, are you also open to talks with Pakistan?
A: We are committed to not only ensuring peace in the Valley, but making sure that it lasts. Talks with Pakistan is not my department. It will be decided by the Union government at an appropriate time.
But I have been saying that linking the Kashmir situation with India-Pakistan talks is not acceptable to us. Maintaining peace in the Valley is our responsibility, and we will do our utmost for the same. Maintaining peace with our neighbours is the responsibility of the Union government.
Q: What do you make of China's recent statement that Kashmir is a bilateral issue between India and Pakistan?
A: There is an agreement between India and Pakistan that we will not internationalise the Kashmir issue. But Pakistan violates this understanding every time. Even the Chinese have reminded Pakistan that it a solemn understanding between two countries. We do not anticipate, expect or invite any third-party intervention. Pakistan has this weird habit of talking only about Kashmir whenever it goes to the UN. The Pakistan prime minister used the K-word 17 times in his speech of less than 10 minutes. In a way, they are paranoid about it. They are surrounded by many problems. Our foreign minister, Sushma Swaraj, showed them a mirror that showed where India and Kashmir would stand after 70 years.