This Bengali family speaks only Sanskrit at home to keep alive the ancient language
Mar 04, 2018 04:52 PM IST
Within the four walls of their Basirhat residence, Bengali is spoken only when guests come.
"Lachit, atro agachchhatu. Griham atithayoh agoto bontoh (Come here, Lachit, we have guests)," Moumita Bar told her son as we entered the two-bedroom flat in a middle class locality in Basirhat town near the Bengal-Bangladesh border, about 75 km from Kolkata.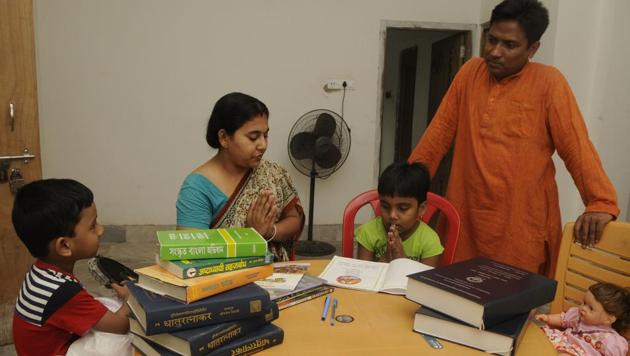 Before the four-and-a-half-year old boy could respond, his sister Dhriti, who is two years elder, answered, "Bhrata kridanayanen kridotih (Brother is playing with his toy car)."
Moments later, Lachit appeared from the next room riding his car. "Ahom bubhukshitoh (I'm hungry)," Lachit tells his mom, as he holds tight a doll under his arm.
"Bhojanam dodami, kinchit kalam apeksham karatuh (Food will be served, wait a while)," said the mother as she became busy greeting us.
Welcome to the Bar family, whose members only use the ancient language for conversation at home. Perhaps, the only family in Bengal that do so.
Strangely, Moumita, 32, have never conversed in Bengali with her husband Pranab Bar, 39, since they met in 2006 at Halishahar Nigamananda Saraswat Math.
Moumita, then an undergraduate student of Sanskrit, had come for extra lessons. Pranab went there as a teacher in a 15-day spoken Sanskrit camp organised by Samskrita Bharati, an affiliate of Rashtriya Swayamsevak Sangh (RSS) that works for the promotion of Sanskrit.
"We even quarrel in Sanskrit," said a giggling Moumita, immediately translating it in Sanskrit. She teaches the language at Kalinagar high school in North 24 Parganas district.
"Our first interactions were in Sanskrit and this continued throughout," Moumita said. "Later on, we decided to make Sanskrit our family lingo."
They tied the knot in 2010.
Within the four walls of the Bar residence, Bengali, their mother tongue, is spoken only when guests enter. The family, however, reads Bengali newspapers while children also have access to Bengali comics and literatures such as the works of Upendrakishore Raychowdhury.
The Bars don't have a TV set.
In India, some families at Mattur in Karnataka and Jhiri in Madhya Pradesh use Sanskrit in their everyday communications. Some villagers in Hoshahalli (Karnataka), Mohad and Baghuwar (Madhya Pradesh) and Ganoda (Rajasthan) also speak Sanskrit.
But it's rare for a standalone family to resist the influence of the dominant languages spoken around them.
After the birth of their daughter, the couple tried to convince other members of Pranab's family at Kalinagar to speak only in Sanskrit at home so that the child could pick it up as her first language.
Failing to persuade others, they left home and settled at a rented place nearby.
"My daughter grew up listening only to Sanskrit. She naturally picked it up," said Pranab, who teaches Sanskrit at Kalinagar College in North 24-Parganas district.
It was only after she became fluent in Sanskrit that they went back to their Kalinagar home. Eventually, however, they settled in Basirhat, about 30 km away.
"We came to Basirhat since it is close to where Vidya Bharati runs a school, Saraswati Shishu Mandir. Only Vidya Bharati-run schools teach Sanskrit from Class 2," said Pranab, who is also the RSS's Basirhat organisational district spokesperson.
Vidya Bharati Akhil Bharatiya Siksha Sansthan is the educational wing of the RSS.
Dhriti studies in Class 1, while Lachit is in the second pre-primary section (for 4+ children) called Uday.
"My daughter asked me quite a few times, especially after returning from school, if we could speak Bengali at home. Once she steps out, she speaks only Bengali. For a child to switch languages seamlessly sometimes becomes difficult. However, we convinced her that it is a skill that no one else have and that there would be no one left to speak Sanskrit if we don't. She agreed," said Pranab.
To minimise the influence of other languages on their kids, the couple even restricts their mixing with children in the neighbourhood.
Pranab admitted this experiment could impact them in some way.
"Many friends warned us against restricting kids' playing with others, as it could lead to mental and behavioural deficiencies. Let there be a couple of 'museum pieces,' but let Sanskrit live, is how I respond" said the father.
"Now, my daughter does not speak Bengali at home, not even by mistake," he said with a tinge of pride.
"Their dedication and commitment for Sanskrit is extraordinary," said Amar Krishna Bhadra, who heads pariwar prabodhan (family enlightenment) programme of the RSS in south Bengal.
Interestingly, the couple's took to the language to get a job.
Both took to Sanskrit as a relatively easier way to build careers in teaching, since there are not many competitors for the positions of Sanskrit teachers in schools and colleges.
Exciting news! Mint is now on WhatsApp Channels
Subscribe today by clicking the link and stay updated with the latest financial insights!
Click here!
Get
Latest India News
along with
Latest News
and
Top Headlines
from India and around the world