Train punctuality affected by safety, maintenance work: Ashwani Lohani
Published on May 13, 2018 11:16 PM IST
Ashwini Lohani said that punctuality numbers will dip further as the railways has started organised data logging since December 2017.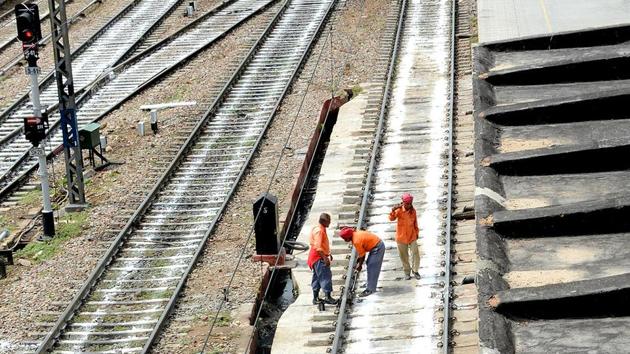 The problem of delay in trains is here to stay for a while, and the figures might dip further as the Indian Railways works to improve its safety standards and focuses on maintenance and scaling up capacity "for a better future", according to Railway Board chairman Ashwani Lohani.
Recently released railway punctuality figures show that almost 30% of trains ran late in financial year 2017-18, the service's worst performance in three years. An analysis of the data revealed that of the 17 zones, the North Central Zone, which includes Kanpur, Tundla, Agra and the stretch till Mughalsarai, was the least punctual. While 60% trains run on time across the Indian Railways, the figure was about 40% in April in the North Central Zone.
Lohani said that punctuality numbers will dip further as the railways has started organised data logging since December 2017. "Figures we have given are truthful as this has come through data loggers while earlier it was manual. There were chances of manipulation (by drivers) when the entry was made manually," he said in an interview with Hindustan Times.
He attributed the delay in trains to the overburdened infrastructure and increased focus on safety. "We are operating beyond capacity. In Northern Railway, most of the section is choked and at some places, we are operating at almost 150% of the capacity," Lohani said. Manual feeding of numbers has gone down to 15%, a figure that stood at 90% before December last year, he said.
From April 2017 to March 2018, the punctuality of mail and express trains was 71.39%, down from 76.69% in the corresponding period of 2016-2017, according to the railways' latest report.
Lohani said the railways has focused a lot on maintenance after a train accident in Khatauli. Nearly 14 coaches of the Utkal Express went off the rails, killing at least 23 people and injuring scores more in August last year.
"We have said trains will not operate in unsafe conditions… Railways was always confused whether to give priority to safety or punctuality. In punctuality, we get a lot of complaints and whenever accidents used to happen, maintenance became the priority," he added.
The Indian Railways is undergoing a phase of upgrades and renewal of tracks. Data shows that the number of train accidents fell to two-digit figures for the first time in 35 years in the previous fiscal.
Lohani said maintenance was a perpetual process. "Even if we close maintenance, the punctuality will not be beyond 70%. The reason for this is capacity, work on dedicated freight corridors and sometimes external factors such as law and order and technical issues," he said
"But we are monitoring it closely and all zones have been asked to send daily reports to me with reason for delay," he added.
The state-run service, the fourth-biggest such network in the world, operates around 22,000 trains every day and is in the middle of a five-year overhaul to modernise infrastructure. "It is true we are slowing you down, but this is for better future and in coming years, situation will improve. We are alert to ensure that train operations are safe and on time. While maintenance is the reason behind 35% of the train delays, congestion leads to the delay of 45% of the trains. These two are major factors and line doubling and track renewal will help in overcoming that," he said.