Triple talaq ordinance HIGHLIGHTS: Petitioner Ishrat Jahan welcomes government decision
The Union Cabinet on Wednesday approved an ordinance to criminalise triple talaq, the instant divorce prevalent among Muslims. The Muslim Women Protection of Rights on Marriage Bill was cleared by the Lok Sabha and is pending in the Rajya Sabha where the government lacks numbers. There was no consensus among political parties on the proposed legislation.Here are the highlights: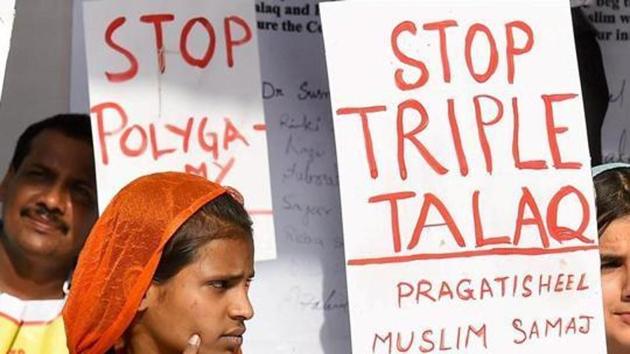 Updated on Sep 19, 2018 04:40 PM IST
3:15pm IST
Triple talaq ordinance a welcome step, says petitioner Ishrat Jahan
Triple talaq ordinance a welcome step, I am very happy that Centre has taken such a decision,says Ishrat Jahan, the petitioner in case: PTI
2:10pm IST
PM should bring a law for deserted women: Owaisi
I demand from PM that this national requires a law for those married women, who are 24 lakh in number,their husbands in their election affadavit say they are married but the wife is not living with them. PM should bring a law for those deserted married women:A Owaisi #TripleTalaq

— ANI (@ANI) September 19, 2018
2pm IST
Ordinance against Muslim women, says Asaduddin Owaisi
This ordinance is against the Muslim women. This ordinance will not provide justice to the Muslim women. In Islam, marriage is a civil contract and bringing penal provisions in it is wrong: Asaduddin Owaisi on Cabinet approving an ordinance on TripleTalaq
1:45pm IST
For Cong, triple talaq has been an issue associated with women's rights: RS Surjewala
For the Congress, the triple talaq issue has always been a humane issue, associated with gender justice, women's rights ..that is why our partymen had represented those women in court, be it Manish Tiwari or Salman Khurshid...Now the next issue is of justice for Muslim women ..that they should get maintenance from the husband. If the husband fails to do this, his property should be attached. But the Modi govt is shying away from doing this because it does not want that Muslim women should get maintenance. That is why we (Congress) suggested amendments (to the Ordinance). But the Modi govt wants to make this a political issue: Randeep Singh Surjewala, Congress spokesperson
1:35pm IST
Muslim youth should demand abolition of triple talaq: Ex-SC judge Katju
Whoever supports TripleTalaq is a shameless feudal barbarian. The lives of thousands of innocent Muslim girls have been ruined by it. TripleTalaq and burqa are the two most important reasons for the backwardness of much of Muslim society. Muslim youth should demand their abolition, tweets former SC judge Markandey Katju
1:07pm IST
Victim wife must get child's custody, entitled to maintenance: RS Prasad
Under other provisions of the ordinance, the mother or the victim wife must get the custody of the minor child and the mother is entitled to a maintenance suitably determined by the magistrate for herself and the child: Law Minister RS Prasad
1:05pm IST
'Would appreciate Congress support on floor of House'
Would appreciate support of Congress on floor of the House, not in front of the television channels: RS Prasad on Congress support for the ordinance.
12:59pm IST
'Will appeal to Sonia Gandhi to support the ordinance'
Will appeal to Sonia Gandhi once again to rise above vote bank politics to support the ordinance in the name of gender justice. Will appeal the same to Mayawati ji and Mamata Banerjee: RS Prasad
12:58pm IST
Magistrate can grant bail after hearing the wife
The matter can be solved on the initiative of the wife in front of the magistrate. The magistrate can grant bail after hearing the wife: RS Prasad
12:56pm IST
'Ordinance to be an offence only when FIR is filed by victim'
Giving details of the ordinance, RS Prasad said "the core component of this Ordinance is that an offence will be cognizable only when the FIR is filed by the victim wife or her close relations by blood or marriage"
12:54pm IST
There was compelling urgency to come up with ordinance: RS Prasad
There was compelling urgency to come up with an ordinance, says Union minister RS Prasad, " In a secular country like India, gender justice was given a complete go by because of vote bank politics."
12:53pm IST
Triple Talaq ordinance not allowed due for vote bank politics: RS Prasad
"It's my serious charge with full sense of responsibility that a distinguished woman leader is ultimate leader of the Congress, yet barbaric inhuman Triple Talaq was not allowed to be ended by a Parliamentary law for pure vote bank politics," says RS Prasad.
12:52pm IST
'Congress didn't support Triple Talaq ordinance under vote bank pressure'
Congress didn't support triple talaq ordinance due to vote bank pressure: RS Prasad
12:51pm IST
Tried to reach out to Congress for consensus: Law minister
We tried to reach out to Congress 5-6 times to develop consensus for passage of triple talaq Bill but they did not cooperate on this sensitive matter of women empowerment, says law minister.
12:50pm IST
Instances of triple talaq continue unabated: Union minister RS Prasad
Union minister RS Prasad says instances of triple talaq continue unabated despite SC judgement and its passage in LS.
12:30 pm IST
Modi govt making this into a political issue: Congress
Modi government is not making this an issue for justice for Muslim women, but making this into a political issue: Randeep Surjewala, Congress
Close Story