Unnao rape survivor alleges magistrate confined her to hotel room, says was not even given water
Special investigation team reaches village of Unnao woman who alleged rape by BJP MLA. Additional DGP says interim report will be sent to the Yogi Adityanath government by this evening.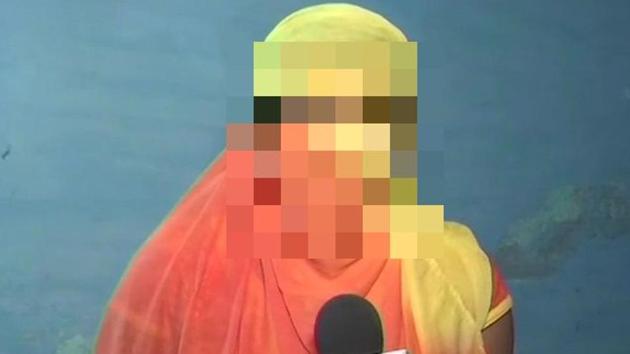 Updated on Apr 11, 2018 06:51 PM IST
Agencies, New Delhi |
Agencies
An 18-year-old woman, who has alleged rape by Uttar Pradesh BJP MLA Kuldeep Singh Sengar, on Wednesday accused the district administration of keeping her and her family in confinement.
The woman and her family have been staying at a hotel near Unnao since Monday when her father, who was allegedly thrashed by the MLA's brother, died.
"I appeal to chief minister Yogi Adityanath to provide me justice. The district magistrate has confined me to a hotel room. They are not even serving me water. I just want the culprit to be punished," she was quoted as saying by news agency ANI.
The woman has said that Kuldeep, the MLA from Bangarmau, and his aides raped her last year and accused the police of not probing her allegations. She also said that the police did not name Kuldeep in an official document which recorded her complaint later.
Read | All that has happened in Unnao rape case, a timeline
She attempted suicide in front of Adityanath's residence on Sunday, saying the police did not hear her out despite her repeated efforts to lodge a complaint.
The Uttar Pradesh Police arrested Kuldeep's brother Atul Singh Sengar on Tuesday for assaulting her father, who died of his injuries on Monday, and the state set up a special investigation team to look into the case amid pressure to act on the case.
The woman alleged that when her family returned to Unnao from Delhi earlier this month to file a petition seeking Kuldeep's name be included in the rape complaint, his brother and his aides assaulted her father. She also claimed that her father "was killed at the behest of the BJP MLA inside the jail".
Read | SC to hear plea for CBI probe into Unnao gang rape and victim's father's death
He died on Monday, hours after he collapsed in prison where he had been detained after being assaulted by men purportedly connected to the MLA. The father too had accused Kuldeep's brother and his men of accosting him in Makhi and forcing him to withdraw the complaints.
The father's autopsy report revealed that he died of shock and septicaemia from the beating and had 14 injury marks on his body.
SIT starts probe
The special investigation team (SIT), headed by additional director general of police (Lucknow zone) Rajeev Krishna, arrived at the woman's house in Unnao to investigate the case.
"I will send the interim report to the state govt by this evening. All the angles are being investigated. There is no pressure on the SIT. It is working independently," Krishna was quoted by ANI.
"The family will be provided full security. They have a relative in Delhi, now it is their decision if they want to live here in Unnao or in Delhi," he added.
Kuldeep has rejected the charge as a conspiracy by his opponents and said the complainant belonged to a "low class".
Kuldeep's wife Sangeeta Sengar met director general of police OP Singh in Lucknow "to plead for justice for my husband".
"My husband is innocent. If he is proven guilty, the entire family will give up their lives. The way evidence is being hidden, it is not correct. We want justice," ANI quoted her as saying.
Close Story