UP: 152 cows die in 5 months at one of country's biggest and richest shelters
Hindustan Times, Kanpur |
Haidar Naqvi
Jul 19, 2017 06:05 PM IST
Kanpur Gaushala holds 540 cows, 152 of whom have died. The society that manages the facility holds property worth more than Rs 220 crore.
More than a fourth of all cows at one of India's richest and biggest bovine shelters died in the past five months and half are ill, putting a spotlight on the animal's plight despite political hype on banning their slaughter.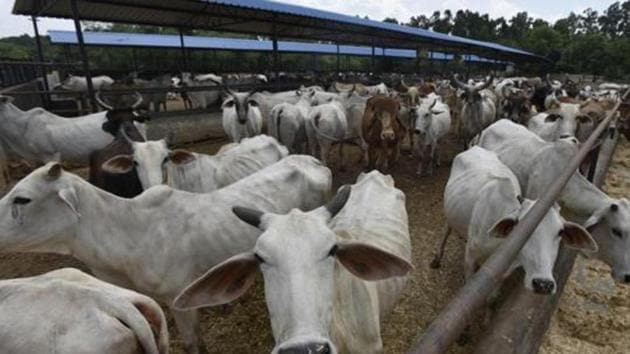 Four of these deaths at the 128-year-old Kanpur Gaushala occurred in the past week and doctors say the cows starved to death, triggering furore among local residents who consider the animal holy. The shelter holds 540 cows, 152 of whom have died. The society that manages the facility holds property worth more than Rs 220 crore.
"The society is run by the who's who of Kanpur, it gets crores of rupees in donation; where is the money going? This needs to be investigated," said a senior member of society.
The protection of cows is a politically sensitive issue, especially in a clutch of BJP-ruled states that have strict statutes against cow slaughter. Many cow vigilante groups have assaulted people engaged in the cattle trade and accused of wanton violence but prominent politicians have spoken out in their favour.
Uttar Pradesh chief minister Yogi Adityanath is known to tend to a large population of cows at the Gorakhnath Temple, where he is the head priest, and has enforced a crackdown on illegal abattoirs. But critics say such measures unfairly target minority communities and no real measures to protect or nourish the bovine population are taken.
The Kanpur society was formed with sole criterion of taking care of stray cows but allegations of neglect and siphoning of funds were triggered after an autopsy of the four dead cows on Tuesday pointed at empty intestines and urinary bladder.
It means the cows hadn't eaten anything nor did they drink water out of weakness, doctors say. "The conditions we have found are possible if the intake is negligible for prolonged period," said Dr Dharmendra of the hospital. "The cows were anaemic and devoid of nutritious food."
A cow's proscribed diet is eight kg of hay and 15 kg of green fodder. Baba Tiwari, a caretaker at the shelter, said inadequate fodder was being given to the cows for a long time despite no shortage. Other members say the cows were getting one kg of hay and two kg of green fodder every day.
The general secretary of society Shyamji Arora dismissed the allegations and said the cows were attended by doctors on a day-to-day basis and eight members of the shelter examined the fodder. "Every day 18 quintals of hay and 20 quintal of green fodder is given to the cows; now that summer has set in, green fodder will not be available for next one month," he said.
One cow, he said, was dehydrated and old cows were on light food on the advice of the doctors. "It is alarming for all of us and the case will be investigated to find out how this happened and where the fodder is going".