Vasundhara Raje govt to give free smartphones to 1 crore families in Rajasthan
Updated on Sep 05, 2018 02:25 PM IST
Launching the Bhamashah Digital Parivar Yojana on Tuesday, Rajasthan chief minister Vasundhara Raje said the subsidy of ₹1,000 will be given to card holders in two instalments.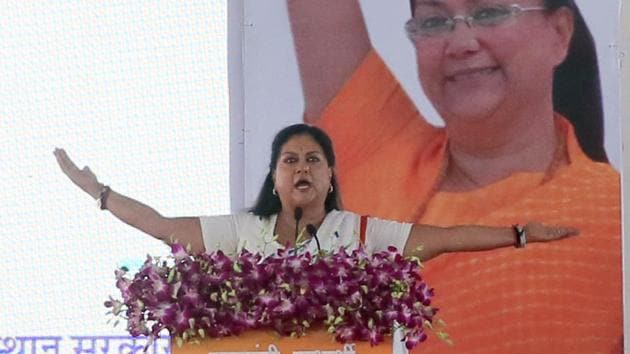 Around one crore poor families in Rajasthan will get a ₹1,000-aid from the state government to buy smartphones using which they can remain informed of welfare schemes and avail benefits as per their eligibility.
Launching the Bhamashah Digital Parivar Yojana on Tuesday, Rajasthan chief minister Vasundhara Raje said the subsidy of ₹1,000 will be given to card holders in two instalments.
The government will give a first instalment of ₹500, using which card holders will be able to buy a smartphone. Those who buy the smartphone will get the second ₹500 instalment using which they will have to get the internet connection.
The government has tied up with a telecom provider which will provide the phones at ₹500. The state will also track the use of funds online.
"We have ensured that poor people on touch of a button can know about the government's welfare schemes. This is Bhamashah Digital Parivar Yojana that will benefit one crore card holders," Raje told a gathering of scheduled castes, scheduled tribes, sanitation workers, and differently-abled people at a 'Mukhya Mantri Jan Samvad' (Chief Minister's Dialogue with People).
Congress spokespersons Archana Sharma said the government was announcing populist schemes in election year as they are desperate.
"It's a gimmick in election year," she said, questioning how users could renew their connections, and drew comparisons with the Ujjwala scheme in which not more than 20% were able to get a second refill.
Generated 16 lakh jobs in 5 years: Raje
The CM also claimed that her government had generated employment for 16 lakh people in the last five years.
"We have given 3.25 lakh government jobs including 1.35 lakh jobs in pipeline. When we took over, teachers' vacancies were 50%. Soon, it will be reduced to 2%. Then, ITIs and skill development provided to people that has enabled them to land private sector jobs, we have given 16 lakh jobs. If one considers self-employment under PM Mudra loan yojana, we have given more than 40 lakh jobs in five years," she claimed.
Raje also distributed motorised tri-cycles to differently-abled people.
She also announced ₹2 lakh interest-free loans for barbers, cobbler, carpenter, plumber for skill development. The interest on the loan will be paid by the government.
The CM said her government had spent ₹114 crore to waive off loans up to ₹2 lakh taken from SC-ST Finance Corporation of those people who were "not capable" of paying off the loan. She distributed loan waiver certificates to some beneficiaries.
The chief minister also launched a scathing attack on the Congress for questioning the event.
"People do not understand what the beneficiaries are getting. That's why some of these have been assembled so that anyone can understand and people can tell the poor that you can benefit from this scheme too," she said.
The chief minister, during her 25-minute speech, repeatedly mentioned that the government was doing inclusive development works taking along all the 36 communities irrespective of caste and religion.
"We need your love and your trust to build a new Rajasthan," she said and mentioned that the government had inherited the economy in bad shape with a debt of about ₹2.5 lakh crore.
"Did we say we are bankrupt? Some people do this drama. The government is never short of funds, but there is lack of will power," Raje said indirectly taking a dig at the Congress.
Had the Congress done so much work in the last 50 years what her government did in last 5 years, Rajasthan would have been a leading state, she said.
"But I promise you, in the coming years, we will become a leading state. We need your help, your love, your trust," she said.
The chief minister claimed that her government built 80 lakh toilets in five years while 25 lakh toilets were built in Rajasthan in 50 years.
"By March 2019, I am confident there will be no place in Rajasthan that will not be ODF," she said.