'We see India-UAE CEPA as opening doors to range of capital exchange': UAE minister Al Zeyoudi
Updated on Mar 07, 2022 05:28 AM IST
The India-UAE CEPA achieves this by substantially removing or reducing tariffs, improving market access to the world's fifth-largest economy, says Al Zeyoudi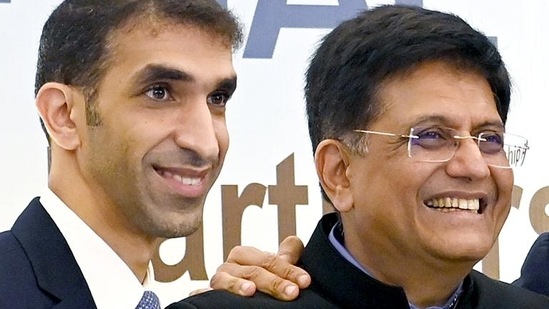 , Hindustan Times, New Delhi
Rajeev Jayaswal
The free trade agreement between India and the United Arab Emirates is a comprehensive deal that moves beyond a limited trade pact, said Thani Bin Ahmed Al Zeyoudi, the emirates' minister of state for foreign trade. Besides commerce, the Comprehensive Economic Partnership Agreement (CEPA) could open the doors to the full range of financial, technological and human capital exchange, he told HT in an online interview. Edited excerpts:
When will the free trade agreement be operationalised?
The CEPA deal will now revert to each country's legislative bodies for ratification, a process that we expect to conclude within the next three months. The agreement will enter into force two months after ratification by both countries. As such, we anticipate that businesses in both countries will be begin seeing the benefits of this new partnership in the second half of 2022.
What are the stages of operationalisation?
The agreement is comprehensive in nature and covers 18 chapters. Implementation of all chapters will begin immediately upon ratification of the agreement. Some sectors will see the removal of tariffs from day one, while other sectors will see tariffs reduced or phased out over time. The details of tariff concessions and the schedule will be published soon.
How will the UAE gain from the trade pact? How will it help Indians living in the UAE?
It's important to say at the outset that this CEPA has been structured for maximum advantage of both parties. In whatever way the UAE will benefit from the deal, we are confident India will too. The UAE's motivation for entering into CEPA negotiations with India was clear: in the year we marked our golden jubilee, we revealed a bold series of initiatives to re-engineer our economy for the next 50 years of growth and opportunity.
In the short term, we are seeking to double the size of economy from AED1.4 trillion to AED3 trillion by 2030 and, as we emerge from the Covid-19 pandemic, strengthening and deepening our relationships with strategically important partners such as India is a key component of that goal. Our CEPA agenda is geared around accelerating free flow of goods, rebuilding supply chains, increasing trade volumes to and from the UAE, enhancing our status as a facilitator of global trade and accelerating investment and joint-venture opportunities.
The India-UAE CEPA achieves this by substantially removing or reducing tariffs, improving market access to the world's fifth-largest economy, making companies in each country eligible for government procurement, and creating a platform for small and medium scale industries to collaborate and expand internationally.
The agreement will have a positive impact on the whole economy, providing opportunity for all citizens and residents of the UAE, of which Indian expatriates make up a sizeable portion. We are confident they will use their talents and connections to help realise the full potential of this new partnership.
What is your vision for the CEPA? Is it limited to trade and commerce, or will it pave the way for greater strategic ties between the two partners in other fields?
As the name implies, this is a comprehensive deal, one that moves beyond a more limited free-trade agreement. Trade and commerce are obviously cornerstones of it, but we see the India-UAE CEPA as opening doors to the full range of capital exchange, whether that's financial, technological, or human.
The two countries already enjoy deeply intertwined economic ties. The UAE's investment in India is estimated to be around $14 billion, which means the UAE is India's tenth largest source of foreign direct investment (FDI), with a strong focus on services, maritime industries, energy, infrastructure and real estate and development. India, for its part, has $8 billion worth of direct investment into the UAE, or 6% of the country's total FDI.
We see CEPA opening the doors to further cooperation, adding to the multimillion dollar deals that have recently been secured in sectors such as digital services, logistics infrastructure, energy and food production and transport.
What are the potential areas for strategic ties between India and the UAE? Will the two partners help each other on international fora such as WTO and Financial Action Task Force (FATF)?
Strategic ties between the UAE and India continue to strengthen in several areas. In the food and agri-tech sector, for example, the UAE and India established a dedicated food corridor to secure food and perishable produce supply chains, especially in times of emergency. The UAE and India are also working closely together to support startups and cooperate in other areas such as climate action, innovation, and digitalisation.
Regarding FATF, the UAE takes money laundering extremely seriously, and we have been improving measures to meet global standards, including signing extradition treaty agreements with 33 countries including India. We have bolstered our financial intelligence unit and have created a register of corporate beneficial ownership to improve communication with international partners. Our recent UAE Good Delivery programme has also improved our governance of the gold sector, which is of particular importance to UAE-India trade.
In terms of the WTO, the UAE is fully committed to supporting the objectives of the WTO and we will continue working with member countries, including India, to continue driving consensus on critical issues and strengthening the multilateral trading system.
Personalise your news feed. Follow trending topics