Adhikari meets Amit Shah with demand for CAA rules
Updated on Aug 03, 2022 05:46 AM IST
The contentious Act met with nationwide protests over the past few years after it was passed by Parliament on December 11, 2019.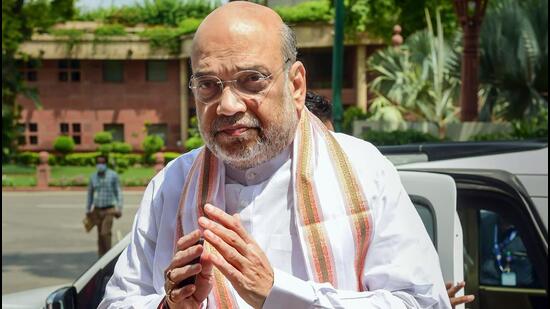 Bharatiya Janata Party (BJP) leader and leader of opposition in West Bengal assembly Suvendhu Adhikari met Union home minister Amit Shah in New Delhi on Tuesday and told reporters later that he discussed the School Services Commission fraud in the state, and the implementation of the controversial Citizenship Amendment Act (CAA).
Shah's office did not immediately put out a statement on the meeting.
Adhikari said he requested the home minister to implement CAA.
CAA seeks to grant Indian citizenship to persecuted minorities belonging to the Hindu, Sikh, Jain, Buddhist, Parsi and Christian communities from Pakistan, Bangladesh and Afghanistan who entered India on or before December 31, 2014. It was passed by Parliament on December 11, 2019, and the Act was notified within 24 hours on December 12. Howeve rules are yet to be framed for it.
Also read: In Chandigarh for launches, Amit Shah stays silent on policy matters
"A lot of things were discussed, but not everything can be disclosed. But I had two main agendas. The home minister assured me of taking action to root out the SSC recruitment scam. He also assured me of the implementation of CAA. But, the country is facing some challenges related to Covid. Therefore, it will be done once the booster dose drive is over," Adhikari told reporters after his meeting.
He added that he also discussed organisational issues pertaining to BJP's expansion in Bengal. He said he submitted a list of 100 Trinamool Congress (TMC) leaders allegedly involved in corrupt activities and sought action against them.
CAA was a major bone of contention in Bengal ahead of the assembly elections in 2021. It was also one of the key reasons why the BJP found support from the politically significant Matua community amid its long-time demand for citizenship rights.
Trinamool Congress (TMC) Rajya Sabha member Sukhendu Sekhar Ray said the government should formulate the rules required to implement CAA and not use the Covid pandemic as an excuse for delay.
Also read: Har Ghar Tiranga campaign: PM Modi, BJP leaders change Twitter, Facebook pics to tricolour ahead of Independence Day
Bengal, Kerala, Madhya Pradesh, Punjab, Rajasthan and Tamil Nadu have passed resolutions against the Act. At a rally in Bengal in May this year, Shah had said that CAA will be implemented once the Covid-19 pandemic is over.
On Adhikari's list of TMC leaders allegedly involved in corrupt activities, Ray said: "Adhikari should have included his (own) name too."
Personalise your news feed. Follow trending topics