West Bengal panchayat election results Highlights: TMC registers massive win, BJP comes a distant second
Results for West Bengal panchayat elections were announced on Thursday and the ruling Trinamool Congress registered a massive win. Below are the highlights.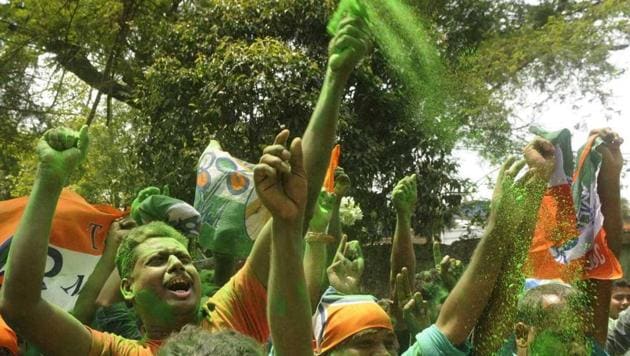 Updated on May 18, 2018 12:14 AM IST
The ruling Trinamool Congress recorded a resounding victory in the West Bengal panchayat polls, with the BJP coming a distant second BJP.
The CPI(M) bagged the third position and the Congress fourth.
The panchayat elections in West Bengal took place on May 14. However, massive violence was witnessed during the polls, due to which re-elections were held on Wednesday in 573 booths spread across 19 districts.
At least 15 people were killed when ruling Trinamool Congress supporters clashed with opposition activists on Monday. Even election officials and policemen were beaten up. Complaints of ballot boxes being damaged poured in from scores of places.
Below are the updates:
8.25pm: Till 8 pm,TMC has won 19,394 (68%) of the 28,456 gram panchayat seats . It won 1842 (88.34%) of the 2,085 panchayat samiti seats and 62 of the 63 zilla parishad seats declared till that time.
8:10 pm: TMC has emerged victorious in 90% seats despite the opposition parties coming together. This shows how strong we are at the grassroot level, says West Bengal CM Mamata Banerjee.
7:15 pm: BJP makes a mark in the former Maoist belt of Bengal.
Till 6:30 pm BJP's victories in Purulia, Jhargram, West Midnapore and Bankura districts accounted for nearly 40% of the total seats that the party won across the state.
Out of the 780 gram panchayat seats in Jhargram where contests took place, BJP has won 321.
4.23 pm: Polled were held for 31,836 gram sabha seats. Results and trends were available for 29,634 seats till 4 pm.
TMC has won/leading, in 26,601 seats (89.76%).
BJP has won/leading, in 2,030 seats (6.85%).
The Left has won/leading in 410 seats (1.38%)
Congress has won/leading in 315 seats (1.06%)
Others have won/leading in 278 seats (0.93%).
3:30 pm: At the zilla parishad level, TMC has won 20 seats and are leading in 22. No opposition party has so far won a single zilla parishad seat.
2.35pm: BJP Bengal president Dilip Ghosh says, "We are in the fight. The picture is not yet clear."
2.32pm: The election was a farce and the counting, too, is almost a farce, said BJP Bengal unit general secretary Sayantan Basu.
2.30 pm: At the panchayat samiti level, TMC is leading in 75 seats followed by the BJP at 3 and Left at 1. In Murshidabad, TMC is leading at 133, followed by Congress at 1, while in North Dinajpur, TMC was leading in 101 seats while the BJP led in 8, Left in 2 and Congress in 6.
2.25pm: In South Dinajpur district, the TMC is leading in 711 gram panchayat seats, while the BJP is leading in 23. In East Midnapore, TMC is leading in 1,987 seats, and BJP is in the second position with leads in 33. The Left is third with 13 seats. In Bankura district, the figures of leading positions were 1,013 (TMC), 14 (BJP) and 15 (Left).
2.20 pm: TMC is now heading for control of well over 80% of the gram panchayats and 90% of the panchayat samitis. It is leading in all 20 zilla parishads too.
2.20pm: At the zilla parishad level, TMC was leading in 359 seats, BJP in 9, Left in 2 and Congress in 5. TMC makes a clean sweep of gram panchayats in Hooghly district, wins all 207.
1.38pm: As per latest trends available for panchayat samiti seats, TMC has won 14 seats and leading in 24 seats. The other parties are yet to open their account in panchayat samiti seats, PTI said. TMC is leading in 24 zilla parishad seats.
1.37pm: Congress won 33 seats and is leading in 55 seats. Independent candidates have emerged winners in 158 seats and are leading in 163 seats.
1.30pm: The Trinamool Congress won 2,467 gram panchayat seats, PTI said, quoting an SEC official. BJP won 386 seats, while CPI(M) won 94, it said. TMC is leading in another 2,683 seats, BJP in 231 and CPI(M) in 163.
1.15pm: The opposition has been blown away by the Trinamool Congress gale. People have overwhelmingly voted for the ruling party, said food and supplies minister and party president of North 24 Parganas district Jyotipriyo Mullick.
1.05am: Former TMC MLA Arabul Islam, who was arrested for his involvement in the murder of a Bhangar land agitator, wins panchayat samiti seat in South 24 Parganas. His son Hakimul Islam, who is wanted by the police in the same case, wins from a gram panchayat seat in Polerhat II.
12.30pm: Five of the eight land agitators of Bhangar, who filed nomination papers on Whatsapp, win Polerhat II gram panchayat seats in South 24 Parganas district.
12.25pm: At a counting centre in Majdia in Krishnaganj block of Nadia district, toughs allegedly backed by the Trinamool Congress, barged in and started stamping ballot papers when they found the CPI(M) candidate was leading. The CPI(M) agent alleged that the incident took place when votes from booth numbers 90 and 101 of Shibnibas gram panchayat were being counted. TV channels aired footage of a man stamping papers on a table inside the counting centre.
12.05pm: In different districts, TMC supporters have started celebrating as trends point towards a landslide victory for the ruling party.
11.42am: In all zilla parishad seats for which trends are available, TMC is leading in all of them, except Malda district, where the BJP and Congress are leading in one seat each.
11.26am: Out of the total 31,814 gram panchayat seats contested, TMC has won 110 and is leading in 1,208, reports ANI. BJP has won 4 and leading in 81, while CPI(M) has won 3 seats and has a lead on 58. Counting in progress.
11.25am: Early trends indicate TMC storm across Bengal. In Howrah district, TMC is leading in 281 gram panchayat seats, while BJP is in second position with 4 seats; in East Midnapore district, TMC is leading in 390 seats and BJP in 14. The corresponding numbers for Hooghly district are 501 (TMC) and 12 (BJP), for South 24 Parganas, it is 530 (TMC) and 13 (BJP), and for North 24 Parganas, it is 581 (TMC) and 21 (BJP).
10.58am: Trinamool Congress surges ahead in 1,800 gram panchayat seats while the BJP and CPI(M) are leading in 100 and 30 gram panchayat seats respectively, PTI reports, quoting state election commission official.
10.52am: TMC won 79 gram panchayat seats, BJP 2, CPI(M) 1 and independent 1.
10.41am: Trinamool Congress is leading in most districts. Opposition gains negligible. In East Burdwan district, TMC is leading in 281 gram panchayat seats, while BJP is leading in 15. In South 24 Parganas district, TMC is leading in 370 seats, BJP in 25.
10.34am: Clash between Trinamool Congress and BJP workers outside counting centre at a college in Chopra of North Dinajpur district. BJP supporters block NH31 that connects Kolkata and Siliguri in protest.
10.25am: BJP, CPI(M) and Congress candidates alleged that ruling Trinamool Congress supporters prevented their counting agents from entering counting centres at several places in Rajarhat and Habra (North 24 Parganas district), Bhagabangola (Murshidabad), Hanskhali and Phulia (Nadia).
Candidates fielded by the land agitators in Bhangar ahead in five of the eight Polerhat gram panchayat seats where they filed nomination through Whatsapp. However, they were behind TMC in the panchayat samiti seat, where they filed nomination through the same route.
10.20am: Police seize 40 mobile phones from a counting centre set up at Jalpaiguri's Polytechnic Institute.
10.14am: BJP comes second in most places ahead of CPI(M), according to initial trends.
9.45am: Trinamool Congress wins six gram panchayat seats and is ahead in most of the seats where counting is underway.
9:25am: Counting of votes has started in Cooch Behar, Alipurduar, North Dinajpur, South Dinajpur, Jalpaiguri and Malda districts of North Bengal.
8:48am: Counting of votes delayed at a counting centre in North 24 Parganas, reports news agency ANI.
8.35am: Counting for gram panchayats will take place first. Then ballots for panchayat samitis will be counted and those for zilla parishads will come up last.
8.30am: Counting has started for the Bengal panchayat elections. Counting is taking place in 291 centres in 20 districts in which elections took place.
Close Story