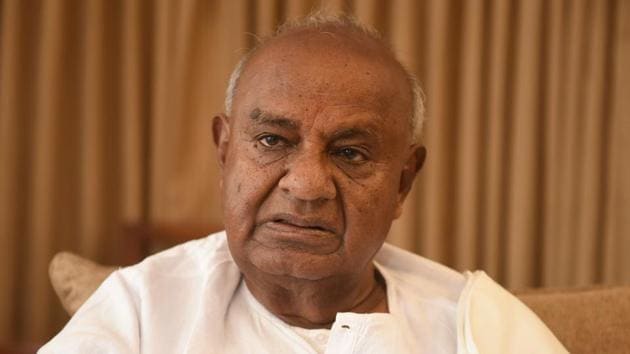 Will not back Congress, BJP in hung House, says Deve Gowda
Dismissive of pre-poll surveys showing the Janata Dal (Secular) as the number-three party in a hung assembly, former prime minister HD Deve Gowda claims it will have the numbers in the new House to stake claim to power.
Hindustan Times, Bengaluru | By Vinod Sharma
UPDATED ON MAY 05, 2018 07:14 AM IST
At 85, former prime minister HD Deve Gowda is probably fighting his last big electoral battle in Karnataka. Dismissive of pre-poll surveys showing the Janata Dal (Secular) as the number-three party in a hung assembly, he claims it will have the numbers in the new House to stake claim to power.
In an interview at his Bengaluru residence with Hindustan Times, he was critical of Prime Minister Narendra Modi and harsh on chief minister Siddaramaiah, whom he accused of stabbing him in the back. He said the BJP's CM candidate BS Yeddyurappa unfairly tainted his son HD Kumaraswamy when the latter was CM from 2006- 2007. Excerpts:
How's your campaign going? How confident are you?
I am facing a resource crunch while fighting two national parties. But despite all problems, we are doing well in Karnataka. Those predicting 30-40 seats for my party have little understanding of the ground reality. Modi 'saab' initially had some sweet words for me (when he called him a senior politician deserving respect). But yesterday he attacked me badly (asking people to not waste their votes on JD(S)). What does this prove? Initially he did not have the right feedback. He has done a U-turn on getting to know that we are moving fast (ahead). The Congress also is scared. That's why they are calling me the BJP's B-team. They both have brought down the level of political discourse.
Even if the JD(S) does well, you may have to play the catalyst in government formation. You've had tie-ups in the past with the BJP and the Congress. With whom would you side this time?
The ground situation is different. In 2013, we won 40 seats and had second position in 48. Why do you think I went to Mayawati for a pact? Her Bahujan Samaj Party (BSP) got votes ranging from 3,000 to 25,000 in the constituencies it contested. The alliance with her will help us where we lost by small margins. Telangana CM Chandrasekhar Rao has exhorted Telugu people in Karnataka to vote for me; TDP's Chandrababu Naidu has sent out signals. Asaduddin Owaisi of the All India Majlis-e-Ittehadul Muslimeen is campaigning for my party.
I'm told Mayawati took a pledge from you that you'd not back the BJP after elections.
Two hundred percent! The question of going with the BJP and the Congress does not arise. We may get up to 70-75, even 80 seats. I have constituency-wise breakup for that tally. The BSP may get two or three seats, Independents may win 10-12. Over the remaining days, we'd try to cover the gap (to a simple majority). Those placing us in the third position will be surprised. I am hoping to be the number one party. The kingmaker's dilemma won't be for me. It will be for the other two — the Congress and BJP. Once I get the upper hand, those wanting to form the government will come to my doors. I've told my son (HD Kumarawamy) that don't think of the BJP or Congress. We'd work for the people if we form the government. Or else we'd sit in the Opposition.
So if you don't have the numbers, you won't support others. That will cause instability, maybe force another election….
Such a situation will not arise…
What if either of the two parties offers the CM's slot?
Asking support for the chief minister's slot is not my main agenda. I want to set right the administration that has worsened during 10 years of BJP-Congress rule. The state has suffered badly; corruption is rampant. Taking support to continue the same (mis)governance will damage my party.
In a hung House, implicit mandate for parties is to work together…
How do you say that? How can one compromise with misgovernance?
The answer to that is to have an agenda of governance…
All these things (can be discussed) only after May 12 (polling day). I am sincerely telling you I have no mind to tie up with this or that party. I am not exaggerating. The reality is bad. So many of the BJP people have gone to jail. And this Congress…
Siddaramaiah was your understudy. You made him deputy CM in the Dharam Singh government of the Congress…
That was a blunder I committed. I brought up that boy — Siddaramaiah — and he stabbed me in the back. Why should I think of him? The major issue for me is how things shape up this week. My son is campaigning daily in 6-7 constituencies. He is getting good response. The media isn't reflecting the ground reality.
So, can one assume you won't support Siddaramaiah as CM if your party backs the Congress?
That eventuality will not arise. What if I get 80 seats? Then who comes to me without putting conditions? That's why I told Kumaraswamy, if you don't get majority, sit in the opposition.
That'll be a recipe for instability. How can you do that? You've been PM in a coalition regime supported by the Congress…
I am fully satisfied with my 10 months as PM. I gave no scope for corruption. I formulated many schemes, took initiatives in Kashmir and the North-East.
Who is your bigger adversary: Congress or BJP?
The BJP had a government with my son (in 2006). Within three months, they made "baseless" charges of corruption against Kumaraswamy. Yeddyurappa was in cahoots with Janardhana Reddy (the Ballari mining scam kingpin) in targeting him. Why should I go to these types of people? Who removed Dharam Singh? His own Congress people, not us. We've suffered because of both the BJP and Congress.
How is your chemistry with Modi? Can it have a bearing in Karnataka? He persuaded you to continue as MP after the 2014 polls — before which you had declared that you would resign your seat if BJP came to power.
Modi may have his sweet voice when I meet him. But he hasn't done one single work I asked him for framers in Karnataka. All he did was to offer me a cup of tea. Our demand for an IIT in Hassan hasn't been met despite land being allocated in 2007.
Why has PM's tone changed? He first praised you, then asked people not to waste their votes on JD(S). Did he fear damage to BJP's prospects with Vokkaliga votes polarising for you and Muslims' for Congress against you?
If the Congress is confident of Muslims, why is it calling me BJP's B-team? My work for Muslims is known in Karnataka. I gave them reservation in jobs, got the Idgah property issue in Bengaluru settled in their favour. Muslim leaders such as CM Ibrahim who are now with Congress are my creation.
Close