India vs Sri Lanka, 2nd Test, Day 2, Colombo, Highlights: Ravichandran Ashwin rocks SL after IND's 622/9d
Aug 04, 2017 05:25 PM IST
Ravichandran Ashwin struck twice after India declared their innings on 622/9 on Day 2 of the second Test against Sri Lanka at Colombo. Catch full cricket score of India vs Sri Lanka, 2nd Test, Day 2, here
Ravichandran Ashwin took two wickets after all-rounder Ravindra Jadeja hit an unbeaten 70 as India declared their first innings on 622-9 on Day 2 of the second Test against Sri Lanka on Friday. The left-hander smashed three sixes and four fours in an 85-ball stay to frustrate the Sri Lankan spinners, who had hurt the visitors' middle-order with regular strikes. Catch full cricket score of India vs Sri Lanka, 2nd Test, Day 2, here (STREAMING) (SCORECARD) (ENG vs SA SCORECARD)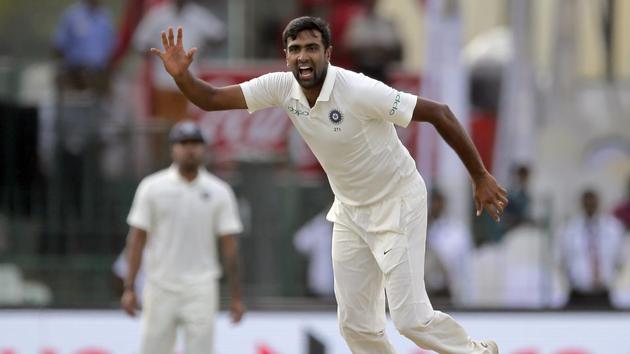 17:10 hrs IST: That's it for today. Do join us tomorrow for the coverage of third day's play. Cheers!
17:01 hrs IST: And that's it. What a day for India! Tells a lot about their depth and quality.
16:55 hrs IST: Two maidens in a row from India. Superb stuff!
16:49 hrs IST: Sri Lanka 40/2; Mendis 8*, Chandimal 7*. Four more overs to go.
16:43 hrs IST: Chandimal is the next man in for SL.
16:41 hrs IST: OUT! Little bit of turn of turn for Ashwin, Karunaratne gets an outside edge and Rahane completes a neat catch at first slip.
16:37 hrs IST: One or two more wickets before the end of day's play and India will again have a perfect day.
16:31 hrs IST: Sri Lanka 25/1; Karunaratne 19*, Mendis 6*
16:26 hrs IST: Has been a brilliant spell from Ashwin so far. An attacking approach by SL batsmen might work against him.
16:21 hrs IST: Sri Lanka 18/1; Karunaratne 18*, Mendis 2*
16:16 hrs IST: Virender Sehwag remembers singer Kishore Kumar as his 'hidden batting partner'.
16:13 hrs IST: Single off the last ball for Karunaratne. Sri Lanka 9/1. Ashwin to continue.
16:10 hrs IST: FOUR! Too full from Shami and Karunaratne plays it with a straight bat past the bowler for his first boundary.
16:05 hrs IST: Ashwin getting some serious turn and bounce. Wonder what might happen in the next hour or so.
16:00 hrs IST: WICKET! And straightaway, Ashwin strikes. Rahul takes an unbelievable catch at forward short leg. Tharanga goes for a duck.
15:56 hrs IST: Ashwin comes into the attack.
15:55 hrs IST: Great start from Shami. Maiden over. Not giving away any room to Karunaratne to free his arms.
15:51 hrs IST: And it's time for Sri Lanka's innings. Dimuth Karunaratne and Upul Tharanga to open. Mohammed Shami to bowl the first over.
15:40 hrs IST: And that's it. India declare on 622/9. Sri Lanka will have 20 overs to bat today. Play starts in 10 minutes from now.
15:34 hrs IST: India 614/9; Jadeja 67*, Umesh 3*
15:27 hrs IST: FOUR! 600 up for India -for the second time in the series.
15:24 hrs IST: OUT! Shami departs after hitting consecutive sixes. Fourth wicket for Herath. India 598/9
15:20 hrs IST: India 584/8; Jadeja 53*, Shami 6*
15:16 hrs IST: FOUR! And that's fifty for Ravindra Jadeja, 8th in Tests. With this, India's lower order continues to prove its importance. Amazing that is!
15:13 IST: OUT! Wriddhiman Saha falls for 67. India 568/8.
15:05 hrs IST: Saha ends the first over after tea with a six. India 563/7.
14:41 hrs IST: And it's tea. Another excellent session for India. We'll be back in 20 minutes time.
14:37 hrs IST: Runs coming thick and fast now. 109 runs scored in the session so far.
14:30 hrs IST: SIX! Short delivery from Perera and that's enough for Jadeja to hit it over deep mid-wicket. India 544/7
14:23 hrs IST: India 532/7; Saha 51*, Jadeja 24*
14:17 hrs IST: James Anderson to have Old Trafford Cricket Ground pavilion named after him. The honour is certainly one of the biggest achievements in right-arm pacer's career.
14:13 hrs IST: SIX! Flighted delivery from Pushpakumara and Jadeja launches it over long-on for a maximum. India 525/7
14:11 hrs IST: Single and that's fifty for Wriddhiman Saha, 5th in Tests. Solid innings! He's growing in stature with every series.
14:08 hrs IST: Even the four wickets by Sri Lanka today hasn't had any impact on India's innings.
14:01 hrs IST: How Smriti Mandhana made Kumar Sangakkara feel 'humbled'. Read here
13:56 hrs IST: FOUR! Too short from Pushpakumara, Saha goes back and hits it well to deep mid-wicket boundary.
13:50 hrs IST: India 506/7; Saha 44*, Jadeja 5*
13:46 hrs IST: Saha and Jadeja will look to score quick 70-80 odd runs in the next hour or so. Declaration could be coming soon.
13:39 hrs IST: India 501/7; Saha 42*, Jadeja 2*. Time for drinks.
13:32 hrs IST: Ravindra Jadeja is in at No. 9. India going the England way. Both bat deep.
13:31 hrs IST:OUT! Hardik Pandya falls after run a ball 20. Wanted to hit it over long-off but mistimed and Angelo Mathews did the rest.
13:29 hrs IST: FOUR! Slower through the air from Pushpakumara, Pandya rocks back and creams it in the gap between deep mid-wicket and long-on.
13:27 hrs IST: India 488/6; Saha 39*, Pandya 12*
13:23 hrs IST: FOUR! Flatter delivery from Herath, Pandya comes down the track and smashes it straight past the bowler.
13:20 hrs IST: So far so good from India in the second session. Fifty runs from the first 10 overs.
13:13 hrs IST: Ashwin has underlined his batting potential with four centuries and it's no surprise that captain Virat Kohli prefers him at No. 6.
13:09 hrs IST: It has been a massive advantage for the Indian team to have their main spinner with such good batting ability. In the first Test too at Galle, Ashwin played a valuable knock of 47.
13:04 hrs IST: India 467/6; Saha 31*, Pandya 3*
12:57 hrs IST: FOUR! Tossed up from Pushpakumara, Saha dances down the track and lifts it over mid-off. India 459/6
STAT ATTACK - Ashwin is now the fastest to 2000 runs and 250 wickets (in Tests).
12:51 hrs IST: Hardik Pandya now
12:50 hrs IST: WICKET! Fifty and Out for Ashwin. Herath's arm-ball does the trick. India 451/6
12:48 hrs IST: SIX! And that's fifty for Ravichandran Ashwin, 11th in Tests. He also crosses 2000 runs in Tests
12:45 hrs IST: Tidy over from Pushpakumara. Just two runs off it. India 444/5
12:42 hrs IST: Malinda Pushpakumara to bowl the first over after lunch.
12:40 hrs IST: Welcome back!
12:01 hrs IST: And that's lunch. Another brilliant session for India. 98 runs coming off it. We'll be back in a few minutes time.
11:57 hrs IST: Get a feeling India will look to declare around tea. 550 - 580 would be more than enough.
11:52 hrs IST: Eight minutes to go for lunch. Three more overs (maybe).
11:49 hrs IST: India 436/5; Ashwin 43*, Saha 14*
11:45 hrs IST: Single and Ashwin moves into 40s now. His show at No. 6 is just the thing India needs right now.
11:42 hrs IST: Summary of the session so far - 25 overs, 86 runs, two wickets.
11:38 hrs IST: News from Sri Lankan camp - Nuwan Pradeep won't bowl further in the first innings but will bat.
11:33 hrs IST: India 421/5; Ashwin 35*, Saha 7*
11:29 hrs IST: FOUR! Touch short from Perera, Saha steps out and launches it over mid-on for his first boundary.
11:25 hrs IST: Wriddhiman Saha is in at No. 7. India will look to score some quick runs now.
11:23 hrs IST: WICKET! And that's the end of a masterful innings from Ajinkya Rahane. Pushpakumara gets his maiden Test wicket. India 413/5
11:16 hrs IST: FOUR! Fifth boundary for Ashwin. Moves into 30s now. India 412/4; Rahane 131*, Ashwin 34*
11:09 hrs IST: Still no wickets for Pushpakumara. India 405/4; Rahane 130*, Ashwin 29*
11:05 hrs IST: Another excellent hour of play for the visitors. Another 150 runs and it's going be really tough for Dinesh Chandimal's men.
11:01 hrs IST: Single and that's 400 up for India. Rahane 126*, Ashwin 28*. Time for drinks.
10:57 hrs IST: Herath has been disappointing so far. Without him taking scalps, the hosts doesn't stand any chance.
10:52 hrs IST: India 385/4; Rahane 120*, Ashwin 19*
10:47 hrs IST: Interesting comment from KL Rahul after his 57-run knock yesterday. He is now the only opener and third Indian overall (after G Vishwanath and Rahul Dravid) to record six consecutive 50+ scores in Tests.
10:42 hrs IST: FOUR! Short and wide from Perera, Rahane goes back and times it well through cover point. As good as it gets!
10:36 hrs IST: FOUR! Too straight from Karunaratne, Ashwin gets an inside edge and it races away to fine leg boundary. India 377/4
10:32 hrs IST: India 370/4; Rahane 112*, Ashwin 12*
10:27 hrs IST: Decent start from India. 23 runs off the first seven overs. India 367/4
10:22 hrs IST: Two men back at deep extra cover and deep point. Questionable tactics from Chandimal. Sri Lanka need wickets to stop India.
10:19 hrs IST: FOUR! Tossed up from Herath, Rahane comes down the track and smacks it over the bowler's head. Moves to 110.
10:17 hrs IST: Two boundaries from Ashwin in a space of eight balls. India 360/4
10:14 hrs IST: Some movement for Karunaratne early on. Seems to be filling in for Nuwan Pradeep - who injured himself yesterday.
10:10 hrs IST: Ravichandran Ashwin is the next man in at No. 6.
10:09 hrs IST: WICKET! Karunaratne strikes. But still, what an innings from Pujara! Can't get any better. Departs for 133. India 350/4
10:07 hrs IST: FOUR! Poor delivery from Karunaratne. Too full, on Pujara's pads, and he clips it past the fielder at short mid-wicket for the first boundary of the day.
10:05 hrs IST: Best of luck, Neymar! Football world reacts to record transfer from FCB to PSG.
10:03 hrs IST: Two runs off the over. India 346/3; Pujara 129*, Rahane 104*
10:00 hrs IST: Dilruwan Perera to start proceedings. Ajinkya Rahane to take strike.
09:59 hrs IST: And we're underway. Sri Lanka fielders make their way out in the middle and so do Pujara and Rahane.
09:50 hrs IST: The pitch still looks the same and will assist spin. There is less bounce than Galle, and on the fourth and fifth day there will be slow turn, says Russell Arnold.
STAT ATTACK - Cheteshwar Pujara is now the seventh Indian player & 36th overall to score a hundred in his 50th Test appearance.
STAT ATTACK - If India avoid defeat in the ongoing match, they'll go four Test series unbeaten against Sri Lanka (currently W2 D1).
08:50 hrs IST: So Neymar completed his record-shattering transfer from FC Barcelona to Paris St Germain on Thursday, signing a five-year deal with the French club after they triggered his 222 million euros ($263 million) release clause.
08:30 hrs IST: It's been the same old story so far. Can hosts Sri Lanka bounce back today?
08:15 hrs IST: A very warm welcome to HT's live coverage of the second Test of the three-match series between India - Sri Lanka.
However, it was Cheteshwar Pujara and Ajinkya Rahane who did the bulk of the damage for the visitors. Both scored unbeaten centuries as Virat Kohli's men ended the first day with seven wickets in hand and 344 on the board, putting Sri Lanka on the backfoot early in the second Test.
On Day 2, India will look to put a mammoth total on the board and take control of the game early, like they did at Galle.
Sri Lanka, on the other hand, will look to take more wickets and put themselves in with a chance of winning the Test and levelling the series.