Dalit suicide row: 10 professors quit, say Irani's statement fabricated
Ten professors of the University of Hyderabad have resigned from their administrative posts, deepening a crisis triggered by a Dalit scholar's suicide which has turned into a political slugfest between the BJP-led NDA government and the opposition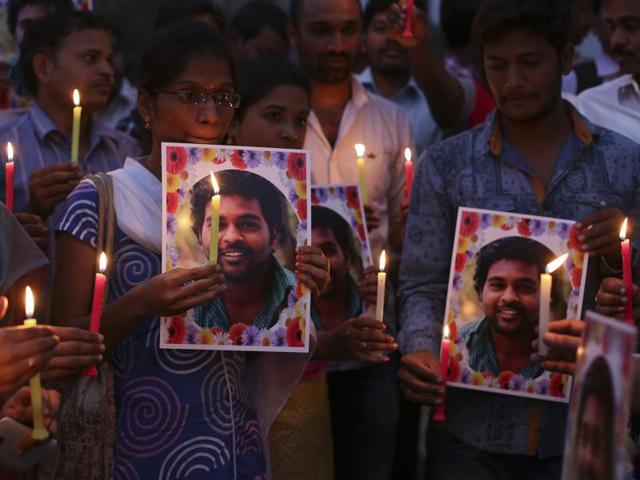 Updated on Jan 21, 2016 11:13 AM IST
Ten professors of the University of Hyderabad have resigned from their administrative posts as the crisis triggered by a Dalit scholar's suicide deepened on Thursday despite the BJP-led central government's attempts to blunt opposition attack against two ministers.
The professors, all belonging to SC/ST communities, quit in a show of solidarity with students demanding justice for 26-year-old Rohith Vemula, who committed suicide after he was suspended from the university along with four other students.
The professors also protested alleged misrepresentation of facts by Union minister for human resource development Smriti Irani who had mounted a spirited counter-attack on the opposition demanding her sacking along with Union minister Bandaru Dattatreya. She had termed the protests as a "malicious attempt" to project the issue as a caste battle.
"In response to the honourable minister's (Smriti Irani) fabricated statements, we the Dalit (SC/ST) faculty and officers lay down our administrative positions," said a press statement by university's SC/ST Teachers and Officers' Forum.
The Irani-led HRD ministry has been at the centre of a controversy after it emerged that it had written five letters to the university following Dattatreya's complaint that the campus had turned into a "den of casteist, extremist and anti-national politics".
The professors also rubbished Irani's claim that a Dalit professor was among the members of the university's body that suspended the students including Vemula.
"It is very wrong to say that the sub-committee (of the executive council) which expelled the students was headed by a Dalit. It was headed by professor (Vipin) Srivastav who is not a Dalit," a professor who did not wish to be identified told HT. The six member sub-committee had suspended the five students, including Rohith.
"We express our solidarity with students who are protesting against the death of Rohith Vemula and demand the immediate revocation of suspension and removal of police cases filed against our students," the forum said. Administrative posts are non-teaching jobs assigned to professors like heading placement committees.Facing strong protests and demands for her resignation from opposition parties over Rohith death, Irani has said this was being done to ignite passions for political gains, while labour minister Dattatreya tried to distance himself from the controversy, saying he did not push the university to suspend the student.
Politics and caste: Who said what on Rohith Vemula's suicide
"This is not a Dalit versus non-Dalit issue as being projected by some to ignite passion and there is a deliberate attempt to provoke students across the country," Irani said in Delhi on Wednesday while rejecting allegations that her ministry had put pressure on the university to suspend Vemula.
Read more: AP government will offer jobs to Rohith Vemula's brother, mother
Vemula ended his life on Sunday at the institution following his suspension after an alleged clash with a leader of the Akhil Bharatiya Vidyarthi Parishad (ABVP), which is affiliated to the RSS. BJP leaders are concerned that the nationwide outrage over the suicide may seriously dent its strategy for a slew of crucial state elections this year.
Opposition parties have joined ranks over the issue and attacked the BJP and NDA's alleged anti-Dalit policies.
Several political leaders including Congress vice-president Rahul Gandhi, CPI(M)'s Sitaram Yechury, Trinamool Congress leader Derek O'Brien and YSR Congress party chief YS Jaganmohan Reddy have already visited the campus.
Delhi chief minister Arvind Kejriwal and BSP leader Mayawati are also expected to visit the university on Thursday and meet the protesting students , who have been boycotting classes since the incident.
Protests have erupted on college campuses in other parts of the country with clamorous demands for Irani, Dattatreya and the vice-chancellor to be removed from their posts.
Close Story
Personalise your news feed. Follow trending topics