Agitating FTII students hold talks with Govt, deadlock continues
Updated on Oct 20, 2015 09:07 PM IST
Agitating students of FTII on Tuesday held one more round of talks with the government but there were no indications of an immediate end to the four-month-old deadlock over the appointment of Gajendra Chauhan as its chairman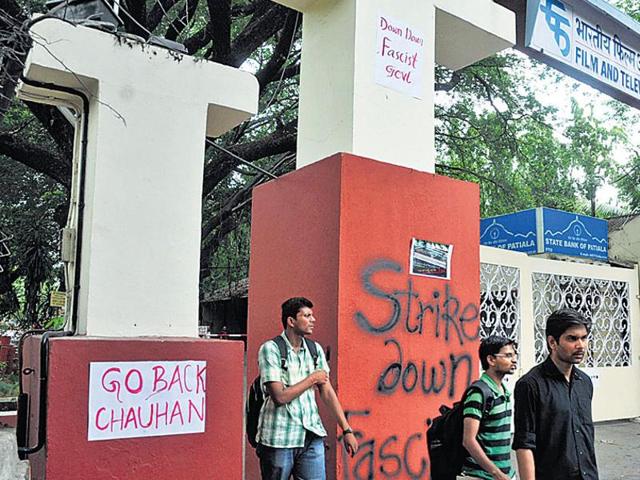 Agitating students of FTII on Tuesday held one more round of talks with the government but there were no indications of an immediate end to the four-month-old deadlock over the appointment of Gajendra Chauhan as its chairman.
The students, who have been demanding removal of Chauhan as well as four society members of the prestigious film and television institute based in Pune, held 5th round of talks with Union minister of state for information and broadcasting Rajyavardhan Singh Rathore for about three hours in New Delhi to find a resolution to the matter. Various issues, including the backlog of academic sessions, were discussed during the meeting.
However, there was no indication of an immediate end to the four-month-old strike. Talking to reporters, Rathore said the meeting saw complex issues come up for discussion, including how the 2008 batch has still not been able to complete its course or how the 2011 batch has been able to complete only one year of its course.
"Even if we have to hire more studios or if we have to provide them Doordarshan studios in Mumbai, the main thing is that students should pass this course, get diplomas and do something in their life. This is the most important thing for students," Rathore said.
With regard to demands for removal of Chauhan and some society members, the minister said the FTII society was constituted after consulting all the members and the composition was acceptable to everyone. "However, later some people gave different opinions," he added.
When a reporter asked whether there was any discussion about the "contentious" appointment of Chauhan as the FTII council chief, Rathore claimed that the issue was "not contentious". The students, however, spoke differently, saying that not just Chauhan, the appointment of four other FTII society members, too, was also contentious. Vikas Urs, one of the students, said they would go back and have discussions with other students about the next course of action.
"We have discussed all appointments, including the appointment of Chauhan, and all other issues. The ministry has said they will go back and discuss and we will also go back to our campus and discuss all this," he said. Urs said the students have asked the ministry to have a relook at the appointments of not just Gajendra Chauhan but also four society members.
"All the five appointments are contentious," he said. Asked whether a date for another meeting had been decided, Urs said the I&B ministry should be asked about that.