AI 173: World's longest all-women operated flight is ready for take off
Mar 06, 2016 08:46 AM IST
In a first-of-its-kind initiative, Air India's flight AI 173 will fly non-stop from Delhi to San Francisco, becoming the world's longest all-women operated and supported flight to mark International Women's Day on March 8.
With International Women's Day round the corner, India's national carrier airline, Air India, is all set to make history. Celebrating the power of women, the flight AI 173 that'll take the non-stop Delhi-San Francisco route will set a record for being the world's longest all-women operated and supported flight. The flight that departs from New Delhi on March 6 at 0235 hrs will land in San Francisco at 0600 hrs, having covered 17 long hours.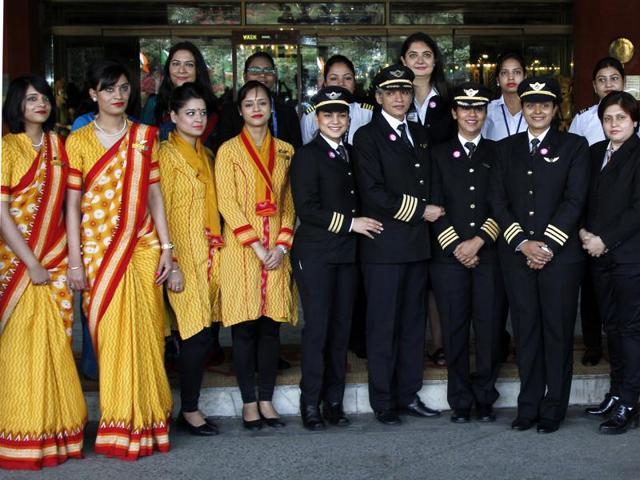 This first-of-its-kind flight will serve the passengers with an all-women staff, be it cabin crew, cockpit crew, check-in staff, doctor or customer care staff. Under the command of Captain Kshamta Bajpayee and Captain Shubhangi Singh, the flight's First Officers will be Captain Ramya Kirti Gupta and Captain Amrit Namdhari. Not just that, the ground staff - from operator to technician, engineer, flight dispatcher and trimmer - will also all be women. Now that's some celebration, right?
Read: Air India to dock salaries of pilots refusing to fly at 11th hour
Speaking at the felicitation ceremony, Captain Kshamta Bajpayee said, "I feel truly blessed to be a part of the Air India family. Only when you wish can you be granted that wish. Only when you dream can that dream come true."
Captain Ramya Kirti Gupta confesses that the desire to achieve big keeps her going for such initiatives. "It's a proud moment. It's a 17-hour flight that we are taking, covering 14,600 km with a ground speed of 1200 km per hr," she says. For Captain Shubhangi Singh, the flight marks a momentous day in her life.
"You need to work hard. There is no shortcut to success. I come from a modest family, and without any aviation background. I am overwhelmed to be a part of an all-women crew in the history of aviation. It's a long flight covering various countries; there are several procedures that we'd have to keep in mind," says Singh.
Read: Air India plane averts collision course in runway mix-up
Speaking about this special flight, Ashwini Lohani, CMD Air India, said: "It will be a historic flight and the longest to be operated by an all-women crew. The airline has immense respect for women and this flight would be a symbol of women empowerment."