Anna Hazare joins ex-servicemen's protest on OROP scheme in Delhi
Updated on Jul 27, 2015 01:06 AM IST
Social activist Anna Hazare accused the National Democratic Alliance (NDA) government of not fulfilling even a "single promise", including the implementation of one rank one pension (OROP) scheme, and assured the defence personnel that he will do everything possible to help them.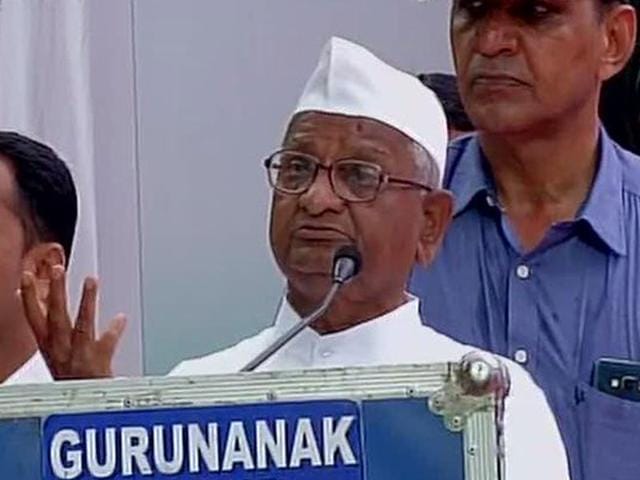 Veteran social activist Anna Hazare on Sunday threatened to launch a countrywide protest if the BJP-led NDA government failed to implement the One Rank, One Pension (OROP) scheme by October 2 this year.
Joining the 'Run for OROP' event organised by protesting retired defence personnel at Delhi's Jantar Mantar, Hazare attacked the Modi government for not fulfilling its promises.
"Many promises were made on ending corruption but nothing happened. Assurances from the government are not enough. We need implementation of OROP. Veterans serve the country but do not get their due," he said.
The 78-year-old Gandhian said he would travel across the country to "awaken" the people on the issue.
The nationwide rallies will end with a protest in Delhi's Ramlila Maidan on October 2, the birth anniversary of Mahatma Gandhi. "We still have two months left," he said.
Without taking the name of Prime Minister Narendra Modi, Hazare said he (Modi) had promised OROP before polls, but is yet to take a decision. "When we will come to power, we will implement OROP...they (Modi and the BJP) had assured in Rohtak," he said, referring to Modi's election rally.
However, the government said it holds the armed forces and their families in the highest esteem and is working hard on the scheme.
"It is a very important issue. That should be settled... We are working on that in principle," Union parliamentary affairs minister M Venkaiah Naidu said in Bengaluru. "All issues cannot be resolved in a year and people have to understand that the NDA inherited bad economy and it is under repair," he said.
The Gandhian, however, had a word of praise for defence minister Manohar Parrikar whom he called a "good" man.
Close Story
Personalise your news feed. Follow trending topics