Capt cancels political rallies after Canadian foreign ministry's request
Apr 24, 2016 01:37 PM IST
Punjab Congress president Captain Amarinder Singh on Thursday cancelled his plans to hold political rallies in Toronto and Vancouver following request from Canada's foreign ministry.
On an advisory from the Canadian foreign ministry, Punjab Congress president Captain Amarinder Singh has cancelled his political rallies in Toronto and Vancouver. However, he will meet Punjabi NRIs during his six-day visit to Canada starting Friday.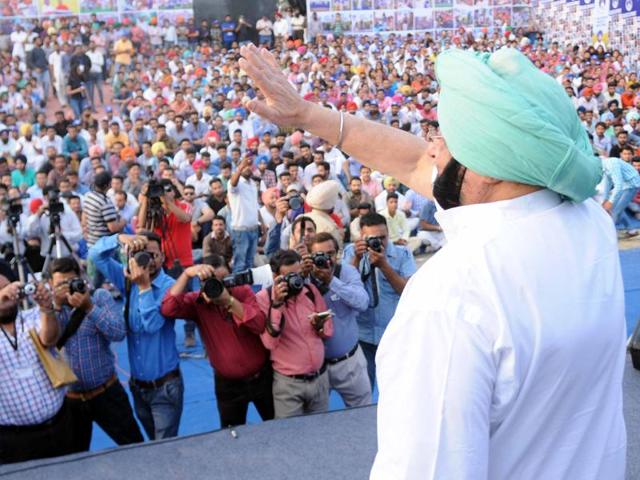 Indian foreign secretary S Jaishankar told him on telephone that the Canadian rules prevented foreign governments and individuals from doing election campaigning in Canada. A Sikh group in Canada is trying to block the visit of the former Punjab chief minister.
In the recent months, campaigning for next year's assembly election in Punjab has arrived in distant Canada. The Aam Aadmi Party (AAP) commenced activities and plans to bring in its convener Arvind Kejriwal to make a pitch to its supporters.
Read more: Mission 2017: Is Punjab really AAPwardly mobile?
Amarinder, a Congress MP in the Lok Sabha from Amritsar, is scheduled to reach Canada before the Delhi chief minister does. But hardline activist group Sikhs For Justice (SFJ) is trying to ensure Punjab politicking doesn't make it to the country.
Toronto-based law firm Goldblatt Partners, on behalf of the SFJ, has sent a memorandum to foreign minister Stephane Dion, claiming Singh's visit will violate a circular issued in September 2011 wherein the department stated it will "not allow foreign governments to conduct election campaigns in Canada or establish foreign political parties or movements in Canada".
Read more: Amarinder assures NRIs to visit Punjab 'without any fear'
The missive asks the Canadian government to "lodge a formal objection" with the Indian high commission in Ottawa over this matter.
While such a policy will also apply to AAP's campaigning in Canada, the focus at this time is the Congress leader's impending arrival. Singh is expected to address two gatherings in Toronto and Vancouver and attend smaller meetings.
Amarpreet Aulakh, president of the Indian Overseas Congress Canada East, said these are "private" events and not open to the public. "This is an outreach programme for Amarinder to put forward his point to NRIs before the Punjab polls," he said.
The Congress has made arrangements for additional security at the venues, given the possibility of protests.
SFJ plans to up the ante in case Amarinder's visit is on. In a statement, its legal adviser Gurpatwant Pannun said the group will launch a private criminal prosecution against Amarinder if he comes to Canada, on the grounds that during his tenure as chief minister, he appointed or reinstated officials allegedly involved in torture or extra-judicial killings in Punjab.
"The Canadian Constitution promotes human rights and does not condone the acts of those who participate or protect violators," Pannun said. The threat of a similar suit in 2013 had prompted Punjab deputy chief minister Sukhbir Singh Badal to cancel his trip to Canada.
Read: Sikh group makes bid to block Amarinder Singh's visit to Canada