Centre to clear Russian military purchases ahead of Modi-Putin meet
Published on Dec 17, 2015 01:07 AM IST
Days before Prime Minister Narendra Modi meets Russian President Vladimir Putin in Moscow on December 24, the Defence Acquisition Council (DAC) chaired by defence minister Manohar Parrikar is all set to clear on Thursday procurement of five S-400 supersonic air defence systems from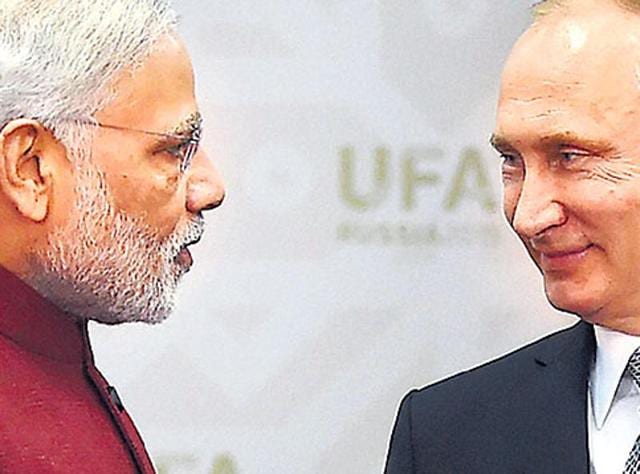 Days before Prime Minister Narendra Modi meets Russian President Vladimir Putin in Moscow on December 24, the Defence Acquisition Council (DAC) chaired by defence minister Manohar Parrikar is all set to clear on Thursday procurement of five S-400 supersonic air defence systems from Russia. Besides, the DAC will also clear a "Make in India" plan to raise six regiments of Pinaka multi-barrel rocket launcher systems (MRLS). The five S-400 systems will cost around Rs 40,000 crore, while the Pinaka systems will cost another Rs 14,000 crore.
South Block sources said the acquisition of the S-400 system, which has a range from 40 to 400 km, depending on the missile fired, could be through the Request for Proposals (RFP) or government-to-government route. The acquisition will be discussed between Modi and Putin and may figure in the joint statement.
Although the military had earlier projected a requirement of a dozen S-400 systems, the defence ministry is clear that only five systems are sufficient to take care of the future airborne threat from across India's borders. The S-400 is a proven anti-aircraft system, and is widely considered the most advanced of its kind in the world, with the capability of engaging missiles as well as aircraft. It comes with a mobile launcher and a threat detection radar-cum-command centre. The deal includes purchase of some 6,000 missiles from Russia.
The DAC is also expected to clear Pinaka MRLS that is expected to replace traditional artillery guns on the border. The Pinaka system can fire within seconds a barrage of unguided rockets with a range of up to 38 km to achieve a saturation bombing effect, or what is called area destruction. This kind of weapon system is lethal for troop and armour concentrations, and is also battle-proven.
Close Story
Personalise your news feed. Follow trending topics