Congress will solve Punjab's drug problem, says Rahul Gandhi
Updated on Apr 16, 2016 06:28 PM IST
Congress vice-president Rahul Gandhi said on Saturday his party will tackle the issue of drug abuse in Punjab after it forms a government in the state and will bring about changes to help it grow.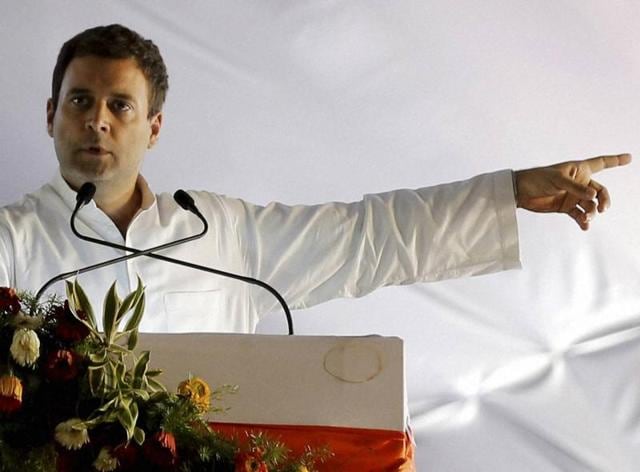 Congress vice-president Rahul Gandhi said on Saturday that his party will tackle the issue of drug abuse in Punjab within months of forming a government.
Gandhi is in the state to meet party workers and discuss issues related to the upcoming assembly elections and the Congress' preparedness. He will meet almost 2,000-2,500 party members including sitting MLAs, MPs, ex-MLAs, block presidents, and other office bearers.
The Congress leader slammed the ruling SAD-BJP government, saying it does not want to focus on the problem of drug abuse in the state and is not working effectively to root out the menace.
"The present government in Punjab has been ignoring the drug issue. The drug problem will be solved in months if our party comes to power in the Punjab assembly elections," Gandhi said.
He said that the ruling government had mocked him for raising the sensitive issue.
"Drug problem has always been a very serious issue in Punjab. I raised this issue several times earlier, but Akali Dal made fun of me. We want to give a new kind of government in Punjab, one that is sensitive to people," he said.
"Punjab is the heart of the nation and nobody can insult it. Punjab gives life to the country. I have a special place for Punjab in my heart and all I want is to help the people of the state. (Punjab ko koi badnaam nahi kar sakta, Punjab is desh ka dil hai. Punjab desh ko zindagi deta hai. Punjab ke liye mere dil mein jagah hai aur mai Punjab ki madad karna chahta hun)," he added.
The Congress had faced defeat in the 2007 and 2012 Punjab assembly polls and aims to wrest power in 2017.
The meeting, organised by poll strategist Prashant Kishor's organisation Indian Political Action Committee, assumes significance as the state Congress, which faced "factionalism", wants to "put up a united face" to take on SAD-BJP alliance and emerging AAP in the polls.
Senior Congress leaders Jagmeet Brar and Bir Davinder Singh were suspended for their outbursts against party leaders, especially Amarinder Singh.
Gandhi's visit is being seen as an indication of the party's aggressive tone for the polls, especially three days after the Baisakhi political conference at Talwandi Sabo where senior leaders, Punjab campaign committee in charge Ambika Soni and state affairs in-charge Shakeel Ahmad, asked the party leaders to accept Captain Amarinder Singh as their leader or face expulsion from the party.
Kishor, who played a key role in victories of Narendra Modi-led BJP in the general elections and JD(U)-RJD-Congress alliance in Bihar, will help Congress in Punjab and Uttar Pradesh, where elections are scheduled for next year.