Delhi HC upholds death for 4 in Dec 16 gang-rape
Updated on Dec 11, 2015 03:21 PM IST
The Delhi High Court upheld death penalty awarded by a trial court to four men convicted for Dec 16, 2012 brutal gangrape of a paramedic, saying their crime fell in the-rarest-of-the-rare category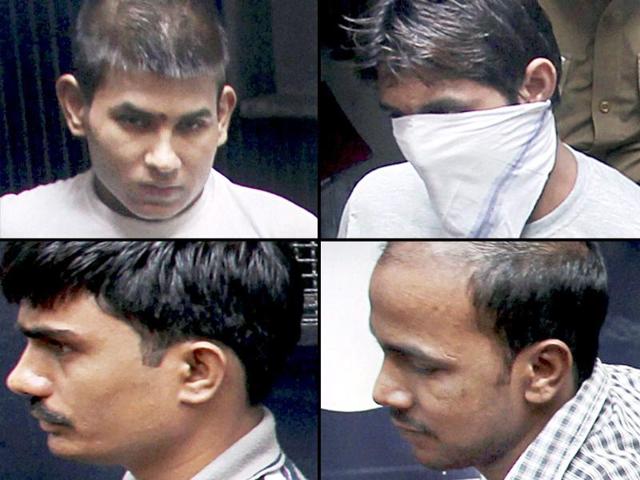 The Delhi High Court on Thursday upheld the death sentence awarded to the four convicts in the brutal gangrape and murder of a 23-year-old woman on December 16, 2012, which triggered countrywide outrage.
A bench of justices Reva Khetrapal and Pratibha Rani confirmed the sentence of Mukesh Singh, 26, Akshay Thakur, 28, Pawan Gupta, 19, and Vinay Sharma, 20, saying their crime falls in the rarest-of-the rare category, which warrants death penalty.
"Death reference is accepted. Death sentence awarded by the trial court is affirmed. The appeals of the convicts are dismissed," the bench said.
Full coverage:
After the verdict, the lower court later sent the case to the high court for confirmation of the death sentence. It also granted 30 days time to the convicts to file their appeal before the high court.
The prime accused, Ram Singh, 34, had been found dead in the cell in Tihar Jail in March last year and proceedings against him were abated. On August 31, another accused, a juvenile, was convicted and sentenced to a maximum of three years in a reformation home.
On the night of December 16, 2012, the paramedic student was gang-raped in a moving bus in south Delhi after the convicts lured her and her 28-year-old male friend, who was also assaulted, on board the vehicle.
The victim's friend, a software engineer, suffered fractures in his limbs. The girl succumbed to her injuries on December 29, 2012 in a hospital in Singapore.
In most of the rape cases, trial takes years to complete. But the 16/12 gang rape case proved to be an exception as the trial was completed in less than nine months.

(With PTI inputs)
Read more:

•
••
•