Drought-ravaged Bundelkhand fertile ground for politicking
Drought-hit Bundelkhand is turning out to be a fertile ground for politicking, as leaders continue to make a beeline to hear tales of human miseries.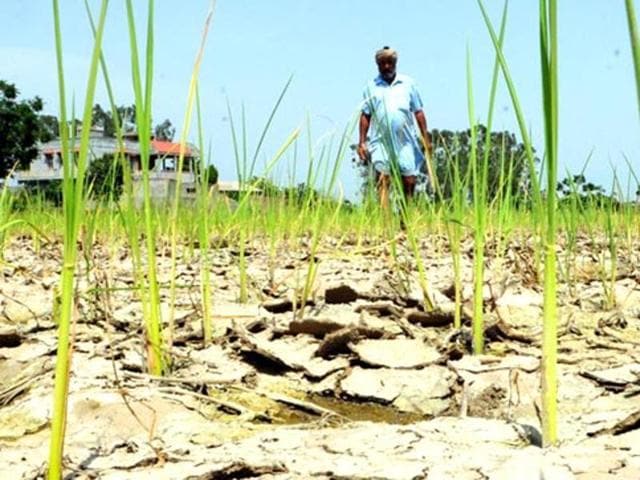 Updated on Jan 23, 2016 08:30 PM IST
Drought-hit Bundelkhand is turning out to be a fertile ground for politicking, as leaders continue to make a beeline to hear tales of human miseries and indulge in accusations and counter accusations over the situation in the region that has remained caught in the quagmire of politics over the years.
"The situation is such that it is hard to hold back one's tears," BJP legislature party leader Suresh Khanna had said after his visit earlier this week.
After Khanna's trip, Congress vice-president Rahul Gandhi took out his 'kisan padyatra' on Saturday and chief minister Akhilesh Yadav is set to visit the region on January 27.
The sordid fact that the Bundelkhand region in Uttar Pradesh is blighted with drought and unseasonable rains that have destroyed standing winter crops has made it too hard to resist for leaders looking to gain political mileage from the farmers' woes.
"Bundelkhand has suffered from heavy rains, hailstorm or drought for the past three years. As a result the condition of farmers has gone from bad to worse. But the state government and the Centre (are indulging) in blame game," said Uttar Pradesh Congress committee president Nirmal Khatri, who along with All India Congress Committee general secretary (UP in-charge) was in Mahoba on Friday to oversee arrangements for the 'kisan padyatra'.
Despite Rahul's eager attempts to reveal himself as a saviour of farmers with his numerous 'padyatras' across the country, political rivals are not willing to forget how the special package, part of the UPA's drought-mitigation strategy, had fallen flat — with no visible impact on the condition of farmers in Bundelkhand.
The special package to the tune of thousands of crores of rupees was a baby of the Congress vice-president, and the then planning commission deputy chairman Montek Singh Ahluwalia had even undertaken a visit to Bundelkhand on December 3-4, 2011 at his behest.
Nonetheless, addressing villagers during his nearly seven-kilometre-long foot-march on Saturday, Rahul left no stone unturned to attack the Centre for not doing enough for the development of the water-scarce region.
"During the UPA regime, price of crude petroleum was USD 150 per barrel, whereas now it has fallen to just USD 28. A lot of money saved here can be used for the development of backward regions like Bundelkhand," he said.
Taking a swipe at Narendra Modi, he said the Prime Minister of the country should also empathise with farmers and not just industrialists.
It may be mentioned here that it was senior Congress leader Rita Bahuguna Joshi who first visited the region and subsequently briefed Rahul on the situation of farmers. Earlier too, chief minister Akhilesh Yadav had asked chief secretary Alok Ranjan to visit Bundelkhand to review relief measures after examining reports on deficit rainfall submitted by psephologist and former Aam Aadmi Party leader Yogendra Yadav after the latter's 'samvedna yatra' through drought-hit regions.
(With inputs from agencies)
Close Story
Personalise your news feed. Follow trending topics