Bounties, death threats: BJP mounts full-scale attack on JNU's Kanhaiya
Updated on Mar 06, 2016 07:37 AM IST
Senior BJP leaders launched a frontal attack on JNU's Kanhaiya Kumar on Saturday, targeting "anti-national activities" on campuses in the country.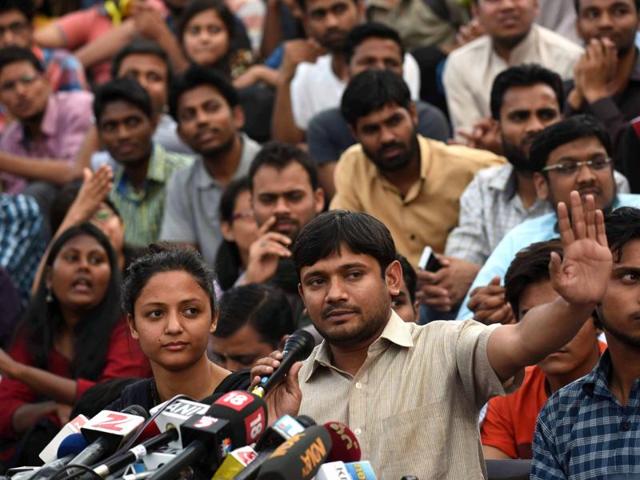 Hindustan Times |
, Gorakhpur/vrindavan/varanasi
HT Correspondents
Senior BJP leaders launched a frontal attack on student leader Kanhaiya Kumar on Saturday, with Union minister VK Singh and party MP Yogi Adityanath targeting "anti-national activities" on campuses in the country.
Union minister VK Singh berated Kumar for saying his icon was Dalit scholar Rohith Vemula, whose suicide in Hyderabad university sparked a debate over campus discrimination.
Singh said Vemula had organised a meeting in support of the 1993 Mumbai blasts convict Yakub Memon.
"I have to say that Rohith Vemula too had organised a seminar on Yakub Menon. Do our youths have to follow icons who praise terrorists and talk about dividing the nation," said the former army chief, in his address at a two-day convention of the BJP's youth wing in Vrindavan attended by party chief Amit Shah.
Kumar, the president of the JNU students' union, was arrested on sedition charges last month after police said he participated in an event on the campus where anti-Indian slogans were shouted. Kumar denies this. But his arrest has sparked unprecedented political jousting over what constitutes nationalism and free speech.
Read | Rohith Vemula had organised meeting for Yakub Memon: VK Singh
Another Union minister Mahesh Sharma also said the JNU row had affected tourism.
"I accept that such incidents (like the JNU row) certainly have an effect on the tourism industry. The image of the nation also gets tarnished by such incidents," the minister said in Varanasi, the Lok Sabha constituency of Prime Minister Narendra Modi.
Adityanath, a controversial MP from Gorakhpur in Uttar Pradesh, said "Jinnahs" would not be allowed to take birth in educational institutions of India, referring to the first Prime Minister of Pakistan blamed by many for the 1947 Partition of India on religious lines.
"If such elements were born in premier institutions, they would be buried," he told reporters in Gorakhpur.
Read | Will bury Jinnahs if they are born in varsities: Yogi Adityanath on JNU row
Earlier in the day, posters appeared in Delhi in the name of a little-known organisation offering Rs 11 lakh to anyone who kills the JNU student leader.
The BJP was further embarrassed after a leader of its youth wing announced a "reward" of Rs 5 lakh to anyone who cuts off Kumar's tongue. Kuldeep Varshnay was then expelled by his organisation.
The concerted attack on Kumar, released on bail for six months in a sedition case, came a day after he vowed to continue his "movement" till the BJP-led government at the Centre was ousted from power.

Read | BJYM leader expelled for offering prize for cutting Kanhaiya's tongue
Personalise your news feed. Follow trending topics