India play catch-up again after sluggish start
Updated on Dec 30, 2011 08:11 AM IST
Just one Test into the four-match series against Australia and India are confronting the grim reality that they remain international cricket's slowest starters, especially on tour.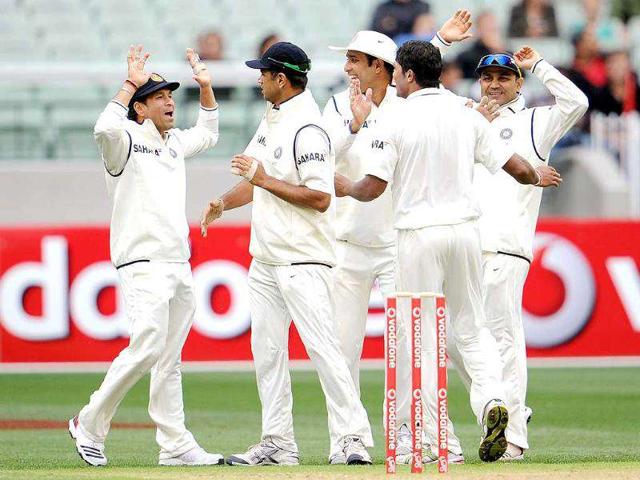 Just one Test into the four-match series against Australia and India are confronting the grim reality that they remain international cricket's slowest starters, especially on tour.
Before leaving the shores of home, VVS Laxman was contemplating what he thought was India's best chance of securing their first Test series triumph in Australia.
The 122-run thumping in Melbourne, however, means it is the same old story with the Indian team embarking on yet another catch-up job when the series resumes in Sydney on Tuesday.
"We are known to be tentative starters. More often than not, we don't start well. Hope the next match is going to be slightly better," India captain Mahendra Singh Dhoni said in the aftermath of the defeat.
This time, though, Dhoni cannot even complain about poor preparation.
Unlike in England earlier this year, where the under-cooked, injury-ravaged team surrendered the world number one test status following a 4-0 whitewash, Dhoni and his team mates had two weeks and a couple of warm-up games to get ready.
"We had enough practice, we just need to apply ourselves a bit more in the game," Dhoni later told STAR Cricket channel.
The Indian skipper can probably start with himself.
A former number one batsman in one-dayers, Dhoni has a rather unflattering Test record abroad and his scores of six and 23 in Melbourne hardly enhanced his reputation.
Yes, batting at number seven means he often has tailenders for company but the hard truth is Dhoni averages a poor 17 in Australia, a gulf from his near 38 overall.
This from a captain who, in cricket's shorter formats, leads by example.
Opener Gautam Gambhir's poor form has not helped India's cause either, denying them the kind of solid start to an innings they would have been hoping for.
The pugnacious southpaw embarked on a sensational purple patch in March 2009 when he hit the first of five centuries in as many tests.
He has not managed another since and now has just two half centuries in his last 13 innings, both coming against a weak West Indies attack on home soil.
BOUNCED OUT
Gambhir could not negotiate swing in England, where a concussion while fielding compounded his misery, and was done in by the bounce in both innings of the Melbourne test.
So far the perfect foil for his explosive partner Virender Sehwag, Gambhir managed three and 13 in Melbourne and now looks the most vulnerable of India's top five batsmen.
His fellow Delhi batsman Virat Kohli has also put his number six position in India's line-up at risk.
Kohli has cemented his place in India's 50-over squad but after managing 11 and a golden duck in Melbourne, the 23-year-old right-hander has given Rohit Sharma, another limited overs specialist, enough reason to be optimistic of his test debut.
In the bowling department, Dhoni's sole concern is a seemingly inexplicable inability to clean up the Australian tail despite tearing through the top and middle order.
Dhoni reckoned it was the Australian tailenders who tilted the scales in Melbourne but would not blame his bowlers, who did, after all, take 20 wickets in the match.
"It's not that the bowlers didn't try," Dhoni said. "Definitely we need to find a way to get the lower order batsmen out because if they keep adding those extra 30, 40-odd runs that can really make the difference."
The tourists will hope that is not the case in the second test, where a traditional Sydney Cricket Ground track would suit the Indian stroke-makers and spinners alike.
"It's a long series and four tests give you a lot of room to make a comeback in the series. We will take positives from this match and come back strongly in the next test," Dhoni said.
Personalise your news feed. Follow trending topics