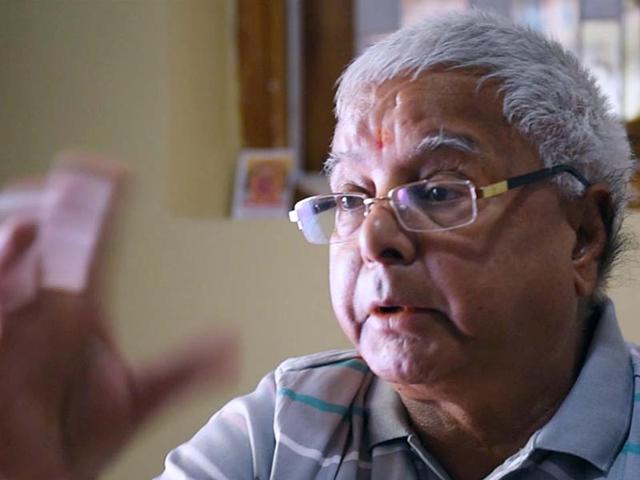 It's Mandal versus kamandal, Lalu Prasad says ahead of Bihar polls
RJD president Lalu Prasad, 67, has made caste census an election issue in Bihar and questions why the BJP government was not releasing the data. In an interview to DK Singh, he says it's a fight between "Mandal and kamandal" and it will "go far".
Hindustan Times | By Deepak Kumar Singh
UPDATED ON JUL 19, 2015 08:13 AM IST
Rashtriya Janata Dal (RJD) president Lalu Prasad, 67, has made caste census an election issue in Bihar and questions why the BJP government was not releasing the data. In an interview to DK Singh, he says it's a fight between "Mandal and kamandal" and it will "go far". Excerpts:
Q. You have made a huge political issue out of the caste census data. Are you trying to re-create the 'Mandal wave' ahead of assembly elections?
A. The caste census was last conducted in 1931. Post-Independence, all governments closed their eyes. Whichever government came -- and I was also a part of it -- made budgets in the interest of stronger people while the poor became poorer. As per 1931 census, SCs were 16% of the population. Now, in 2015, their population has increased four-five times. Suppose their population has now increased to 35-40%, they have to be given proportional reservation in government jobs. The Constitution of India has provided this and no political party or court can stop it. Badi door tak baat jayegi (the issue will go very far). It is Mandal versus kamandal. Kamandaldharis (Hindutva proponents) are stopping it (caste census data release). This is a jung (war), a jihad by mandalwadis (those seeking social justice) and Ambedkarwadis against kamandalwadis. And, let me make it clear, I am not against any caste. I want everybody to get their rights.
Q. You have gone with Nitish Kumar whose main slogan was to end 'Lalu's jungle raj'. How do you justify it?
A. Who filed petitions against me? The BJP. Who implicated me through the CBI? The BJP. Why do they find Nitish so bad now? They were so close to him. The BJP was his stepney. What right do they have to say who has gone with whom? I have not gone with anybody. Get it clear, I have not gone with anybody. I have strengthened secular forces and my party has tied up with Nitish' party to chase away the BJP and the RSS. We are together to ensure that there is no division of secular votes.
Q. But it is believed that the workers (of the two parties) may not get along given that they fought with each other for years...
A. Communal forces are creating this. They are asking all sorts of questions. Everybody (RJD and JD-U workers) are working together. Get it clear, I am not with anybody. We are together to send them (BJP) back to Nagpur and strengthen secular forces. Everybody knows who said what about whom. Didn't Ramvilas Paswan tell (former Pakistan President) Pervez Musharraf that he was severing ties with the BJP over Godhra riots? Lalu Yadav has a character. He will never shake hands with communal forces.
Q. How is it that you are nowhere to be seen in Nitish Kumar's posters?
A. I don't know why people don't understand it. They are released by public relations department (of the government). Do you see the JD(U)'s name or symbol there? No.
Q. You had a very good rapport with Congress president Sonia Gandhi but it's believed that you didn't attend her iftaar party because you are upset with the Congress...
A. I have a very good relationship with her and her family. Koi hamara narajagi nahin hai (I am not upset). These people (adversaries) create such things. I have nothing against that family. Aisa parivar, aisa ehsanmand, aisi mahila rare milegi (such a family, so grateful, it's rare to see such a lady). (Laughing) I din't go for her iftaar because we had our own iftaar and two of my MPs were there.
Q. There are reports that Manjhi (former Bihar CM Jitanram Manjhi) may be willing to come with you. Would you consider it?
A. I never had and don't have anything against Manjhi. You go around Patna and you will see how much I have done for Musahar community. I have made pucca houses for them all over Bihar. In my regime, I went to the doors of Musahars and Halkhors (another Dalit community) and provided them with houses and education. You go to Rajendranagar, their children speak English: 'Yes sir... ABCD....' I awakened these people and that was called Lalu's jungle raj. They (influential castes) were making merry. I gave the poor a portion of their gardens. That is called Lalu's jungle raj. You know Anand Kumar of Super 30! He belongs to Chandravanshi Kahar community. Anand came to meet me. He wanted to touch my feet. yeh DG (director general) Abhyanand jhooth-mooth ka uske kaam ka credit leta tha (DG Abhyanand falsely takes credit for Anand's work). Entire hard work is of Anand and it produces 100% results (in engineering exams). Anand told me that if I were not there and if I had not awakened people, he would not have risen to that height. And so he came to touch me feet. Did anybody tell his/her caste names earlier? Today, they say it with pride and demand their rights.
Q. The BJP is reaching out to the OBCs. They are claiming credit for installing an OBC as Prime Minister...
A. This is good. They have started remembering the OBCs. They didn't remember it before 1990. It was only after Lalu's movement that they started talking about OBCs. How many OBCs are there in their (central) cabinet? Remembering OBCs for votes!
Q. If you win, will Nitish Kumar be the chief minister for five years?
A. Paanch saal rahenge ki kitne saal rahenge, sarkar rahegi tabhi to rahenge (whether for five years or for whatever years, he will be there only when the government is formed).
Read: Bihar: Nitish, Lalu ego clash may hurt 'Janata Parivar'
BJP banks on support from Yadavs upset with Lalu-Nitish alliance
Close