Kailash Satyarthi's crusade to save childhood continues; 60 mn still need him
Kailash Satyarthi has been a relentless crusader of child rights and his organisation, the Bachpan Bachao Andolan has fought child labour by creating domestic and international consumer resistance to products made by bonded children, as well as with direct legal and advocacy work.| Nobel for Malala and Satyarthi binds India, Pak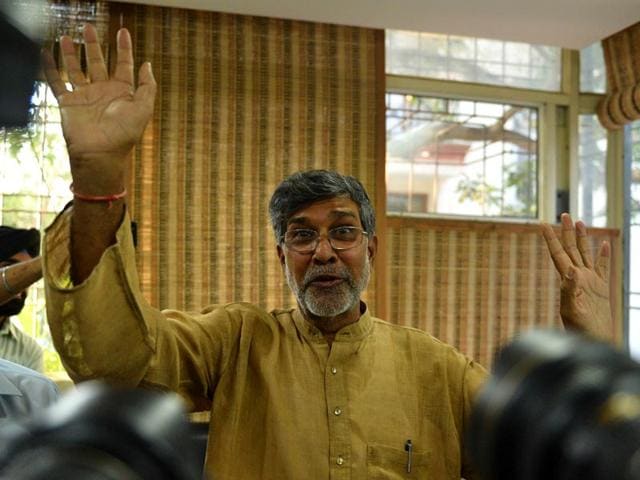 Updated on Oct 11, 2014 11:49 AM IST
Before he became the second Indian to win the Nobel Peace Prize on Friday, not many had heard Kailash Satyarthi's name.

But within 90 minutes of the announcement, the child's rights activist had gained more than 4,500 followers on Twitter--and the list was growing at blazing speed.

The 60-year-old activist has been a relentless crusader of child rights and his organisation, the Bachpan Bachao Andolan (BBA), has been at the forefront of the drive against child labour in India for years.

Interview: 'The award will benefit the movement'

"It was a passion from my childhood to work for children, I carried it forward," said Satyarthi. "I have been very strongly advocating that poverty must not be used as an excuse to continue child labour. It perpetuates poverty. If children are deprived of education, they remain poor."
Satyarthi was trained as an electrical engineer, but he began his work by staging raids on Indian manufacturing, rug-making and other plants where children and their parents often work as bonded labour.
Read: The highest honour: India's Nobel Prize connection

The Bachpan Bachao Andolan, founded in 1980, has fought child labour by creating domestic and international consumer resistance to products made by bonded children, as well as with direct legal and advocacy work.

Building on his initial activism, Satyarthi organised the Global March Against Child Labor in the 1990s -- dedicated to freeing the millions of children abused worldwide in a form of modern slavery.

The activist is also founder of RugMark, a widely known international scheme that tags all carpets made in factories that are child-labour free.
Read: Why Kailash Satyarthi deserves the Nobel Peace Prize

In 1998, he organised the Global March Against Child Labour across 103 countries, which helped pave the way for an International Labor Organization convention on the worst forms of child labour.

He described the plight of children forced into the worst kinds of abusive work in a 2010 interview with the Robert F. Kennedy Centre for Justice and Human Rights.

"If they cry for their parents, they are beaten severely, sometimes hanged upside down from trees and even branded or burned with cigarettes," he said.

Satyarthi has said his social conscience was awoken when he was six and noticed a boy his age on the steps outside the school with his father, cleaning shoes.

Watch: 'Why I took up the cause of child rights'


Seeing many such children working instead of being educated, he felt an urge as he grew older to solve the problem -- launching him on his career of activism.
"I think of it all as a test. This is a moral examination that one has to pass. ... to stand up against such social evils," he said in the Kennedy Centre interview.
Through a number of training programmes, Satyarthi also helps children sold to pay off their parents' debts find new lives and serve as agents of prevention within their communities.
"The outstanding work that Mr Satyarthi has done over the past 35 years on child labour and trafficking has helped change mindsets and influence communities to protect children's rights and create a more just society," Deval Sanghavi, founder of Mumbai-based philanthropic organisation Dasra, told HT.
President Barack Obama on Friday congratulated Kailash Satyarthi and Malala Yousafzai calling their Nobel "a victory for all who strive to uphold the dignity of every human being".
Himself a Nobel peace laureate from 2009, Obama also said that despite their difference background, they share an "unshakeable belief in the basic dignity of every girl and boy".

Read: Satyarthi's hometown erupts in joy

The Bachpan Bachao Andolan was initiated as a grassroot-level and direct-action-oriented people's movement in 1980 to eliminate exploitation of children, especially child labour and child trafficking. The campaign has over 80,000 individuals and 750 organisations as members, who advocate and act for the protection of child rights.

One of Satyarthi's big achievements is the promotion of a consumer awareness campaign in Europe and the US aimed at dissuading consumers from buying carpets made by child labourers and simultaneously endorsing goods produced without exploiting children.

Satyarthi uses an array of techniques including lobbying with politicians and knocking on the doors of the Supreme Court, National Human Rights Commission and other judicial institutions for enforcement of child rights laws.

In pics: Kailash Satyarthi, an activist at work

(With agency inputs)
Close Story