Kanhaiya says man tried to strangle him on plane, cops dismiss claim
Hindustan Times |
, Mumbai
HT Correspondent
Apr 25, 2016 02:24 PM IST
An initial probe carried by police revealed that it was not a case of assault but the two pushed each other over a petty argument.
Jawaharlal Nehru University student leader Kanhaiya Kumar was offloaded from a Pune-bound Jet Airlines flight at Mumbai airport after a fight with a co-passenger, whom he accused of trying to strangle him.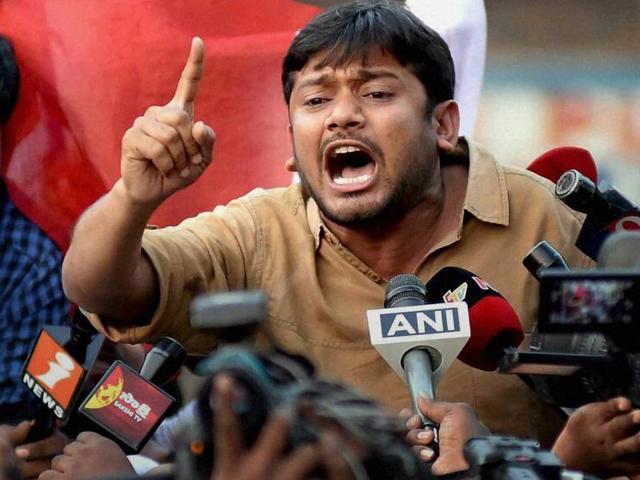 The police, however, dismissed it as a scuffle over seats and the airline said it had taken both the alleged assailant and Kanhaiya and his friend off the plane.
While Kanhaiya left for Pune by road, his friend and the other passenger, Manasjyoti Deka, filed complaints with the police. The friend accused Deka of shoving and hitting Kanhaiya and catching him by the neck.
Read: Kanhaiya says cops hiding truth behind assault, takes on Modi govt
"My hand happened to brush his neck as I was trying to balance myself... I don't know him personally though I have seen his pictures. This is being done for cheap publicity," Deka, who was traveling from Kolkata to Pune where he works with TCS, said.
"His friend threatened to harm me saying 'we will see you when you come to Kolkata'."
"Yet again, this time inside the aircraft, a man tries to strangulate me," Kanhaiya later tweeted. He also alleged Deka was a BJP supporter, a claim the police rejected.
Joint commissioner of police (law and order) Deven Bharti said none of the allegations made by Kanhaiya's friend were found to be true. "We asked him (Kanhaiya) to give a complaint but he did not. We also asked him (Kanhaiya) to do a medical test but he did not listen to us," he said.
In Pune, Kanhaiya accused the police of falsely claiming that the fight was over seats. "Such brawls do not happen in planes, they happen in trains and on Mumbai locals. On whose behest are the police lying?"
Read: Wrong to label Kanhaiya anti-national, BJP may lose youth support: Thackeray
Read:Kanhaiya's attack allegation a publicity stunt: Jet co-passenger
Bringing up his stand-off against the BJP, Kanhaiya said, "I will take forward the fight against the government even if you beat me in plane or train."
Maharashtra minister of state (home) Ram Shinde accused Kanhaiya of trying to malign the BJP-led state government, which had given him "full security till the time he boarded the aircraft".
"Kanhaiya Kumar was travelling with three other persons. He was allotted a window seat and got into a fight with a flyer in the middle seat. The other passenger did not even know this man was Kanhaiya Kumar and he, too, is alleging he was beaten up by the student leader," Shinde said.
Jet Airways did not respond to Kanhaiya's charge that he was treated unfairly, but released a short statement: "Some guests on board this morning's flight… from Mumbai to Pune have been offloaded at Mumbai airport in the interest of operational safety."
Kanhaiya shot to fame after his arrest on sedition charges for being part of an event in JNU marking the death anniversary of Parliament attack convict Afzal Guru.
Read more: Kanhaiya slams Modi, claims students are against govt