Modi returns fire, calls Arvind Kejriwal Pakistan agent 'AK-49'
BJP's PM candidate Narendra Modi said the three AKs - AK-47, AK Antony and AK-49 referring to Arvind Kejriwal, are helping Pakistan, while addressing a rally in Jammu's Hiranagar. Kejriwal shoots back after Modi | How Kejriwal managed to attract Modi's ire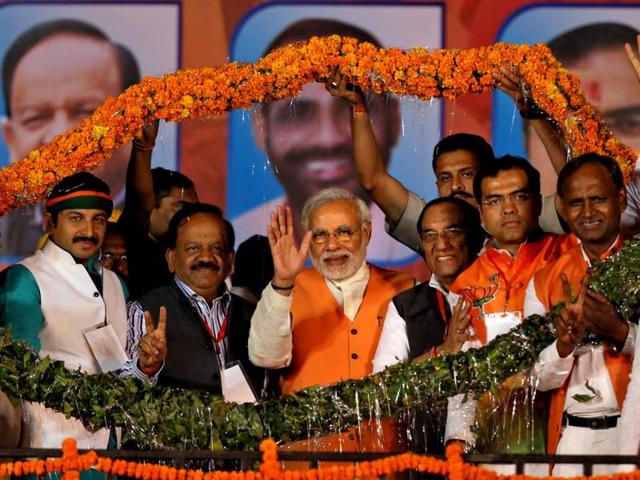 Updated on Mar 27, 2014 07:32 AM IST
Narendra Modi on Wednesday called Arvind Kejriwal a Pakistani agent — his first direct attack on the AAP chief who a day earlier made formal his decision to take on the BJP's PM candidate from Varanasi.
Three AKs — AK-47, AK Antony and AK-49 (Arvind Kejriwal) — had emerged as Pakistan commanders on the Indian side, Modi said at a poll rally in Jammu's Hiranagar, barely 5km from Pakistan border.
AK-47 was being used to bleed India, he said. "The second is AK Antony, the defence minister, who makes a statement in Parliament that people who beheaded Indian soldiers were wearing the dress of Pak army, while army said Pakistanis had come," said Modi.
Read: Congress follows 'hollow secularism', says Modi in UP
Antony spoke in the House after a cross-border raid in which two Indian soldiers were killed — one of them beheaded — in July last.
"And, the third AK is AK-49 who has just given birth to a new party"— a reference to Kejriwal's 49-day stint in Delhi.
"The map of country on the website of his party has shown Kashmir in Pakistan. A senior member of his party demands plebiscite in Kashmir," said Modi, who visited the famous Vaishno Devi temple before launching Bharat Vijay rallies — three of which he addressed on Wednesday. "They are the agents of Pakistan and enemy of India."
Read: BJP's election pitch to focus on new jobs
Kejriwal's party colleague Parshant Bhushan had stoked controversy favouring a plebiscite in Kashmir. Kejriwal, however, doesn't subscribe to Bhushan's views.
Modi kept up the attack as he spoke at Shastri Park in northeast Delhi in the evening, calling AAP the B team of the Congress.
"First, run the government with Congress support and then resign to help Congress across the country with your campaign," Modi said. The Congress was back in power in the Capital through the lieutenant governor, he said. The President's rule was imposed in Delhi on February 17, three days after Kejriwal stepped down.
Earlier speaking at Bulandshahr in neighbouring Uttar Pradesh, Modi accused the Congress of ruining Muslims. The Congress, SP and BSP were using the bogey of secularism for "vote-bank" politics, he said.
Read: Kejriwal shoots back after Modi calls him 'AK 49'
Read: Mega rally in Congress bastion generates voter curiosity
Hitting back, in a series of tweets Kejriwal said the language used by Modi was unbecoming of a PM candidate. "Modi ji muddon ki baat kyon nahi karte? Muddon ki rajniti kyon nahi karte? (Why doesn't Modi do politics of issues?)" he tweeted.
He even predicated defeat for his Varanasi rival. "My political assessment after 2 days in Varanasi – Modi ji is losing Varanasi. He shud therefore concentrate on vadodara (sic)."
AAP denied the map charge. "We have donation trend maps and these are colour-coded, we are not using any truncated map," AAP spokesperson Dilip Pandey said.
Read: AAP 'B' team of Congress, says Modi in Delhi
Read: How Kejriwal managed to attract Modi's ire
Full coverage: My India My Vote
Modi speech highlights from Hiranagar:
Close Story
Personalise your news feed. Follow trending topics