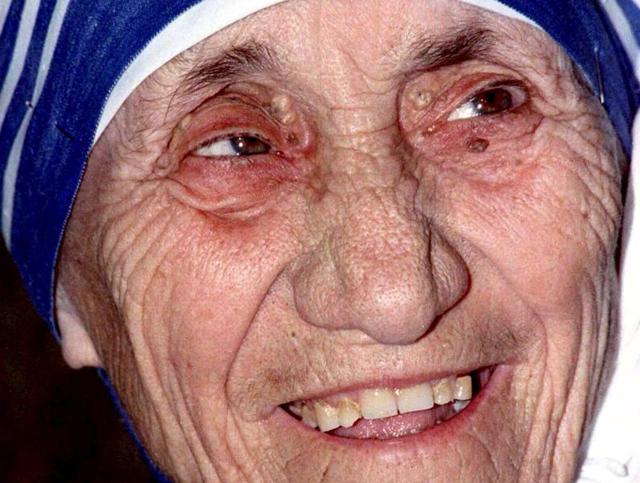 Mother Teresa sainthood: 'She was always a saint of the dispossessed'
Navin B Chawla, former Chief Election Commissioner and Biographer of Mother Teresa, recalls his association with her.
UPDATED ON DEC 19, 2015 02:21 PM IST
Navin B Chawla, former Chief Election Commissioner and Biographer of Mother Teresa, recalls his association with her.
I was delighted to receive the news that Mother Teresa will be declared a saint by the Catholic Church next September. I am happy for her Missionaries of Charity, the intrepid band of nuns and brothers of her order, that she founded in 1948.
For me as well as for the millions around the world, many of whom did not share her faith, Mother Teresa was an anointed saint in her lifetime. I remember 'Time' magazine had the description 'Saint of the Gutters' on its cover many years ago. For me, she was truly the saint of the destitute, dispossessed, lonely, homeless, abandoned, sick and hungry irrespective of their faiths.
In her years in the Loreto Convent where she taught, she realised that her true vocation lay amongst the poor. As an ordinary nun, she had applied to the Vatican to step out of the Loreto Convent to work amongst Calcutta's poor. She had no money (by choice), no companion and no helper, nothing. She began by starting a school in the slum that lay besides the Loreto Convent. She taught herself to beg – the ultimate humiliation for a human being – and cajoled medicines from out of the chemists to start a small dispensary too. She learnt to multi task while working miles through the streets and slums of Calcutta until two years later when a few of her students from Loreto Convent joined her. She established her Missionaries of Charity in 1948. In 1950, as soon as India was declared a Republic, she applied for citizenship and got an Indian passport.
The Church did not need a miracle to prove her sainthood. Her whole life was a miracle. She was only 18 when she was convinced that her life's vocation lay in her becoming a missionary in far off India. For 20 years, she lived and worked as a Loreto nun before her true calling propelled her to find a way into the streets and slums. In 1948, Calcutta's pavements were swarming with teeming millions uprooted by the partition, who now joined the hapless sufferers of the Great Bengal Famine of 1941-1942. Here stepped a 38-year-old nun, now dressed not in the recognizable nun's habit, but a sari similar to what the municipal sweepresses wore, with no companion, no helper and no money.
Confronted with disease, destitution and death all around her at a time when there was hardly any health care service to speak of, she did what was to because her hallmark. Finding a man dying on the street, she took him to a public hospital, which refused to admit him, precisely on the grounds that he was about to die. They would not waste a hospital bed on a life they said they could not save! Only when she sat before the hospital in a dharna that they relented. The man died a few hours later. It was at this point that she began her search for a place where she could take those people whom hospitals refused, where she could nurse them-she had some medical training-and they could at least die being comforted and with some dignity. She begged various authorities and finally an officer in Calcutta Municipality gave her a pilgrims hall adjacent to the Kalighat temple, where she requested the police and municipal authorities to bring her all and any of those dying, whom the hospitals refused.
Although she never deviated from her own faith, she reached out to people of all denominations irrespective of their faith, or even the lack of it. She did not believe that conversion was her work. That was God's work, she said. So, while she lifted the abandoned baby off a street full of prowling dogs for the sanctuary of her Shishu Bhawan, she would never convert her, because that child would probably be adopted into a nice Hindu household, and such a conversion would then have been a cardinal sin which she would never commit. That is also why people of all faiths were so accepting of this diminutive Catholic nun the world over. In 23 years of my close association with her, she never once whispered to me, a Hindu, that perhaps her religion was superior to mine, or through it lay a shorter route to the divine. That is also why, when I asked Jyoti Basu, that redoubtable leader of West Bengal, why he supported her work and what he, an atheist and communist, could possibly have in common with Mother Teresa for whom God was everything, he replied simply that we both share a love for the poor.
Mother Teresa's work became possible because she saw in each person she ministered to a manifestation of her God. So, whether it was taking care of an abandoned infant on a Kolkata street, or a homeless destitute sleeping on a cold wintry night in a cardboard box under London's Waterloo Bridge, or the poor and hungry standing in silent queues in a Vatican square, awaiting their only hot meal from Mother Teresa's ashram adjoining the grand papal audience chamber, all this could become possible only out of her deepest conviction that she was ministering to her God. Otherwise, as she often told me, "You can look after a few loved ones at the most, it is not possible for you to help everybody. Our work becomes possible because for me and my sisters, they are all God." And so the work that I witnessed over long years; dressing the ulcerated hands of leprosy patients in Titagarh, or the comforting of those dying at Kalighat, or simply reaching out to one's neighbour, became not merely possible, it was joyful too.
Close