Not right-wing or left-wing, I go by Constitution: Fadnavis
Hindustan Times |
, Mumbai
Ketaki Ghoge and Surendra Gangan
Oct 27, 2015 08:53 AM IST
Speaking on the state government's first year in power, the chief minister insists there is no trouble in the saffron alliance and says the BJP-Shiv Sena will go the whole five years together.
Putting a lid on speculation of a split in the saffron alliance, Maharashtra chief minister Devendra Fadnavis, in an exclusive interview to Hindustan Times, said he was confident that the saffron alliance would complete its five-year tenure in the government. Days ahead of the completion of the BJP led government's first year in power, Fadnavis said he shared a good enough rapport with Shiv Sena chief Uddhav Thackeray and spoke to him directly whenever required. He also said he was confident the Sena would not quit the government. Excerpts from the interview: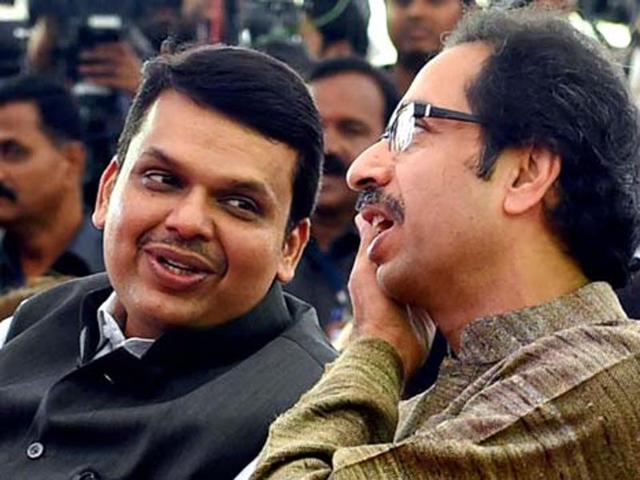 When you came to power, you promised two big things — freeing the state of corruption and citizen-oriented governance and transparency. To what extent have you succeeded on these parameters in your first year in government?
Stay tuned with breaking news on HT Channel on Facebook.
Join Now
I think we have been fairly successful. Two policies of our government will have far reaching consequences on curbing corruption and ushering in transparency. For the first time, with our Right to Services Act, the common man can have legal recourse to get services as his/her right within a timeframe. This law has made it binding on government servants to provide services within a time frame. After 33 years, we have changed the procurement policy in Maharashtra and made it stringent. With this policy we will be saving Rs 1,000 crore every year. We have nearly abolished rate contracts and introduced e-tenders for all work above Rs 3 lakh. We want to do a lot more and our next target is the municipal corporations. We have started with the directive to put all permissions, beginning with building proposals, online.
Is the bureaucracy ready for this change?
There is resistance at some levels. But, overall, in the higher bureaucracy, the response is very good. At the lower levels, officials feel they can still continue with their old ways but are now realising that this will not work. In the last one year, we have suspended 800 people and expelled more than 50 on graft charges.
Does your government have a clear right-wing agenda? Some of your government's early decisions such as the beef ban, not supporting Muslim reservation and your affiliation to the RSS have led to criticism.
I neither belong to the right wing nor the left wing. I am the chief minister of the state and my allegiance is to the Constitution of India. Whatever decisions I take are in accordance with that. As far as the beef ban goes, even today our buffalo meat exports account for 70% of our meat exports. So, it's only a ban on the slaughter of cow progeny. The ban on cow slaughter has always been there, it was enacted by the Congress government. Does it mean they had a right-wing agenda? This law itself was enacted 15 years ago and sent to the President for assent. But the agenda of the last government was appeasement, so they took no decision. When we came to power and the President asked our opinion on the law, we said that we stood by it.
Muslim reservation:
Our government is taking many steps for the development of minorities. We feel that this nation will not develop if a section of society, be it minorities or SC/ST, remains backward. But, constitutionally there cannot be reservation on the basis of religion. There have been several rulings on this issue by the apex court. If the last government was so keen on giving reservation to Muslims, why did they not pass a law? They were in power for 15 years. Just two months before the election code of conduct was announced, they passed an ordinance. In any case, we will take an appropriate decision after the final order of the high court on this issue.
The Shiv Sena has been critical of the BJP despite sharing power in the state and Centre. For the state it's a re-run of the former Congress-NCP regime where most energy is being spent in a power tussle. Comment
We are two different parties and our ideologies and policies are different. In Maharashtra, there is a mandate against the Congress and NCP; we were short of 20-odd seats, so we joined hands with the Sena post elections to form the government. On certain issues, we will always have differences. But, it will not have any impact on the development of the state, like during the Congress-NCP regime. Despite differences, the decisions taken in the cabinet for the last one year have been unanimous. As far as the criticism in the Saamna is concerned, it's our party's policy to not react to editorials. If Uddhavji says something, we will take it seriously and we will react or speak to him.
If the Sena walks out of the government ahead of the 2017 BMC elections, is NCP a possible alternative?
This alliance will continue for the next five years. I do not see the Sena walking out of the government. I am confident about this. Yes, there will be situations where we will not agree with each other, but, we will work that out. If a situation requires, I talk to Uddhavji directly. I have a good rapport with him and we do talk once in a while. I have observed that on most issues, he is quite responsive. So, why should one think about a hypothetical situation? I don't see any eventuality of us needing NCP's help. As far as 2019 goes, we will think about it when the time comes.
The Sena feels suppressed by its ally and thinks it is not getting the expected share of the pie in the government.
We had zeroed in on a power-sharing formula as per the ratio of seats won in the assembly by both parties. The ministerial berths, corporations and guardian ministerial responsibilities are shared between us on the basis of that formula. Sena can feel that they should have got more just as sometimes we feel we should not have given as much. But, the current sharing is as per the mandate.
Prime Minister Narendra Modi says NCP chief Sharad Pawar is a friend, so does finance minister Arun Jaitley. At the same time your government is probing serious corruption charges against Pawar's nephew Ajit and state party president Sunil Tatkare for the last one year with no great results. How seriously should we take this probe?
We are very serious. In our political culture, we see leaders from the opposition as political opponents and not enemies. What is wrong if Modiji or Jaitleyji attend functions at Baramati? Even I have plans to attend Mr Pawar's 75th birthday in December. But, as far as the irrigation probe is concerned, there will be no compromise. The investigation and prosecution in the corruption cases is a lengthy procedure. It took about 10-12 years for investigating agencies to send Lalu Prasad Yadav to jail in the fodder scam. What the state government can do is investigate the case, frame charges and take the case to its logical end. The probe will be carried out efficiently and without any bias in both the Konkan and Vidarbha cases; the rest is to be decided by the judicial system. After all, despite the delay, both Ajit Pawar and Sunil Tatkare had to appear before the investigating officers for questioning.
You have announced that you will complete a Metro network of 118km in Mumbai in the next five years? Do you really think projects costing more than Rs60,000 crore will be completed by raising loans?
All these projects are bankable. The MMRDA has its assets, which are worth Rs1 lakh crore once monetised. The assets need to be utilised for the development project, which, in turn help make your balance sheets much stronger. Many international lenders are coming forward for the funding to implement the projects on cash-contract basis. We have JICA, Asian Development Bank, the German KFW, several pension funds from Canada and US which have approached us for the funding. The Canadian pension fund has proposed an investment of $2 billion in housing schemes in Mumbai.
What is the one core area in which you want to bring a paradigm shift in the remaining four years of your term?
Agriculture. About 82% of the total farming in the state is in dry areas. Without assured irrigation and power supply, no agricultural growth is possible. Jalyukta Shivar has played a very major role in that direction as the water stocks in these micro irrigation projects has reached 24 TMC and helped us bring six lakh hectares under irrigation. This has been achieved in just Rs1,400 crore.
There are many senior leaders with chief ministerial ambitions on your team. You have been leading the team from the front and this has reportedly been the cause of discontent for them.
Absolutely not. The decisions taken are the result of teamwork. They are taken only after discussing them in the core committee of the BJP, five members of which are my cabinet colleagues. And, everyone in my cabinet has now accepted the fact that I am their leader.
Given the current financial position of the state, don't you think scrapping LBT and toll were bad decisions as it led to another tax?
No. Those were conscious policy decisions. The burden of toll tax exemption was Rs400 crore against which we saved Rs1,200 crore extorted by toll booth contractors from the common man. Similarly, LBT would have continued merely for eight months until the GST is introduced in April. To weed out these multiple taxes, we scrapped LBT. As far as additional tax is concerned, we have heavily taxed alcohol and tobacco.