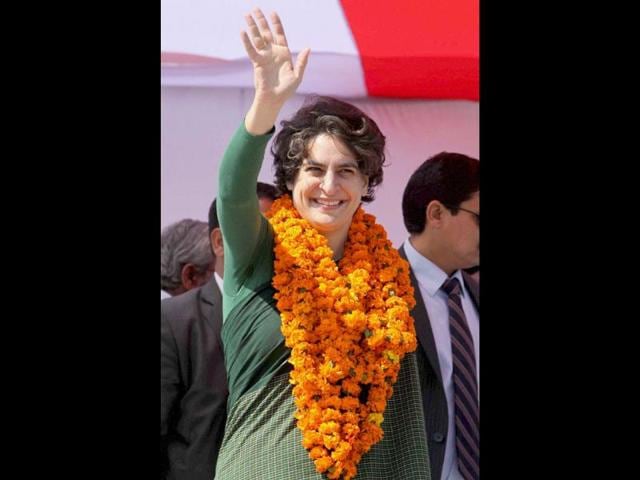 Priyanka and Rahul Ghandhi grill job seekers
As she arrived on a three-day visit to her brother Congress Vice President Rahul Gandhi's Lok Sabha constituency it was probably a role reversal for Priyanka Gandhi Vadra. Umesh Raghuvanshi reports.
UPDATED ON JUL 24, 2013 03:01 AM IST
As she arrived on a three-day visit to her brother Congress Vice President Rahul Gandhi's Lok Sabha constituency it was probably a role reversal for Priyanka Gandhi Vadra.
Priyanka along with her brother posed some straight questions to Congress leaders about strengthening the party, as she tested their organisational skills at the interviews conducted by them at the Munshiganj Guest House here on Tuesday.
"How did the Congress perform at your booth in 2012 assembly elections? What is your background? Did you ever leave the Congress and if so then for how many days? How do you propose to work, as a block president to strengthen the party organisation," were some of the questions that Priyanka asked like a
'management guru' of sorts.
Rahul focused mostly on questions like why have you joined politics, what is good and bad about politics and what more could be done to strengthen the party. "Priyanka and Rahul sat on two sofas side by side in an air-conditioned room. Both of them welcomed every interviewee with a smile. Priyanka stood up and Rahul shook hands when they said goodbye to the candidates," said Satyadev Pandey of Baldirai block in the Lok Sabha constituency.
"Most of the Congress' outgoing block presidents have been working on the same post for the past 11 years. While working for her mother Congress president Sonia Gandhi, Priyanka had appointed them in 2002. Priyanka had really worked hard to build the party organisation here. Rahul took over from her when Sonia Gandhi shifted her Lok Sabha seat to Rae Bareli in 2004. She is back to the same role of strengthening the party organization in Amethi.
This time she is doing so for Rahul, who will be busy campaigning for the party all across the country 2014 Lok Sabha elections," said a senior party functionary.
"Priyanka has already completed the exercise of revamping the party organisation in Rae Bareli, the Lok Sabha constituency of her mother Congress president Sonia Gandhi. She interviewed all the office bearers before appointment in Rae Bareli. She is now replicating the same in Rae Bareli," said the functionary.
There are 17 blocks and five town areas in Amethi. On Tuesday 43 Congress leaders from 11 blocks were interviewed while remaining leaders have been called for an interview on Wednesday.
Significantly Priyanka had camped and campaigned in Rae Bareli and Amethi in 2012 assembly elections. Yet the Congress won only one out of 10 assembly seats in the two Lok Sabha constituencies.
As a fall out an exercise to revamp the party in the region was launched to gear up the Congress for 2014 Lok Sabha elections.
"Priyanka apparently is now willing to take any chances as she takes command of the party organization in her brother's constituency. By elevating Amethi MLA as minister of state (independent charge) chief minister Akhilesh Yadav has already given indications that the ruling Samajwadi Party was also making serious efforts to strengthen its base in what have been called the bastions of the Gandhi family," said another leader.
Rahul pulls up ministers in UP
Rahul Gandhi has pulled up Congress ministers from Uttar Pradesh for being "inaccessible to workers and ignoring party offices" during visits after a report by party general secretary Madhusudan Mistry and three AICC secretaries, who received complaints from workers that they "are unable to meet central ministers as they don't bother to inform party offices" about their tour.
HT Correspondent
Close