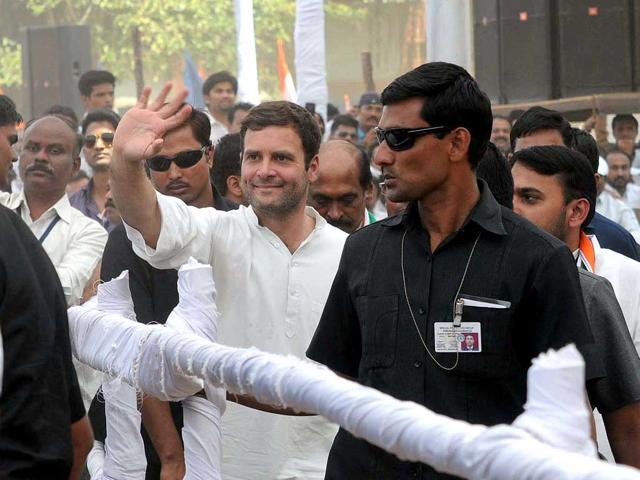 Rahul takes on Modi, says Gujarat model no better than India Shining campaign
The Congress vice-president on Thursday took a swipe at Narendra Modi saying the Gujarat development model, touted by the BJP prime ministerial nominee, is synonymous with "toffee model" and "Adani model".
UPDATED ON MAY 08, 2014 03:53 PM IST
Congress vice-president Rahul Gandhi on Thursday took a swipe at Narendra Modi saying the Gujarat development model, touted by the BJP prime ministerial nominee, is synonymous with "toffee model" and "Adani model".
The Congress vice-president claimed that ever since he "exposed the myth" of the Gujarat model of development, Modi had stopped talking about it.
While the Congress, he said, thought about all classes of people, for the BJP "the nation belongs to one religion, caste or two-three businessmen."
"By taking 45,000 acre of fertile land of farmers, Modi gave it to the Adani company for a paltry sum of Rs 1 per sq metre," Gandhi alleged during an election meeting at Gopalganj.
"Due to largesses showered on Adani by Modi in Gujarat, the company's finance rose from Rs 3,000 crore to Rs 40,000 crore now, which is more than the budget of MGNREGA," he claimed.
Gandhi said that Modi's "tall promises" of empowering women and laying the blueprint for economic development of the country was no better than the NDA government's 'Indian Shining' slogan.
On Modi's promise to give shakti (power) to women, the Congress leader referred to snoopgate.
"He spent all his shakti keeping track of the movement of a woman and now he is talking of providing power to women," Gandhi said.
Seeking to debunk Modi's "lofty" assertions about fighting terrorism, the Congress vice-president alleged that Modi was triggering anger by "telling lies".
"Official figures show that 22,000 people died due to terrorism during the five year rule of NDA which was 800 during the five year period of Congress-led UPA," Gandhi said.
"They criticise us for failing to fight terrorism and protect the honor of soldiers and say they will show how to fight against terrorism."
Referring to Modi's claim that the Congress did nothing since Independence, Gandhi reminded him that that US President Barack Obama had said that his country feared only China and India.
Listing MGNREGA, Right to Food law, land acquisition legislation, he said that the Congress sought a mandate to enact three more legislations.
These were free medicare including cost of medicine and provision for operation, right to a concrete roof for poor and pension for the elderly. These three vital areas of concern, he said, he gathered after talks with rickshaw-pullers, coolies and other groups.
Reeling out comparative statistics about NDA and UPA regimes, he said that the UPA government constructed almost three times more roads than NDA.
Electrification of villages by the UPA government was two times more than during NDA rule, he said.
He spoke about building a Japanese-financed industrial corridor which would provide employment opportunities to the youth.
"Our dream is that instead of using shoes, watches, T-shirts with the made-in-China-tag, we will have these items with made in Bihar or made in Gopalganj tags," he said.
Attacking the state chief minister Nitish Kumar, he said "Your CM had told you to provide employment, but did you get employment?"
He also accused Bihar government of failing to properly utilise central funds for the welfare of the poor.
"A sum of Rs 6,000 crore is lying with the state for sugarcane development but it has not reached farmers," he claimed.
Gandhi said that the people had demanded an airport at Gopalganj which his party's future government would try to fulfill.
Giving a message of Congress-Rashtriya Janata Dal unity, Gopalganj RJD district president Reyazul Haque was also present on the dais with Gandhi.
Close