Resolve all problems, including J-K, through talks: Pak envoy
Updated on Jul 21, 2015 11:18 PM IST
The time has come for India and Pakistan to move from "confrontation to cooperation" after 67 years of conflict, Pakistani envoy Abdul Basit said on Tuesday.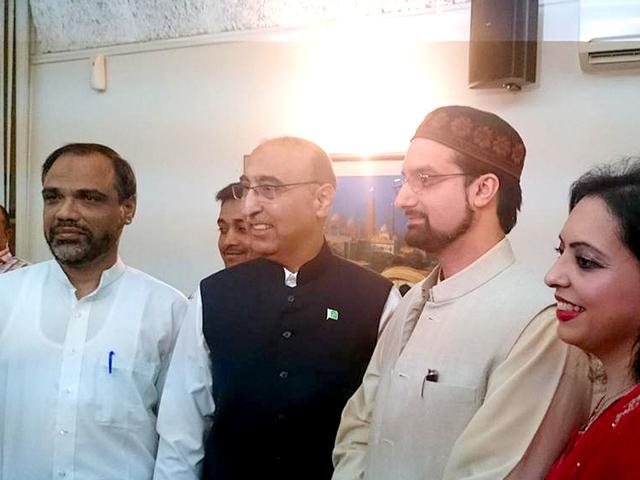 The time has come for India and Pakistan to move from "confrontation to cooperation" after 67 years of conflict, Pakistani envoy Abdul Basit said on Tuesday.

"All problems between our countries, including Jammu and Kashmir, must be resolved through talks. Pakistan will leave no stone unturned to improve ties," Basit said during a brief address at an Eid Milan he hosted at the high commission.

Bilateral relations between the nuclear-armed neighbours appeared to have thawed when Prime Minister Narendra Modi and his Pakistani counterpart Nawaz Sharif agreed at a recent meeting in Russia to take forward stalled bilateral ties, though frequent border skirmishes continue to test a fragile peace process.

Pakistan is committed to the normalisation of relations, Basit told a gathering that included diplomats, leaders of the moderate Hurriyat faction, clerics and journalists. He expressed hope amid a spirit of festive bonhomie the two sides will sit together for talks in the coming months.

Though the separatist Dukhtaran-e-Millat and the hardline Hurriyat faction led by Syed Ali Geelani decided to skip the Eid Milan to register a "token protest against the non-inclusion of Kashmir" in the statement issued after the recent meeting of prime ministers in Russia, moderate Hurriyat leader Mirwaiz Umar Farooq struck a pragmatic note at the event, saying there was "no option but to engage".

Violence had abated in Kashmir but all stakeholders mustn't wait for the last gun to fall silent, Farooq said. Some of the youth were still taking to militancy because they thought politics had failed and despite a change of government in the state not much had changed for Jammu and Kashmir, he said.

"In fact the divide between Jammu and Kashmir is increasing," Farooq said and put the onus on India for taking things forward with Pakistan.

"It depends on New Delhi, if it is serious to engage and move forward," he said and reiterated that the problems of Kashmiris could not be resolved until the two countries came closer. Basit thanked the Mirwaiz for attending the event.

"The Mirwaiz will stress the need to include Kashmiri representatives in talks aimed at resolving the dispute. Any dialogue process aimed at arriving at a solution on Kashmir will be supported," moderate Hurriyat spokesperson Shahid-ul-Islam told Hindustan Times before the event.

The Pakistani envoy said there was "nothing unusual" about the decision to invite Hurriyat leaders to the Eid Milan.

"The hype being created by some is unfortunate, to put it mildly. Pakistan will continue extending its full moral, political and diplomatic support to the people of Jammu and Kashmir in their legitimate struggle for self-determination," Basit said.

The last major public reception organised by the Pakistani mission – the Pakistan Day event on March 23 – had been overshadowed by a series of cryptic tweets from minister of state for external affairs Gen (retired) VK Singh, who had represented the Indian government.

After Singh's followers criticised his presence at the function, with some using the hashtag #partywithenemy, Singh responded with a series of five tweets with the hashtags #Duty and #Disgust, which appeared to suggest he was not entirely comfortable about attending the function.

Close Story
Personalise your news feed. Follow trending topics