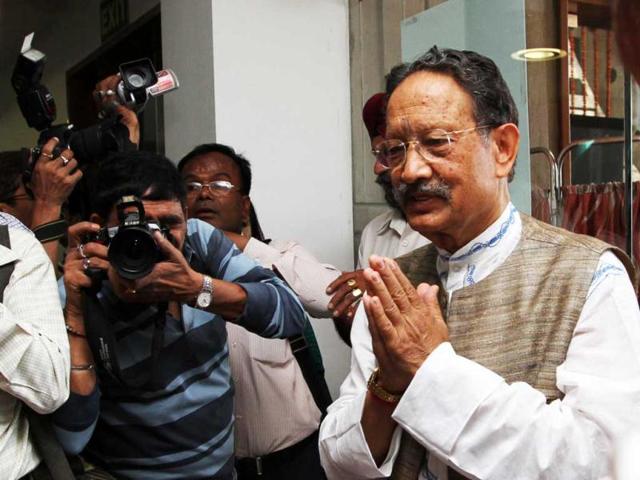 Short cuts and long routes to power
Bhuvan Chandra Khanduri altered almost the destiny of the BJP in Uttarakhand but fell victim to that of his own by losing in Kotdwar. Vinod Sharma writes.
Hindustan Times | By Vinod Sharma
, New Delhi
UPDATED ON MAR 11, 2012 07:16 PM IST
Bhuvan Chandra Khanduri altered almost the destiny of the BJP in Uttarakhand but fell victim to that of his own by losing in Kotdwar.

The saffron party's comeback bid was woven around the retired general's persona. "Khanduri hai zaroori": The slogan failed as he was done in by his own party colleagues.

But Khanduri isn't the first chief ministerial aspirant to have been so undermined. In 1996, a similar fate befell VS Achuthanandan. Had VS not lost from Mararikulam in Kerala to Congress's PJ Francis by 1,965 votes, he perhaps would have led the Left Democratic Front government after the defeat of the AK Antony-led UDF.
Achuthanandan's bete noire till date in the CPM's state politics, P Vijayan, is believed to have masterminded the party veteran's electoral drubbing. It took him another decade to wrest the CM's office he lost on completion of his term to the Congress's Oommen Chandy in 2011.
Likewise, in 2008 and 2009 respectively, the Congress leadership in Rajasthan and Haryana would have been wrested by CP Joshi and Birendra Singh had they not lost the assembly polls. Currently union minister, Joshi fell by a margin of one vote to the BJP's Kalyan Singh Chauhan.
Many political observers believe that in 1991 ND Tiwari would have been Prime Minister and not PV Narasimha Rao had the former won his Nainital Lok Sabha seat. NDT lost to the BJP's Balraj Pasi by over 10,000 votes. He later split the Congress to form his Congress (Tiwari) with Arjun Singh.
India's electoral history is replete also with defeats of sitting CMs: TPN Singh and CB Gupta in UP; Kailashnath Katju in MP and, more recently, Shibu Soren in Jharkhand.
It's fashionable to mock PMs who ruled the country as Rajya Sabha members. But nobody talks about CMs who took the easier route to legislative councils in bicameral assemblies.
MLCs who served as CMs at some point include names such as Sharad Pawar, Prithviraj Chavan (Maharashtra), BP Mandal, SN Singh, Lalu Yadav, Rabri Devi, Nitish Kumar, Abdul Gafoor and Bhagwat Jha Azad (Bihar), Mayawati (UP) and Sadanand Gowda (Karnataka).
Among those who dared to contest popular elections on becoming CMs were UP's Mulayam Singh (Gannaur) and Rajnath Singh (Haidergarh). For his part, Chhattisgarh CM Ajit Joshi devised a path-breaking strategy — followed later by Rajnath in UP and Khanduri in Uttarakhand — of getting obliging Opposition MLAs to vacate assembly seats for them. In some such cases, the quid pro quo entailed elevation to Parliament of those who gave up their seats in the Vidhan Sabha.
The number of such CMs could have been higher. But bicameral legislatures exist only in six states after legislative councils were disbanded in West Bengal and Tamil Nadu. The House in UP is bicameral. It will be interesting to see whether Mulayam opts for the short cut or the popular, more arduous, route to the assembly?
Close