Tehelka is not hushing up allegations against Tejpal: Shoma Chaudhury
Weekly magazine's managing editor defends herself over criticism that she handled the sexual assault allegations against the editor insufficiently, says she is committed to addressing allegations levelled by woman.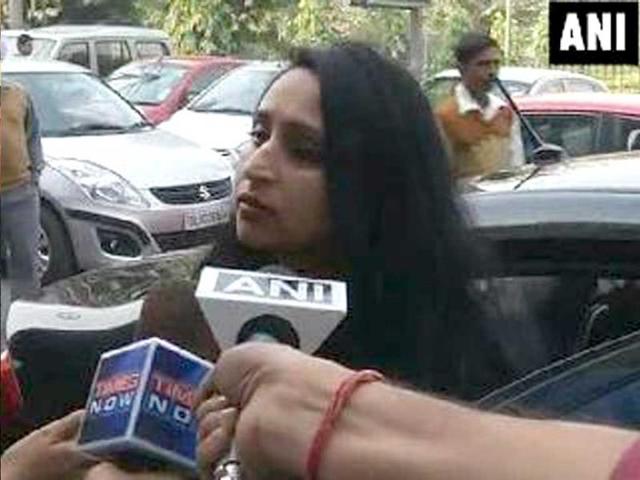 Updated on Nov 22, 2013 06:20 PM IST
Tehelka's managing editor, Shoma Chaudhury, on Friday defended herself over criticisms that she handled the complaint of sexual assault by a young woman journalist against the news magazine's founder editor, Tarun Tejpal inefficiently, saying that she was not defending or judging anyone but addressing the issues of the woman.

"I do feel a sense of outrage and betrayal. Tarun Tejpal had a different version of the event after I got this email. I extremely angrily confronted him after speaking to the girl. I got to know of the incident on Monday. The girl had marked three other journalists on it and I confronted Tejpal even without checking with the others," Chaudhury said.
Chaudhury said that it was presumptuous of the media to jump to conclusions by insinuating that it was rape only on the basis of leaked emails adding that Tehelka did not hush up the matter nor was there any "private treaty" as Tejpal's stepping down was in the public domain.
"I want to do right by her," she told CNN-IBN's Rajdeep Sardesai.
She wanted an institutional redressal and her focus was "solely and wholely" on that and seeking justice does not have to be through punitive action, Chaudhury said.
The young journalist will have access to redressal mechanism keeping the Vishakha guidelines in accordance and both versions will be presented before the committee, Chaudhury said.
"Looking back, I do realise that the mails that were sent through the organisation were not enough."
Tehelka's managing editor inisisted that the young journalist wanted an institutional response and not a legal one and that filing a police case is her prerogative.
The Goa Police has filed and FIR against Tejpal and booked him on charges of rape and outraging the modesty of a woman, reports said.
According to reports, home ministry has asked them for details of the case.
Chaudhury had earlier said that she will cooperate with the police only if there was a case filed against Tejpal.
"You cannot say it is a criminal case because the girl has not gone to the police. Let's not conclude it is a sexual assault or rape."
She added that Tehelka's reputation will not take a beating since Tejpal's act was that of an individual.

Tejpal stepped down from his post on Wednesday for six months after tendering an unconditional apology for what he termed as his misconduct with a female colleague at the THiNK festival in Goa earlier this month.
He admitted "misconduct" in an email to Chaudhury and offered to step aside temporarily to atone for his behavior on Wednesday.
"A bad lapse of judgement, an awful misreading of the situation, have led to an unfortunate incident that rails against all we believe in and fight for," Tejpal wrote in his email which was sent to staff at the magazine.
"I must do penance that lacerates me," he added.
Chaudhury was accused of stonewalling the whole incident by the media, women activists, politicians and on social media platforms alike.
"My understanding is she wanted an apology and it was given to her. He (Tejpal) stepped down. It was something she had not asked for. It was much more than what she wanted," she had said.
Senior BJP leader Arun Jaitley condemned it and said, "It is unheard of that a private treaty between Tarun Tejpal and Shoma Choudhary wipes out the penal consequence of rape".
"How can Shoma Choudhary so definitely say that the victim will not depose before the police? Is she not guilty of tampering with evidence in a rape case by pressuring a young employee to conceal the offence?" Jaitley said on Thursday.
Referring to the victim's complaint to Choudhary against Tejpal through an e-mail, the BJP leader said it makes out a clear case of rape.
"The definition of rape was amended by Parliament subsequent to Justice Verma Committee's recommendations. The ingredients of an offence of rape as amended by Parliament are squarely made out in the victims e-mail."
Her failure to report the complaint to the police was also questioned. It was also pointed out that Tehelka did not have an internal committee to receive and investigate complaints of sexual harassment.
Tejwal 's letter was too criticised over the words that he chose to describe the alleged sexual assault and the apology that he tendered.
The woman journalist told a news channel that Tehelka's response had "deeply disappointed" her.
"To claim that other journalists in Tehelka are satisfied is also false since my testimony has not been publicly circulated within Tehelka, only Tarun's letter of 'atonement' has," she said.
"What penance? What atonement? An apology and offer to step down may be his personal way of pitying himself and feeling remorse, but that doesn't absolve him of his crime," women's activist Ranjana Kumari told AFP.
Bharatiya Janata Party spokesperson Meenakshi Lekhi termed the "atonement" letter of Tejpal "immensely shocking".
"In today's amended definition, the doing of Tarun Tejpal is called rape," she said.
"I would want the home minister to ensure lodging of an FIR and immediate arrest of Tejpal," she said.
Read: Shoma Chaudhury stalling Tejpal probe: Goa CM, DGP
Highlights of what Shoma Chaudhry told reporters:

• The moment I confronted Tarun about this very very angrily, he had a different version, but I demanded an apology over this
• The moment I confronted Tarun about this he had a different version
• It was also decided that he would step down, because even if it was consensual, it was a transgression of his role.
• Condemn sexual harassment, non-consensual sex of any kind
• I confronted Tejpal very angrily when I heard. He gave a different version of events
• I have only acted in victim's interest. Overrode Tejpal's version
• The moment I confronted Tarun about this very angrily; I demanded an apology over this

• It was also decided that he would step down, because even if it was consensual, it was a transgression of his role.
• Condemn sexual harassment, non-consensual sex of any kind
• Journalist will have access to redressal mechanism in keeping with Vishaka guidelines
• I asked for an unconditional apology immediately. Matter resolved within three days
• Tarun Tejpal, as a leader, has betrayed faith of all journalists
• The victim said she accepted the apology and felt no further need for vengeance
• But now victim has said that she's not happy, so both versions will be presented before committee (set up by Tehelka to probe allegations against Tejpal)
• I've taken every action to honour my colleague's sense of injury
• I am not here to defend or judge, I am here to address the issues of the girl
• Contrary to everything you all have said, she only wanted an institutional response
• Devastated when I read the girl's account, confronted Tarun Tejpal angrily
• Tarun Tejpal is in the country, he will speak to the committee now
• Why will Tarun Tejpal run away, he will address the committee.
• How is the editor of Tehelka stepping down an attempt to hush up events?
• There are other ways of dealing with things rather than the criminal prosecution route.
• Shoma Choudhury says she won't go to Goa police
• I have only acted in the interest of the aggrieved journalist
Later, Shoma Choudhury spoke to CNN-IBN on Friday. Here are the highlights from the interview:
• I was devastated when I read the journalists' account, I confronted Tarun with anger
• I had absolutely no idea until she sent me that letter
• Tarun had another version of the incident, I chose to overruled it
• I asked for an unconditional apology based on the journalist's letter
• Within the three days she got an unconditional apology and Tarun stepped down - which was a public event
• Not a criminal investigation because she hasn't approached the police
• If it is going to the legal domain then the case needs to be investigated
• I will set up a committee, according to Vishaka guidelines, with impeachable records
• The committee will be absolutely unbiased
• She wanted an institutional response, not a legal one
• Looking back I do realise that the mails that were sent through the organisation were not enough
• The mails that I exchanged with her personally clearly show my devastation
• Tehelka's reputation will not take a beating
• Media has jumped to conclusions because of the leaked emails
• To file a police case is her prerogative, the right to go to the police is only hers
• The victim was satisfied with Tejpal's reaction
• It is not her request to go to the police and I want to do right by her
• Since my actions haven't satisfied her, I'm setting up a committee according to Vishaka guidelines
• The event will have no impact on Tehelka since Tejpal acted as an individual
• Tarun had another version of the incident
• If I had been given time to choose my responses, I would have chosen my words (in the official mail) more carefully
• I got her an uncondtitional apology within 24 hours
• If I had been given time to choose my responses, I would have chosen my words (in the official mail) more carefully
• Media is excellent at jumping to conclusions, such presumptuous behaviour is what hurt the Aarushi Talwar case the most
READ: Tainted Tejpal loses chance at PB chair
READ: Tejpal creates Tehelka, Goa begins sex assault probe
READ: How can companies make work places safer for women?
READ: Headline that hurts: journalists shocked at Tarun Tejpal episode
READ: Tejpal's resignation more than the apology woman wanted: Tehelka's Shoma Chaudhury
Close Story
Personalise your news feed. Follow trending topics