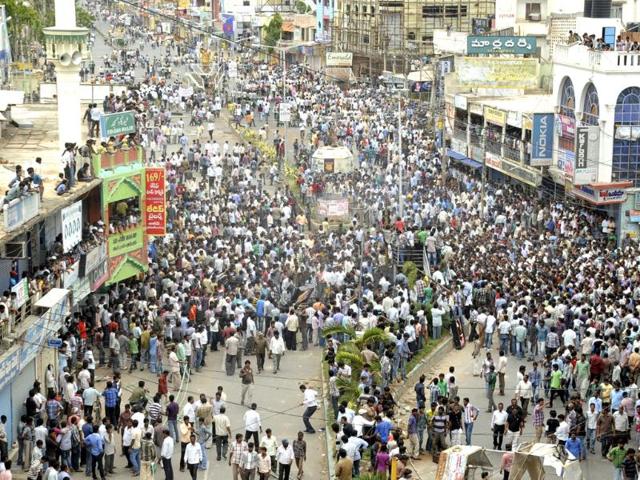 Telangana marks the rise of sub-India
If Potti Sriramulu were alive today, he would likely be distraught at the splintering of his beloved Andhra. But he would find it hard to argue with the sentiments that led to the announcement of Telangana, India's 29th state. Samar Halarnkar writes.
UPDATED ON AUG 01, 2013 11:17 AM IST
If Potti Sriramulu were alive today, he would likely be distraught at the splintering of his beloved Andhra. But he would find it hard to argue with the sentiments that led to the announcement of Telangana, India's 29th state.

In 1952, Sriramulu, a former engineer with the Baroda Bombay and Central India railway, began a fast-unto-death to pressure Jawaharlal Nehru, India's first prime minister, to carve a state for Telugus out of what was then Madras state.
Nehru was unyielding, observes historian Ramachandra Guha in India After Gandhi : The History of the World's Largest Democracy.
In a letter to Madras chief minister, C Rajagopalachari, Nehru wrote: "Some kind of fast is going on for the Andhra Province and I get frantic telegrams. I am totally unmoved by this and I propose to ignore it completely."
As often happens with epoch-making events, the determination of millions can quickly surmount the resolve of one. Less than two weeks later — after Sriramulu's death 58 days into his fast sparked an orgy of rioting and violence — Nehru conceded the demand for Andhra.
At the dawn of Independence, India was a patchwork of feudal and imperial British power. The many ruled, unquestioningly, by the few. Until 1947, popular will was amorphous in an impoverished, primarily rural country where no more than 12% of the people were literate and telegrams were the fastest mode of communication.
Independence was the first great aspiration of India's people. In time, those aspirations expanded to local concerns. The first of those was partially addressed by the reorganisation of India.
Sriramulu's death led to the States Reorganisation Commission and the division of India on linguistic lines in 1956.
Now, from linguistic and regional identities emerge sub-linguistic and sub-regional divisions. Aspirations give way to smaller fractions thereof, a mess of sub-Indian yearnings.
They are rooted in the hope of a better tomorrow and greater respect. As India urbanises and the family splinters, it is also characterised by the insecurity of modern living. The search for kinship will grow.
On the website Mission Telangana, Vijayshree Kurumilla indicates how Telangana is, above all, a search for respect and a ray of hope in a region that lags behind the rest of Andhra Pradesh.
The myths around the people of Telangana, she writes, encompass the language—a dialect of Telugu—as being "labour class", the people as semi-educated, lazy, drunk, naïve and generally unemployable.
"I have always found my Andhra friends expressing their surprise at everything connected with my Telangana identity," writes Kurumilla. Among the educated, proponents of Telangana were often accused of having "regional feelings".
Accusations of and worries over parochialism are not new. Nehru often worried that the division of India on the basis of language and identity might imperil the republic. This concern was not misplaced at a time when millions had died after India was torn into two.
These are not modern India's concerns. Today's priorities and politics must address the revolution of spiraling aspirations set off by a self-aware and increasingly educated population, connected by 24/7 television and a national cellular network.
Education and the mass electronic dissemination of emotion and opinion revive and reinforce grievances and insecurities. Unaddressed, aspirations can explode into mass discontent.
After Telangana, it will be hard to suppress the voices of sub-Indian identities.
As you read this, the autonomous administration of Gorkhaland in West Bengal has allowed its citizens a two-day respite from a crippling shutdown to push for an independent state.
"We want the immediate formation of Gorkhaland," said Roshan Giri of the Gorkha Janmukti Morcha on Monday.
In Assam, riots broke out on Wednesday as demands erupted for a Karbi Anglong state. Split Uttar Pradesh into four, said Mayawati and the Nationalist Congress Party's Praful Patel said it was time for Vidarbha.
Within this decade, expect a host of new states. The BJP is right in demanding, as it did this week, the establishment of a second states reorganisation commission.
In general, there is a good case for smaller states.
For instance, 13 years after the creation of Uttarakhand, Chhattisgarh and Jharkhand, industrial data indicates that the new states are outperforming their parent provinces, reports the website indiaspend.com.
Chhattisgarh was a laggard in poverty reduction though, trailing Madhya Pradesh by about 10% in the five-year period ending 2009. "The inevitable conclusion: Breaking up may be hard to do but is good for everyone," writes indiaspend.com's Dhritiman Gupta.
Breaking up can cause much anguish, violence and, inevitably, death. If India is to be saved this pain, it is important to set up a new states reorganisation commission, and send—as the first one did — its members to the farthest and nearest corners of the nation to determine what the people want and how clashing aspirations can be reconciled.
There will be many discordant demands. How can a Nagalim be created from Naga-dominated areas that now form a great part of Manipur and Mizoram? Is the creation of Jammu and Ladakh possible without mass unrest in already anguished Kashmir?
It is also conceivable that mindless separation in a federally weak India might return us to a patchwork of nation states. The Centre is weaker than it has ever been since Independence, but that is unlikely to change, even if a strongman takes charge of India.
For the future, the BJP — without conscious design — appears to have the right model, a weak centre and strong chief ministers. The party should realise this, though the idea is inherently in conflict with the culturally united nation that its paterfamilias, the RSS, dreams about.
It is a matter of time before the Congress' idea of a nation run on the basis of loyalty to a family is consigned to history.
If the elections of 2014 return the fractured verdict that initial polls predict, the voices of sub-India will grow louder, and you will hear of a generation of new Sriramulus.
Samar Halarnkar is a Bangalore-based journalist. The views expressed by the author are personal.
Close