We will win this fight: Full text of Kanhaiya's JNU speech
Updated on Mar 04, 2016 03:14 PM IST
Jawaharlal Nehru University student Kanhaiya Kumar's rousing speech at JNU on Thursday night triggered waves of support for the student leader who was arrested on sedition charges.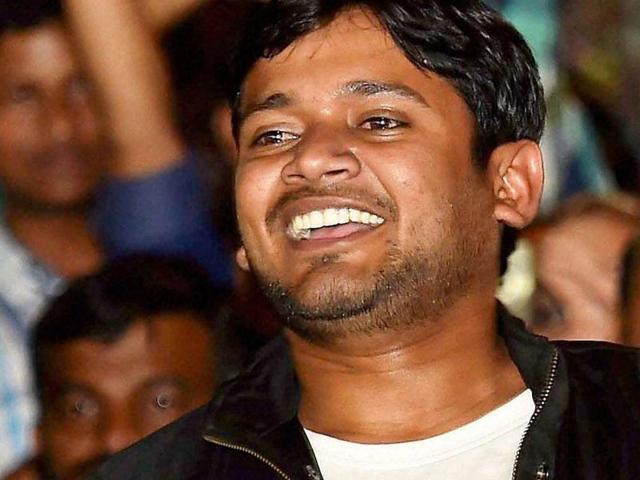 Jawaharlal Nehru University student Kanhaiya Kumar's rousing speech at JNU on Thursday night triggered waves of support for the student leader who was arrested on sedition charges.
Social media and discussions on the street was dominated by the hour-long speech. Edited transcripts:
I want to thank people all over the world through the media present here who stood by JNU. I want to thank all the people from media, civil society, political or non-political, everyone who is fighting to save JNU, to get justice for Rohith Vemula, I want give my "Lal Salaam".
I especially want to thank all those "gentlemen" of this country sitting in the Parliament who claim to know what is right and what is wrong, thanks to their police and thanks to the media channels. They gave JNU space in their prime time shows, even if it was only to malign it.
Read more: From Begusarai to JNU, Kanhaiya Kumar's been on right side of Left
I do not feel hatred towards anyone, especially not against the ABVP. Why? Because the ABVP in JNU is more national than its counterpart outside the campus. I want to tell those who claim to be political pundits to have a look at the video of the last presidential debate at the JNU and see for themselves how I (took on) the most "intelligent" ABVP candidate in JNU. So you can imagine, what will happen to the ABVP in the rest of the country.
I don't have any ill-will or malice towards ABVP because we are truly democratic, we truly believe in the constitution. So we look upon ABVP not as enemy but as opposition
My friend, I won't indulge in witch-hunting against you because you (enemy) are not worth it.
Read more: In Pics: JNU erupts in joy as Kanhaiya Kumar returns to campus
In this whole process, the way JNU has shown, the way it has stood up to say what is right and what is wrong, I want to salute it. And it was all spontaneous. I am saying this because their (actions) were planned but ours have been spontaneous.
I believe in the law of the land, in the constitution and the judicial system of the country. I also believe that the only truth is change and it will come, we are in favour of change and will bring it about. We stand by socialism, secularism, equality that is mentioned in the preamble of our constitution.
Read more: Kanhaiya Kumar rocks JNU with rousing 'azadi' speech after release
I want to share my experience in the jail with you. This time I have experience all that I used to study earlier.
People in JNU do a lot of research. (My experience) will provide "primary data", first hand information. I don't want to comment on the matter which is sub-judice.
PM tweeted Satyamev Jayate. I may have ideological differences with the PM but the slogan hasn't been coined by him, it's in our constitution. So, I, too , agree that truth triumphs. Truth with win.I want to tell all those who are part of this fight that sedition has been used as a political tool against students.
I come from a village. In the magic shows at the railway station, the magician shows magic and sells rings and tells you that the ring will fulfill all your wishes.
Similarly, we have some policy makers in our country who say black money will come back, Har Har Modi.. inflation will come down... sabka saath sabka vikas. People remember these phrases. We Indians have a tendency to forget quickly but this time the "drama" is so big that we can't forget these phrases.
(These policy makers) are trying to make us forget these phrases and they are trying to achieve that by stopping the fellowship of all the research scholars.....they (research scholars) will then ask that it be continued...they will then tell you that we will continue with the ₹5,000 and ₹8,000 fellowships. So no question of raising the amount of fellowship. But JNU is the one who will ask for raising the fellowship....so don't worry if you are abused for that because you are earning your fellowship.
In this country, there is an anti-people government and if you raise your voice against it, the cyber cell of the government will send a doctored video, abuse you and count the number of condoms in your dustbin.
These are solemn times and we need to seriously understand that the attack on JNU is an organised attack....because you want to delegitimise the "Occupy UGC" movement....because you want to stop the fight for getting justice for Rohith Vemula.
(You) are airing the JNU issue on prime time, you ex-RSS member(s), because you want the people of India to forget that the Prime Minister promised to put ₹15 lakh in their bank accounts.
But I want to tell you one thing....it's not easy to get admission in JNU and neither is it easy for the JNU people to forget. If you forget things, we'll remind you about (them) again and again.... that whenever the political establishment has committed atrocities, JNU has risen (to oppose it) and we are doing it again.
You can't dilute our fight. They talk about the soldiers who are dying at the borders...I salute those soldiers. But I have a question....for the BJP member who spoke about these soldiers in the Lok Sabha....are they your sons? What about the millions of farmers who are committing suicide, who are also the fathers of those (soldiers) at the borders...what do you have to say about those farmers?
The farmer in the fields is my father, the soldier at the borders is my brother.....so don't try to start a false debate in the country....We want to ask who is responsible for those who are dying? Those dying are not responsible.....it's those who make us fight who are responsible...
I want to ask those speakers on prime-time television....is it wrong to ask for freedom from the problems of the country?
They ask us who do we want freedom from? We ask them...is anyone a slave in India ? No.....So obviously we are not asking for freedom from India..... but we are asking for freedom in India...there is a difference between the two...
We speak of democracy and equality because they are vital….In this country, whatever freedom we ask for, we will achieve it, within the framework of this country's laws and system of justice….this was Babasheb's dream..this was my friend Rohith's dream….see for yourself….this movement, however hard they tried to suppress it, it grew and flourished into such a huge movement…..
There is something else too: I wish to say, from my experience in jail…this is self criticism….if you people are ever given self criticism, be sure to take it seriously……we, the people of JNU speak using terms that the common people of India cannot understand. I say they are honest, simple people and we need to establish a connect with them.
There's another thing: I got two bowls in the jail: One was Blue and one was Red. Looking at the bowls, I felt something good was going to happen in this country. I don't believe in destiny or in God, but looking at the two bowls resting together, side by side on a plate, I felt the plate was like India. And I thought that unity like this was achieved in India, where the law was the same for everyone, where everyone's world for everyone else's welfare, that is what we should dream of.
The honourable Prime Minister (I have to address him thus, right?) ….the honourable Prime Minister spoke of Khrushchev, but I would ask him to speak of Hitler or even Mussolini ….if we keep calling the sun 'moon' a thousand times, it doesn't become the moon. It remains the sun. We can only call a lie a lie……..you cannot make the truth a lie…..they have their own agenda, which keeps changing to suit their interests…….
I say one thing firmly to those who wish to suppress the voice of struggle in JNU: The harder you try to suppress it, the stronger it will become…..
There is one final thing: this is a long struggle: We need to take this struggle which Rohith Vemula and all those who dream of a free and equal India stand for, forward. Without interruptions. We will win this struggle, and this is my belief.
Personalise your news feed. Follow trending topics