Kolkata Knight Riders wait for Umesh Yadav to fire vs Kings XI Punjab in IPL T20
Updated on Apr 13, 2017 12:52 PM IST
Kolkata Knight Knights will be looking at the returning Umesh Yadav to strengthen their bowling line-up against Kings XI Punjab in an IPL 2017 T20 clash on Thursday.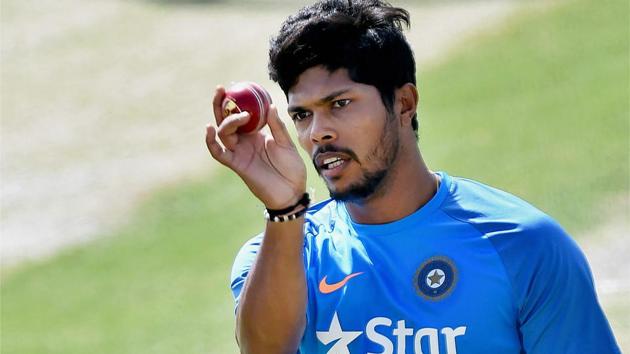 By the time Kolkata Knight Knights reached Eden Gardens, strains of 'Tu Ne Maari Entriyan' had died down and the drill for the opening ceremony made way for cricket. But it was perhaps due to a rehearsal of Thursday's show that Kings XI Punjab had to rehearse their lines for an evening game in mid-afternoon heat. (SCHEDULE | RESULTS)
Thursday's match is between two-time champions and a team on a two-match winning run. It is also a clash between a team that has been set over the years and one which plummeted from being runners-up in 2014 to end up last in the next two seasons.
READ | IPL 2017: Kings XI Punjab want to cash in on early momentum like in 2014, says Wriddhiman Saha
No wonder Kings XI Punjab wicket-keeper Wriddhiman Saha kept referring to what happened in Dubai (early in the 2014 season). Everything thereafter may seem too painful to recall!
The Mumbai setback
For Kolkata Knight Riders , the penultimate-ball loss to Mumbai Indians on Sunday is, if not painful, a little setback, according to head coach Jacques Kallis.
"Rather than hurting, our guys would have learnt from that because it happened in the early part of the season," said the former South Africa all-rounder.
READ | Not sure if Mahendra Singh Dhoni is still a good T20 player: Sourav Ganguly
Jacques Kallis didn't want to give too much away by way of team composition but with Umesh Yadav back after a break to recover from niggles following a demanding Test season, he may replace Ankit Rajput. It will also have to be seen whether Trent Boult stays in the 11 after struggling with his length at the death against Mumbai Indians.
Chris Lynn's absence
But on how KKR cope with the absence of Chris Lynn, who has made the kind of impact IPL associates with Chris Gayle, could be crucial. "We will continue the good work Lynn started atop the order," said Kallis.
Lynn's unavailability due to injury could mean reverting to the opening pair of Robin Uthappa and skipper Gautam Gambhir. On Thursday, Lynn's spot may go to Bangladesh all-rounder Shakib Al Hasan, who comes off an all-round performance in the last T20I against Sri Lanka on Saturday, scoring 38 and taking 3/24.
READ | Kolkata Knight Riders' Chris Lynn doubtful for remainder of IPL 2017
The nature of wickets at Eden has changed from slow turners where KKR would choke the opposition. "We are fortunate enough to have spinners who can bowl on any conditions," said Kallis. Though they had over a week to train before travelling, none among Umesh Yadav, Shakib and Sunil Narine were available then.
While talking about Narine, who is still adjusting to an altered bowling action, Saha didn't forget to mention that it's easier to deal with a bowler low on confidence.
Catching a worry: Kallis
What also needs rectification for KKR is their catching in the deep. Kallis conceded it has been "surprising because we pride ourselves in doing that well. For me, it's such an area that we really want to improve."
KKR may have dropped the match on Sunday when substitute Rishi Dhawan floored an offering from Hardik Pandya, who hit the winning runs next ball. And against Gujarat Lions, they extended Suresh Raina's stay at the crease.
Personalise your news feed. Follow trending topics