IPL 2017, Gujarat Lions vs Rising Pune Supergiant, highlights: GL cruise to 7-wicket win vs RPS
Hindustan Times, New Delhi |
Bhargab Sarmah
Apr 14, 2017 11:47 PM IST
IPL 2017, Gujarat Lions vs Rising Pune Supergiant highlights: A late hat-trick by Gujarat Lions pacer Andrew Tye set up the platform for a seven-wicket win over Rising Pune Supergiant in their 2017 Indian Premier League (IPL) match in Rajkot. Catch highlights of Gujarat Lions vs Rising Pune Supergiant here.
Gujarat Lions(GL) cruised to a comfortable seven-wicket win over Rising Pune Supergiant (RPS) in their 2017 Indian Premier League (IPL) clash at the Saurashtra Cricket Association (SCA) Stadium in Rajkot after a superb hat-trick by Andrew Tye in the final over helped GL restrict RPS to a total of 171/8. Dwayne Smith and Brendon McCullum gave GL a flying start in their chase, and despite losing three wickets mid-way, they held on for a comfortable home win. Get highlights of Gujarat Lions vs Rising Pune Supergiant here. (SCORECARD | STANDINGS | LIVE STREAMING INFO)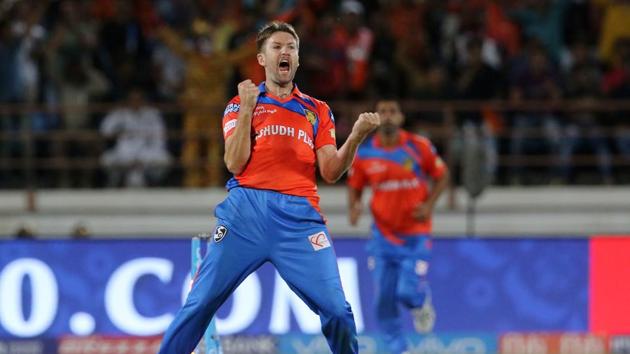 11:40 pm IST: That's it from us for today. Do join us tomorrow for live coverage of IPL 2017, in what promises to be a cracking weekend of T20 cricket.
Andrew Tye, Man of the Match: It's a good format of cricket, but traditionally, I would still love to play Test cricket. The slower ball worked very well for me. Every wicket is different around the world, so you have to assess conditions to find out which ball works where
Suresh Raina, GL captain: I thought AJ bowled brilliantly. He is a very smart cricketer who varies his pace, especially in the death overs. Jason Roy missed out today, but then Baz and Smith did it for us. They have done it for CSK and they did it again today..
Steve Smith, RPS captain: It was a pretty good wicket. We got ourselves into a good position but lost a few wickets in clumps and we weren't good enough tonight.
11:17 pm IST: That's it! Aaron Finch finishes things off with back-to-back sixes off Ferguson. Gujarat Lions beat Rising Pune Supergiant by seven wickets.
11:11 pm IST: Another disciplined over by Shardul Thakur. Just five runs off it. GL are 151/3 from 17 overs.
11:04 pm IST: Three fours from Tahir's final over. He ends with figures of 1/53. GL are 146/3 after 16 overs.
11:00 pm IST: GL skipper Suresh Raina has done well to keep the score ticking after the three dismissals. The hosts are 133/3 after 15 overs. (Raina 23*, Finch 7*)
10:56 pm IST: Raina hits Chahar for a big six. GL are 123/3 after 14 overs. (Raina 15*, Finch 6*)
10:50 pm IST: Dinesh Karthik is gone! A googly by Tahir clips his wickets. GL are 111/3 from 12.5 overs.
10:44 pm IST: OUT! McCullum misses out on his fifty by just a run. He is caught by Dhoni from a Chahar delivery. GL 102/2 from 11.1 overs.
10:42 pm IST: Chahar takes an acrobatic catch near the boundary, but has to put it back into the field in order to save a six. Incredible effort there! GL are 102/1 after 11 overs. (McCullum 49*, Raina 3*)
10:38 pm IST: Steve Smith will be happy with the way the last two overs have gone. GL have managed a total of just five runs from them. They are 96/1 after 10 overs (McCullum 45*, Suresh Raina 1*).
10:31 pm IST: OUT! Dwayne Smith goes after a short ball from Thakur. He is caught by Chahar. Smith falls for 47. GL are 94.1 after 8/5 overs.
10:25 pm IST: Imran Tahir with another costly over; 20 runs from it. GL are 91/0 after 8 overs (Smith 46*, McCullum 44*).
10:18 pm IST: GL add 15 runs from Imran Tahir's first over, 14 of them by McCullum. They are 61/0 after 6 overs (Smith 31*, McCullum 29*).
10:14 pm IST: Good opening over by Ben Stokes; just a couple of runs from it. GL 46/0 from 5 overs. (Smith 30*, McCullum 15*)
10:09 pm IST: 11 runs off the fourth over! Smith is pacing up his innings really well.
10:04 pm IST: Shardul Thakur starts his spell with a good over, barring one delivery that McCullum pulls for a four. Six runs off the over. GL are 33/0 after three overs. (Smith 20*, McCullum 13*)
09:57 pm IST: Lockie Ferguson joins the bowling attack from the other end. He is hit for a six by McCullum in his third delivery. Smith then ends the over with a four. This has been some start! RPS 27/0 after two overs. (Smith 19*, McCullum 8*)
09:54 PM IST: Smith is in some hurry here! He hits a six and a four off the last two balls of the first over. GL are 16/0 (Smith 15*, McCullum 1*).
09:52 pm IST: Dwayne Smith and Brendon McCullum open the innings for GL, with Ankit Sharma opening RPS's bowling attack. Smith scores a boundary off the first delivery.
09:45 pm IST: What a comeback by Gujarat Lions after that incredible start by Rising Pune Supergiant! GL will fancy themselves to chase down the 172-run target here.
09:38 pm IST: RPS end their innings at 171/8. Andrew Tye's magical spell helps GL come back into the match after RPS's fiery start.
09:35 pm IST: HAT-TRICK! Andrew Tye completes his hat-trick! Shardul Thakur goes for a duck! RPS 167/8.
09:34 pm IST: OUT! Manoj Tiwary falls for 31 to Tye. RPS 167/7.
09:32 pm IST: OUT! Ankit Sharma is gone from an Andrew Tye delivery. RPS 167/6.
09:28 pm IST: Manoj Tiwary's bat breaks into two as he tries to play a Praveen Kumar delivery towards mid-wicket. Praven ends with figures of 1/51 from his four overs. RPS are 167/5 from 19 overs. (Tiwary 31*, Ankit 25*)
09:24 pm IST: Two more overs to go in this innings. RPS are 155/5 from 18 overs. (Tiwary 29*, Ankit 16*)
09:18 pm IST: Costly over from Jadeja to end his spell. He ends with figures of 1/40 from his four overs. RPS are 149/5 from 17 overs (Tiwary 26*, Ankit 14*).
09:15 pm IST: Nine runs from Thampi's over. RPS are 135/5 after 16 overs. (Tiwary 18*, Ankit Sharma 8*).
09:07 pm IST: OUT! Dhoni falls for just 5 as he is adjudged lbw from a Ravindra Jadeja delivery. RPS are 120/5.
09:06 pm IST: A healthy 10 runs from Jakati's second over. RPS are 120/4 from 14 overs. (Tiwary 11*, Dhoni 5*).
09:00 pm IST: Dhoni opens his account with a single. RPS are 110/4 after 13 overs (Tiwary 5*, Dhoni 1*).
08:57 pm IST: OUT! Stokes is bowled by Tye for 25. RPS are 106/4. MS Dhoni takes the crease for RPS.
08:52 pm IST: RPS cross the 100-run mark. They are 101/3 from 11 overs. (Stokes 20*, Manoj Tiwary 3*)
08:46 pm IST: Steve Smith fall! Dwayne Smith gets the big wicket! The RPS skipper mistimed his shot and Aaron Finch takes a comfortable catch at long-on.
08:38 pm IST: Very good over from Thampi there; he concedes just three runs off it. RPS are 76/2 after 8 overs (Smith 38*, Stokes 3*).
08:36 pm IST: A Basil Thampi delivery hits Steve Smith on the right side of his rib cage. He goes down for a brief moment, but gets back up.
08:32 pm IST: Ben Stokes arrives at the crease. The Englishman will be looking for a healthy stand with Smith.
08:28 pm IST: OUT! Tripathi is caught by Aaron Finch at mid-off. Andrew Tye with the dismissal. Tripathi falls for 37. RPS are 64/2 after 5.5 overs.
08:23 pm IST: Smith, Tripathi pick apart Praveen Kumar in his third over. 25 runs of it! RPS are 60/1 after 5 overs (Smith 28*, Tripathi 30*).
08:19 pm IST: Shadab Jakati goes for 12 runs in his first over. Smith with a six and a four.
08:16 pm IST: Good line and length from Praveen. His second over goes for eight runs, thanks to a very well-timed shot by Tripathi in the first ball. RPS 23/1 after 3 overs (Smith 9*, Tripathi 12*).
08:13 pm IST: Shout for a run-out from GL on Tripathi. Replays show he is safe.
08:10 pm IST: Basil Thampi's first over goes for nine runs, with Smith and Tripathi both scoring a boundary each. RPS 15/1 after 2 overs (Smith 8*, Tripathi 5*).
8:05 pm IST: Steve Smith opens his account with a boundary. RPS 6/1 after the first over (Smith 4*, Tripathi 0*).
8:01 pm IST: Ajinkya Rahane falls for a duck as he is caught in the slips by Suresh Raina from a Praveen Kumar delivery. The visitors are 0/1. Not the start they had hoped for.
08:01 pm IST: Ajinkya Rahane and Rahul Tripathi are opening the innings for Rising Pune Supergiant. Praveen Kumar opens the bowling attack for Gujarat Lions.
7:55 pm IST: It is Dhawal Kulkarni, and not Dinesh Karthik, who misses out from the Gujarat Lions line-up. The latter is in the team.
7:50 pm IST: The focus will firmly be on Ravindra Jadeja, who is playing his first match in IPL 2017.
7: 39 pm IST: Gujarat Lions have made four changes. Dinesh Karthik and Shivil Kaushik have been dropped from this match.
7:35 pm IST: Gujarat Lions have won the toss and will field first.
Ravindra Jadeja's return will add stint to Gujarat Lions' bowling attack that has lacked depth, variety and experience in the first two matches.
Ravindra Jadeja couldn't have asked for a better opposition than Rising Pune Supergiant as the left-arm spinner would cherish rekindling his battle against RPS skipper Steven Smith and Ben Stokes.
Jadeja, the world No 1 Test spinner, was one of the chief tormentors in the recent Test series against Australia and England.
Ravindra Jadeja finished with 25 wickets against Australia in the four-Test series that helped him take the top spot in ICC rankings. Jadeja claimed Steven Smith's wicket, Australia's most successful batsman on the tour, in the first three Tests.
In the five-Test series against England which India won 4-0, Jadeja ended up with 26 wickets which included a five and 10-wicket hauls.
Focus on MS Dhoni
MS Dhoni will also be under pressure to justify his place in the RPS squad. With scores of 12 not out, 5 and 11 from his first three games, MS Dhoni seems nowhere close to his best.
Steve Smith, who is set to play on Friday after missing the last match against Delhi Daredevils due to a bad stomach, is unfazed with MS Dhoni's form.
"No, it doesn't bother me. (It's) only three games, (so) no problems there. He's a class player. He'll be fine," said Steve Smith.