Behind the glitter of lac bangles is the labour of trafficked children
Published on Nov 23, 2016 10:07 PM IST
In recent years, Jaipur north has become synonymous with the menace of child labour with children being regularly trafficked from other states to work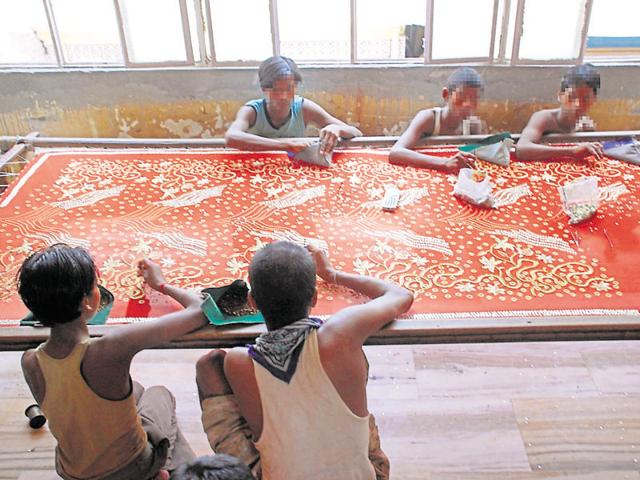 For 15-year-old Sunil Kumar (name changed), the only world that he had seen was that of life in Baliari, a village in the Patna district of Bihar where he lived with his parents, who earned their livelihood as daily wage labourers.
That was until a local 'seth' contacted the family a year ago and convinced his parents to send him to Jaipur.
"The seth told us that I will be able to study as well as earn and my parents felt that it will help improve our financial condition," said Kumar, who has never gone to school, owing to extreme poverty.
For the next one year, the only world that Kumar would get to see was that of a narrow room inside a house in Ramganj, where he worked for 18 hours a day making lac bangles.
The children, some aged as young as five, were not allowed to go to school and rarely saw the world outside the room, where they worked, ate and slept.
Kumar is now staying in a children's home in Jaipur after he was rescued by the Anti Human Trafficking Unit (AHTU) of the Rajasthan police in September along with 25 other child labourers, all of whom were trafficked from states such as Bihar and Jharkhand.
In recent years, Jaipur north has become synonymous with the menace of child labour with children being regularly trafficked from other states to work.
According to data available with police, the number of such cases in Jaipur has doubled in the past few years, with maximum concentration being in localities situated in northern part of the city such as Ramganj, Bhatta Basti, Galta Gate and Shastri Nagar.
The number of such cases reported in Jaipur during 2014 was 71 which increased to 164 in 2015 and 130 cases have already registered till September.
Almost all the children, who are trafficked to Rajasthan, are brought to the state through a well-managed network of agents, whose job is to convince their families.
"The bangle factory owner would often scold us. The room where I along with six other children lived was not enough for all of us. We were also not allowed to go outside," said 16-year-old Girdhari (name changed), who is from Iguna village in Bihar's Gaya district.
In the children's home, kids are being given lessons in English and Hindi before sending them to their parents.
"I like it better here at the home than in my village in Bihar. I have learnt to write my name in English and want to become a soldier when I grow up," said 10-year-old Ramesh (name changed), whose carefree life of playing and occasionally watching Bhojpuri films was turned upside down by perils of working as a child labourer.
The police data showed that 720 child labourers were rescued in 2014 in Jaipur with the number of children increasing to 839 in 2015.
'Lack of cooperation from local police'
"Most of the work that has been done in this field is by the AHTU with little help from police. In spite of the fact that increasing number of child labourers are being employed in the bangle-making and jewellery industry, police stations rarely take any action in their own capacity," said child rights activist Deshraj Singh.
The anti-human trafficking division has one unit each in every district in Rajasthan. Each unit has nine policemen.
Singh said lack of coordination among departments involved such as the department for child rights, the labour department and the social justice and empowerment department at times make things more complex.
"Once the children are rescued, we contact the child welfare committee in their home states after which officials from those states come to Jaipur to take them back. It is their duty to follow up the matter and see that the children are rehabilitated and are not trafficked again," said NL Meena, the director of the directorate of child welfare.
The police say that in most cases the agents along with the people who employ child labourers are from other states such as Bihar and Jharkhand.
"We rely on a network of informants in order to track places where such trafficked children have been employed. During a rescue mission, representatives of NGOs also come along with us to help and counsel the children," said head constable Arvind Kumar Kumawat of AHTU (north).
Kumawat, who is credited with rescuing more than 1,100 child labourers, was recently given a gallantry promotion owing to his substantial work in the field.
Additional director general of police (anti-human trafficking) TL Meena said efforts were being made to put more focus on anti-human trafficking operations during training of police officers.
"Training is being given to police officials on effectively handling trafficking cases. They are also being imparted knowledge on various laws related to children," said Meena.
Personalise your news feed. Follow trending topics