BJP, Cong in a war of words over Rajasthan Foundation Day function
BJP leader and Rajasthan industry minister Rajpal Singh Shekhawat on Friday criticised former chief minister Ashok Gehlot for his statement that the government was being pretentious and extravagant in the name of holding Rajasthan Diwas function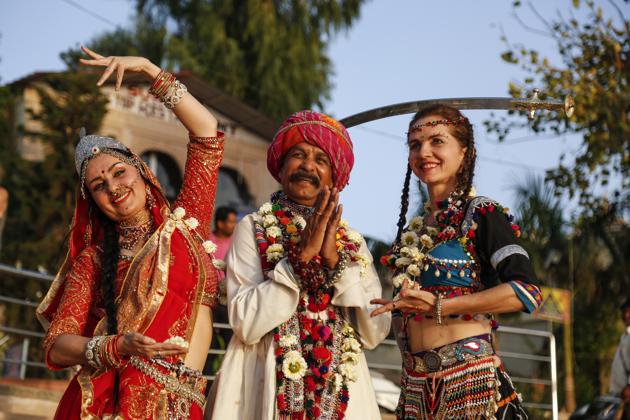 Updated on Mar 30, 2018 10:22 PM IST
BJP leader and Rajasthan industry minister Rajpal Singh Shekhawat on Friday criticised former chief minister Ashok Gehlot for his statement that the government was being pretentious and extravagant in the name of holding Rajasthan Diwas function. Shekhawat was addressing a press conference at the BJP headquarters in Jaipur.
In a press note issued on Thursday, Gehlot had said that no other chief minister had been so pretentious and had wasted money on organising Rajasthan Diwas. He also said that it was shameful that there was no involvement of the people of Rajasthan in the event.
The three-day long festival was inaugurated on March 28 by Governor Kalyan Singh.
Countering his statement, Shekhawat said that Rajasthan foundation day was a matter of pride for every Rajasthani and terming it pretentious and wastage of money was improper. "Being a two-time former chief minister, Gehlot should not have politicised the event. We are not organising this function for any political mileage. We all are proud of being Rajasthani," he said.
"Such events have to be held in an organised way. Is the Congress saying that the programme should have been conducted in a haphazard manner? Obviously, seating arrangements have been made. The Pravasi Bharatiya Sammelan conducted by Congress had barred entry of common man. Now, they are telling us that there was no need to organise this function," the minister said.
Shekhawat said that the Congress had not played the role of opposition in the past four years but is now getting hyperactive as the elections draw near.
Replying to a query, he said that Rajasthani traditional music has spread all over the world and if a non-Rajasthani was performing them then there is nothing wrong with it.
"The fact that Rajasthani culture has expanded is the reflection of the richness of the culture.
Rajpal said Rajasthan Diwas has not been celebrated five years ago but in future, it will be organised not only in Jaipur but also in other districts.
Close Story