BJP misleading people, says Gehlot
Senior Congress leader Ashok Gehlot Saturday launched a scathing attack on BJP and Prime Minister Narendra Modi saying they have failed to fulfil their promises and have created a state of indecision in the country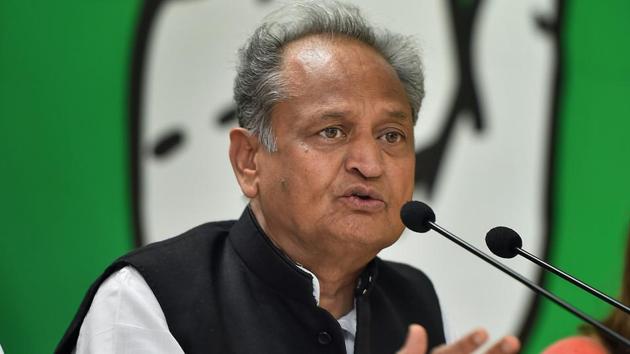 Updated on Jun 09, 2018 10:39 PM IST
Senior Congress leader Ashok Gehlot Saturday launched a scathing attack on BJP and Prime Minister Narendra Modi saying they have failed to fulfil their promises and have created a state of indecision in the country.
Delivering the inaugural address of the 'Mera Booth Mera Gaurav' campaign here, the former Rajasthan chief minister said the prime minister has made life miserable for the common man, traders, and all other classes.
"The peasant community is in deep sorrow as none of the promises made by the BJP government has been fulfilled. They are losing and the insurance companies are minting money out of crop insurance," Gehlot said.
"The kind of atmosphere that has been prevailing today is very disappointing and dangerous with trust among the people at stake. It never happened ever earlier. There is a state of indecision in the country today," he added.
Gehlot called upon the Congress workers to gear up with determination to uproot the "anti-people" BJP regime. "This government has also muzzled the right of disagreement by not allowing agitation. In a democracy, it is the right of the people to agitate but by banning them, the government is crushing them," he said.
Earlier in the day, as Gehlot arrived at the Jodhpur Civil Airport here, an unidentified person held his hand and pulled the 67-year-old leader making him lose his balance. Gehlot would have fallen down if not for some alert party workers who caught hold of the leader just in time. "He lost his balance and was helped by the workers around. He became quite irritated after that," said a party leader who was present there.
The BJP, however, took pot shots at Gehlot with party's media cell in-charge Anand Sharma saying the Congress leader had actually pushed away a party worker. "Why do these Congress leaders behave in such an arrogant manner?" Sharma asked after party shared a video of the incident.
A few weeks back a video was circulated on social media showing Pilot pushing away a worker who wanted to click a selfie with him.
.
Close Story