Doda post 'mafia' thrives as govt turns a blind eye
Updated on Dec 10, 2014 05:06 PM IST
As the state government turns a blind eye, a lucrative black market for dried opium pods is thriving in Ganganagar and neighbouring Punjab where the intoxicant is in high demand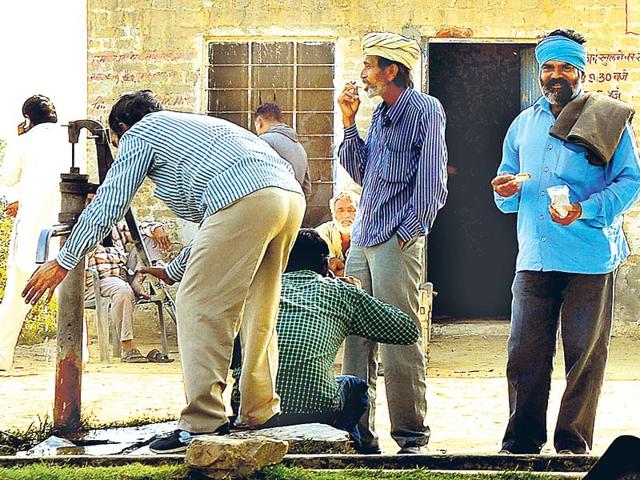 As the state government turns a blind eye, a lucrative black market for dried opium pods is thriving in Ganganagar and neighbouring Punjab where the intoxicant is in high demand.
The intoxicant, sold legally in government-run outlets, is known as 'doda post' locally.
A recent expose by an excise department officer from Ganganagar did not shake up the administration. In fact, the officer who was investigating a complaint of irregularity in 'doda post' sales was transferred out of the district.
In his letter addressed to chief minister Vasundhara Raje, the official Girdhari Singh Kularia said the local police, excise and transport departments are under the influence of a local 'mafia' who is running a parallel government.
The mafia, according to Kularia, are local business groups which have won contracts for doda post sales and control the trade and smuggling.
"They not only control the trade and are involved in smuggling but also influence postings to get pliable officers," Kularia told HT.
In Ganganagar, like in other parts of the state, doda post is available from authorised shops to users who have permits given by the government. Their quota of the intoxicant is mentioned on the permit. There are 25 authorised doda post sale outlets in Ganganagar where the drug is available at Rs 500 per kg.
The tenders in Ganganagar are given for two zones, one and two.
The license fee for zone one was Rs 5.13 crore while that for the other was Rs 4.53 crore, says Shankarlal Sharma, district excise officer, Ganganagar. For 2014-15, the excise department earned revenue for Rs 9.66 crore from doda post contracts.
"The fee for zone one is higher as those areas are adjoining Punjab and drug can be smuggled easily," Kularia said.
There are 2435 permit holders in the district but the actual of users number around 60,000, say officials. Many also come from Punjab, where drugs are banned, to purchase the drug. The use of the drug spread after big landlords gave it to labourers on their farms to make them work long hours. Most addicts are poor and doda post is a cheap option.
A senior police officer in Ganganagar said the contractors undersell doda to permit holders and divert the excess amount to Punjab.
"If they are giving only 3 kg to all permit holders, the rest is either sold here at exorbitant rates or smuggled to Punjab."
A police officer from Fazilka district of Punjab, bordering Ganganagar said doda post smuggling is still rampant as Rajasthan officials have shown little seriousness to combat it.
On a visit to Rajasthan last month, Punjab deputy chief minister Sukhbir Singh Badal said large quantities of the contraband are being smuggled to Punjab and his government will take up the matter with Rajasthan.
The permit holders say despite complaints of irregularities in sale, the excise department has failed to act.
At a non-descript doda post shop in Hindumalkot village, fringing Pakistan to the east and Punjab to its north, a long queue of users wait to get their 'fix'.
"I have a permit for 6 kg but the shopkeeper is giving everyone only 3 kg," says Manphool, a man with thin face and sunken cheeks framed by unruly white hair.
"If we want more than 3 kg, the shop keeper forces us to buy it at Rs 2000-3000 per kg," says Darshan, another permit holder.
Doda post is grown mainly in Kota and Chittor districts of Rajasthan and in Madhya Pradesh. Farmers are given permits by the government to grow the drug for medicinal purposes. The narcotics department buys the opium while the waste is sold to contractors.
Close Story
Personalise your news feed. Follow trending topics